Our Luxury Organic Hybrid Latex Mattress brings comfort back to bed. Made with certified organic and sustainable materials, including natural latex, GOTS certified wool and cotton, and premium fabric encased coils as a supportive core. Up to 6 linen textured heavy duty handles for easy positioning, and 12 European air vents to keep you sleeping cool at night. Handcrafted in California from the world's finest materials. Experience the buoyant support and cloud-like feel of our latex hybrid for deep restorative sleep.
$2,399.00 $1,199.50 Labor Day Sale - 50% Off Today!!
Up to $599 of FREE Gifts added to cart!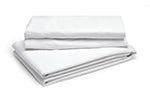 Luxury Sheet Set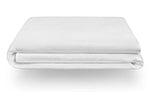 Cooling Protector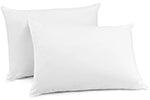 Free Pillows
Order Today, Get it by Approx.
Wed., Oct. 04th
with
Free Shipping
Twin
38" x 75"

12" Height

72 lbs.

682 Coil Count

Twin XL
38" x 80"

12" Height

79 lbs.

722 Coil Count

Full
54" x 75"

12" Height

110 lbs.

896 Coil Count

Queen
60" x 80"

12" Height

120 lbs.

1,057 Coil Count

King
76" x 80"

12" Height

161 lbs.

1,283 Coil Count

Cal King
72" x 84"

12" Height

162 lbs.

1,280 Coil Count

Split King
38" x 80" (x2)

12" Height

79 lbs. (x2)

1,444 Coil Count

12" Luxury Bliss

1"

GOTS certified organic cotton cover

3"

GOLS certified Arpico organic latex core

8"

Supportive, fabric-encased, coil core

Medium – (75% of customers) Ideal for side sleepers who enjoy maximum pressure relief in their shoulder & hip areas.

Medium-Firm – (25% of customers) Ideal for back and stomach sleepers who need more support without sacrificing comfort. Exceeds the quality standards of our competitors' costliest models.

A Luxury Bliss mattress works with all bed types:

100-night money back guarantee

Sleep better or get all of your money back. If you decide that your PlushBeds mattress is not for you, you may return it to us for a full refund of your purchase price.
Learn More

Make easy monthly payments over 6, 12, or 18 months.

Starting at 0% APR

Checking your eligibility won't affect your credit.
An Award-Winning Retreat
in the Comfort of your own home
In over 100 media publications, PlushBeds mattresses take top marks across multiple categories.

Best Mattress for Back Pain in 2023

Best Organic Latex Mattress of 2023

Best Bedding Awards of 2023

Best Non-Toxic Mattress in 2023

Best Mattress You Can Buy Online 2023

Best Organic Mattress of 2023

Mattress of the Year
Best Mattresses, 2023

Best Latex Mattress
Tuck, 2023

Best Luxury Mattress
Sleep Foundation, 2023

Best Latex Mattress
Sleepopolis, 2023

Best Organic Mattress
Mattress Advisor, 2023

#1 Best Mattress
Slumber Search, 2023
What's in the Luxury Bliss?
Our Flagship Hybrid Luxury Mattress, Built for Healthy Outrageous Comfort
Unlike most memory foam hybrid mattresses, our Luxury Bliss hybrid latex mattress is free from harmful chemicals, and made from the world's finest organic materials.
Michael Hughes, Founder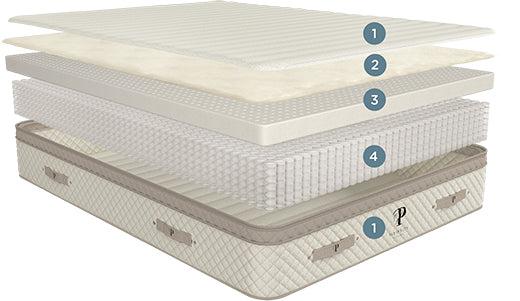 1

GOTS Certified Organic Cotton Cover

- Say goodbye to harmful chemicals and pesticides in your bedding. Experience pressure relief for hips and shoulders with our unique circular-knit fabric design for a safe, restful sleep.

2

British Organic Wool

- Experience a cool and dry night's sleep with the ultimate luxury of our premium wool bedding.

3

GOLS certified organic latex

- Elevate your sleep experience with our premium bedding that ensures enhanced blood flow and provides exceptional support to your shoulders, hips, muscles, and joints, resulting in a more comfortable and rejuvenating rest.

4

Supportive Fabric-Encased Coils

- Premium crafted coils provide the perfect amount of support, zero motion transfer, and incredibly buoyant sleep.
GOTS Organic Certified Cotton
Comfort Without Compromise:
Sleep soundly knowing you're protected from harmful chemicals and pesticides with our organic cotton mattress cover. Comfort and safety go hand in hand.
Our ultra-soft, organic cotton knit cover brings your expectations to new heights. With unsurpassed non-restricted airflow, moisture absorption, breathability, and environmental safety, the Luxury Bliss… provides more safety and environmental integrity because our cotton is grown without any dangerous pesticides or herbicides.
All our cotton is ethically grown without harsh chemicals, pesticides, or herbicides, ensuring a safe working environment for workers and a healthier sleep environment for your family.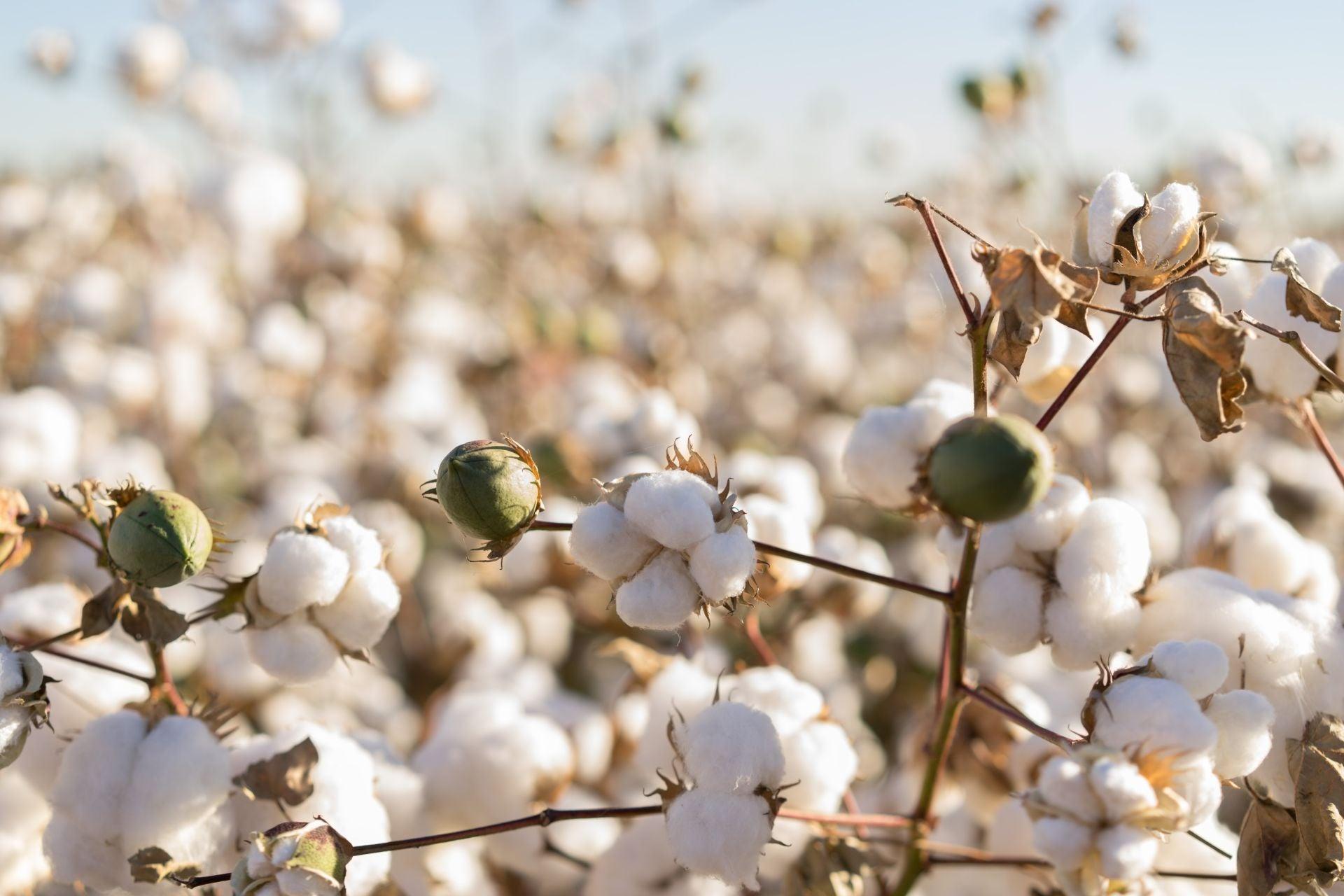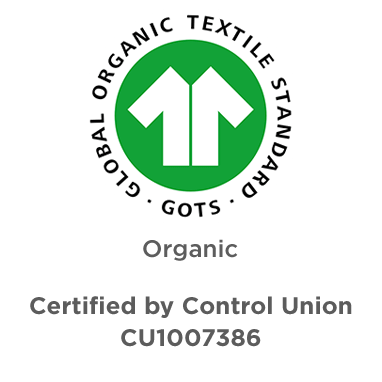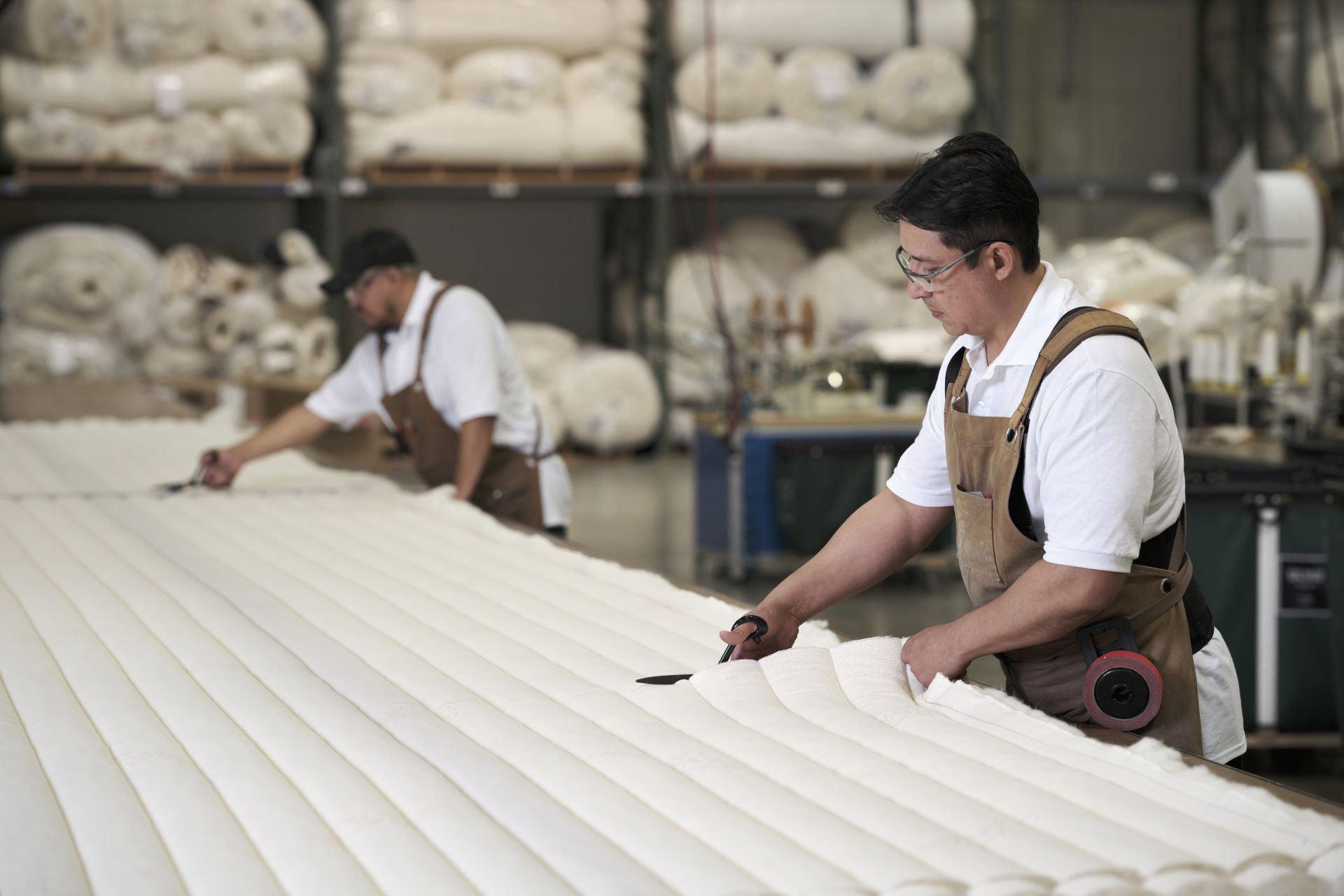 Circular-Knit Fabric
Enhanced Hip & Shoulder Comfort:
Experience unparalleled comfort and support for your hips and shoulders with our circular-knit design. Unrestricted airflow and moisture absorption ensure a cool and dry sleep.
Our flagship circular-knit fabric construction provides reassuring elasticity, allowing the cover to conform to your body weight and changing positions with a breathable design crafted specifically for reduced surface … pressure.
The elasticity of our circular knit cover allows the organic cotton a natural way to be wrinkle resistant and stretchable without becoming permanently distorted, which in turn enables less constriction of blood flow, allowing a deeper undisturbed sleep.
British Organic Wool
Sleep Cool & Dry Through the Night:
For a peaceful and restful sleep, the Luxury Bliss helps to combat night sweats and hot flashes with its moisture-absorbing properties. This allows for a balanced and steady body temperature, resulting in a cool and comfortable sleep.
The Luxury Bliss is made with three times as much wool than any of our competitors' mattresses; up to 10 lbs. of organic wool in one king size mattress. When used in the right proportions within a mattress cover, wool absorbs moisture from the atmosphere, and then releases it when the atmosphere is drier, which regulates your body temperature through the night.
British organic wool is extremely durable and can bend thousands of times without losing its form, resulting in a more comfortable sleeping surface that will provide years of unyielding support and temperature regulation.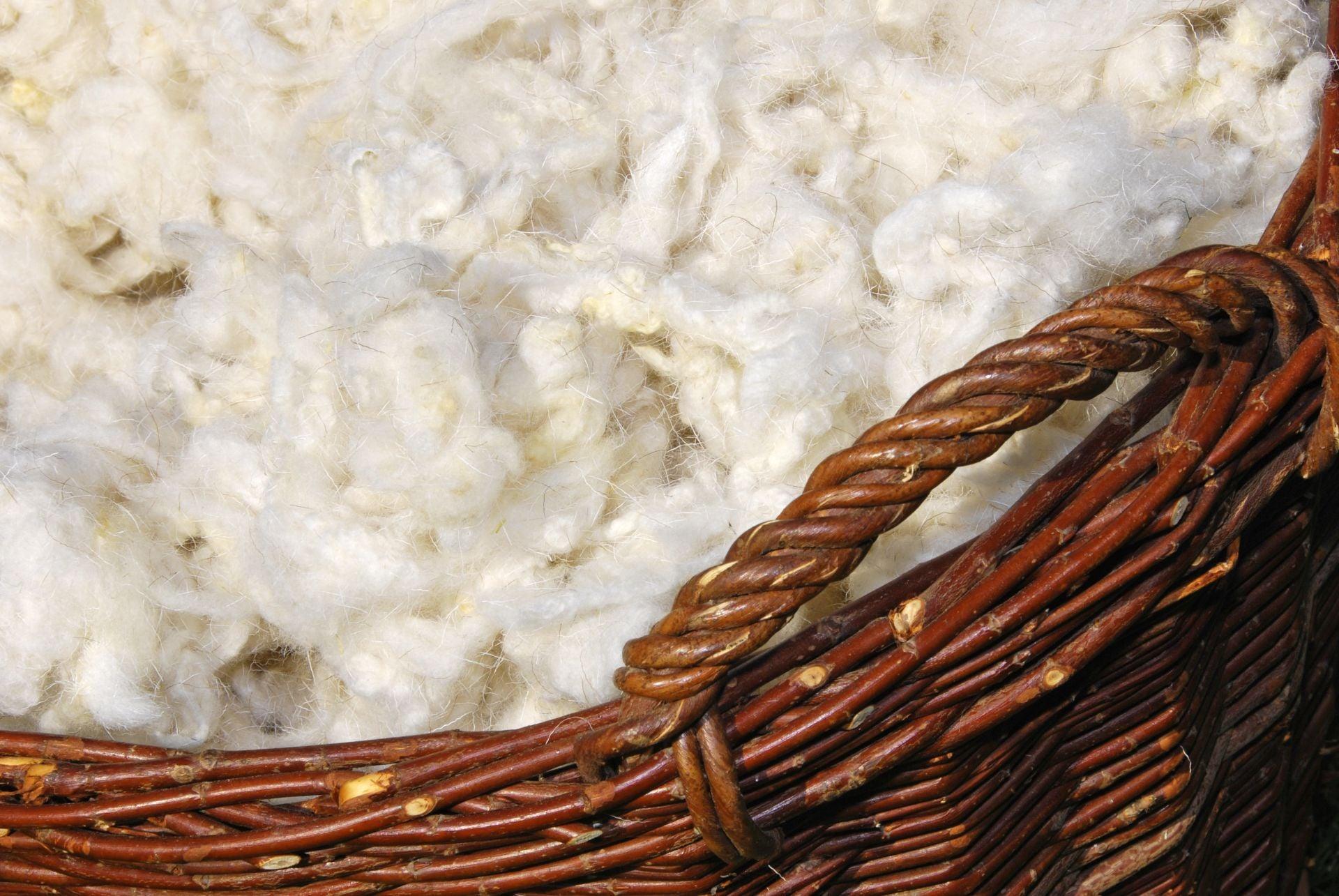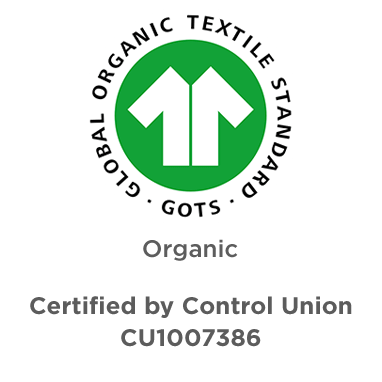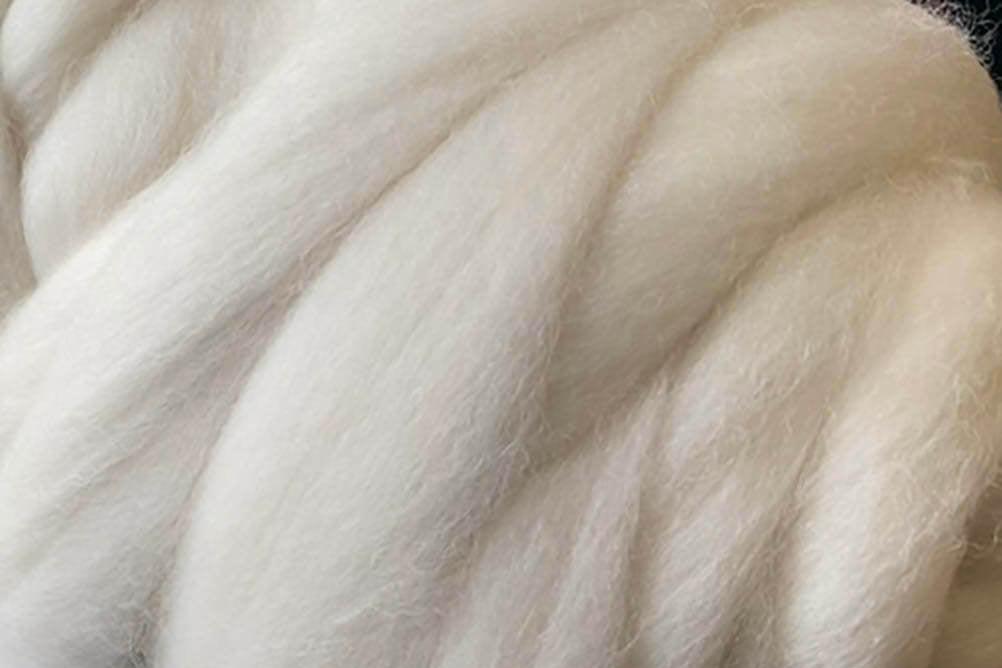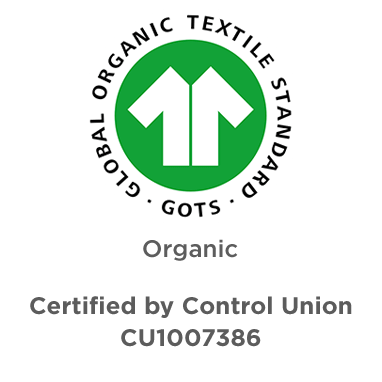 No chemicals
No pesticides
No fertilizers
No adhesives
No fillers
No dyes
No toxins
Chemical-free fire barrier
Safely Protecting Your Family:
Keep your loved ones safe from fire with our organic wool fire barrier. Unlike synthetic materials, it won't melt, drip or release harmful fumes.
The Luxury Bliss offers an alternative solution to those who don't want a mattress made with boric acid, fiberglass socks or chemical fire retardants which can lead to organ toxicity, birth defects, and other neurological damage. The Luxury Bliss passes all flammability requirements using GOTS certified British organic wool and special construction methods.
Known for its superior micron levels, British organic wool is quilted into all 6 sides of the Luxury Bliss organic cotton cover. The high keratin protein and moisture content of British wool makes it naturally resistant to burning. Tests show organic wool to be among the safest bedding materials available, as it allows a mattress to naturally pass flammability tests without the use of any synthetic flame retardants.
natural talalay latex
Absorbing Stress & Improving Circulation:
Our talalay latex offers unparalleled comfort, absorbing stress and enhancing circulation. You'll be able to sleep comfortably without any pressure on your shoulders, hips, muscles, and joints. It beats other types of latex or foams.
Inside every Luxury Bliss is a comfort layer of natural talalay latex, known for its unparalleled comfort and superior pressure relief. Our talalay latex naturally provides a buoyant feeling that gently cradles the pressure points of your body, unlike low-grade synthetic foams that often have an unpleasant smell that can take weeks or months to dissipate. Not only does that reduce your aches and pains, but it also promotes deeper, more restorative sleep.
Our talalay also provides an unrivaled balance of support and comfort that cannot be replicated with other latex or synthetic foams. We only use the world's finest talalay latex which exceeds the most stringent standards for quality, safety and sustainability.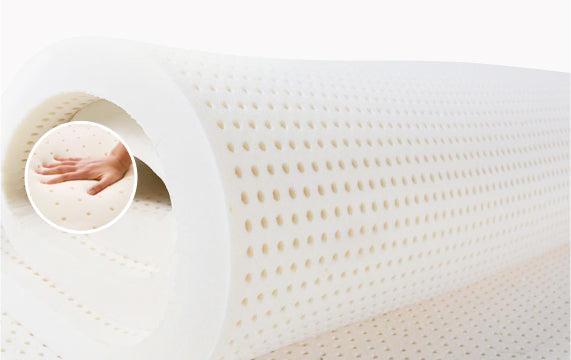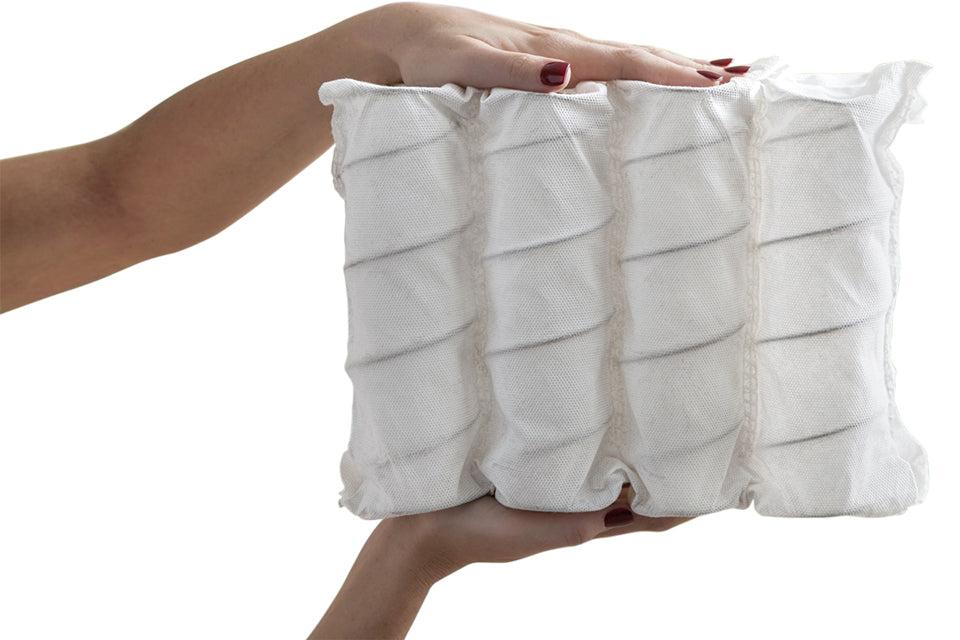 SUPPORTIVE FABRIC-ENCASED COILS
Superior Lower Back Support + Durability:
Our latex hybrid is designed to offer superior support and comfort, thanks to its premium fabric-encased coils that provide uncompromising edge-to-edge support, resulting in minimal motion transfer and a supportive sleep for many years to come.
Which Firmness is Right for You?
Our mattress is designed to cater to all types of sleepers, it features a variety of firmness options to ensure you wake up feeling rested and pain-free.
Our hybrid latex mattress combines the pressure-relieving buoyancy of Talalay latex and the durable support of premium fabric encased coils, providing the perfect balance of comfort and support.
Medium – (5.5 out of 10)
Suitable for those who sleep on their sides
and want the most cushioning for their shoulders and hips.
Medium-Firm – (8 out of 10)
Perfect for those who sleep on their back and
stomach and require extra support without compromising on comfort.
100 Night Comfort Guarantee
Not the right firmness? What are your options?
The 100-Night Sleep Trial from PlushBeds eliminates the stress of mattress firmness adjustments, allowing for an easy and no-cost solution without needing to return the entire mattress.
This guarantee contributes to PlushBeds' exceptional low return rate in the mattress industry.
Less than 1% of Mattresses Can Match Our Purity Certifications
Experience the ultimate in healthy, comfortable sleep with our latex hybrid, the Luxury Bliss. Ditch chemical-laden options and choose luxury and safety for you and your loved ones.

HANDCRAFTED QUALITY
A Mattress that will stand the test of time.
Our team of 26 skilled sewers & craftsmen work diligently to bring your

new mattress to life in as little as 2-5 business days.
Discover the added features that set the Luxury Bliss apart from the rest.
Beautiful Linen Textured Trim
Elevate your aesthetic with our premium linen textured trim, crafted by our finest mills for a refined look, rich texture & long-lasting durability
Our textured linen accent trim offers a rich texture and a complex oatmeal color. The fabric marries the soft hand of premium indoor upholstery with unmatched durability. Soft and inviting, it is crafted from high-performance yarns that resist wear, stains and fading, making it an ideal choice for PlushBeds handle and accent fabric.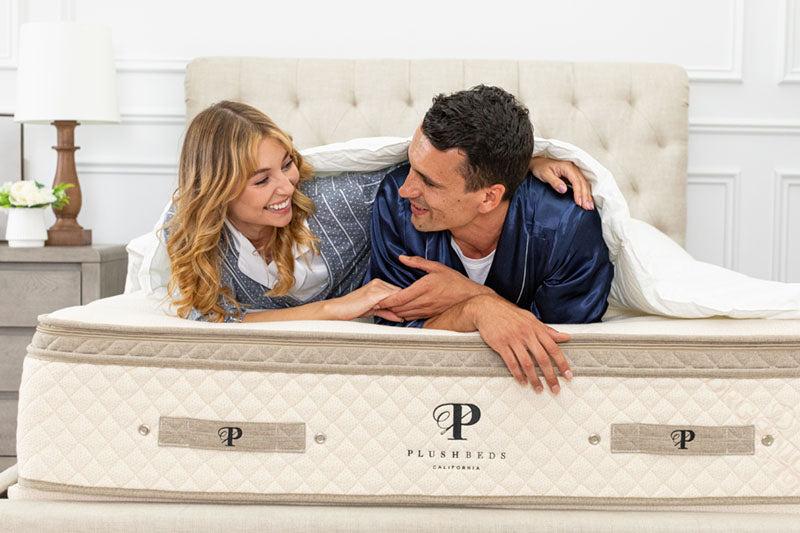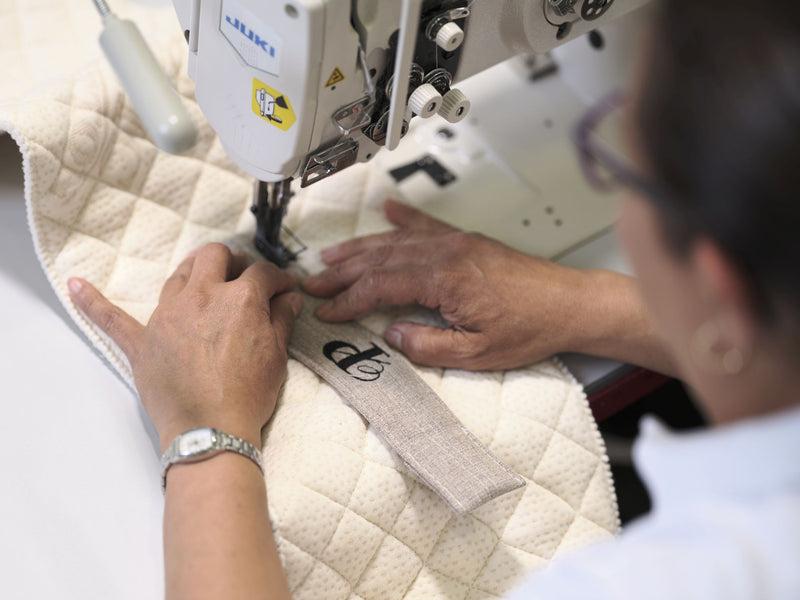 Robust, Heavy-Duty Handles
Experience the luxury of convenience with the Luxury Bliss, featuring six robust linen textured handles on full, queen, and king models, and four on twin and twin XL models.
Whether for simple position adjustments, a slight lift when making the bed, or to move your Luxury Bliss to a new location, the 6 durable handles offer great ease and assistance with any moving or positioning task.
An impeccable reputation for quality,
reliability, and service
The Luxury Bliss is the result of a masterful blend of the finest materials, visionary design, cutting-edge innovation, unparalleled craftsmanship, and strict quality assurance.
With over a decade of design and manufacturing experience in California with European influences, PlushBeds has developed a highly-touch quality inspection system that further separates the quality of our mattresses from our competition.
Our certified Quality Control Specialists check our raw materials for flaws and defects, ensuring that colors are consistent and correct, and examine the strength of our final products. Seams and/or stitching must be neat and strong, and all mattresses and bedding products must be produced to the same size and quality standard.
By checking early during the production cycle and repeating inspections multiple times during the manufacturing process, you can be sure that by the time the production is complete, every aspect of your mattress has been carefully checked with no quality problems present.
Environmentally friendly
The Luxury Bliss is an eco-friendly mattress that is as socially responsible as it is comfortable.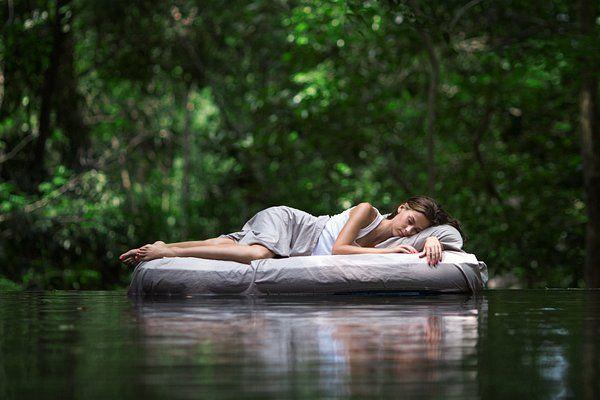 Each year, 20 million mattresses and box springs in the USA are discarded, with the majority ending up in landfills or incinerators, adding 450 million pounds of waste and filling over 100 million cubic feet of landfill space. The Luxury Bliss offers a sustainable solution, crafted from biodegradable and recyclable raw materials sourced from renewable resources.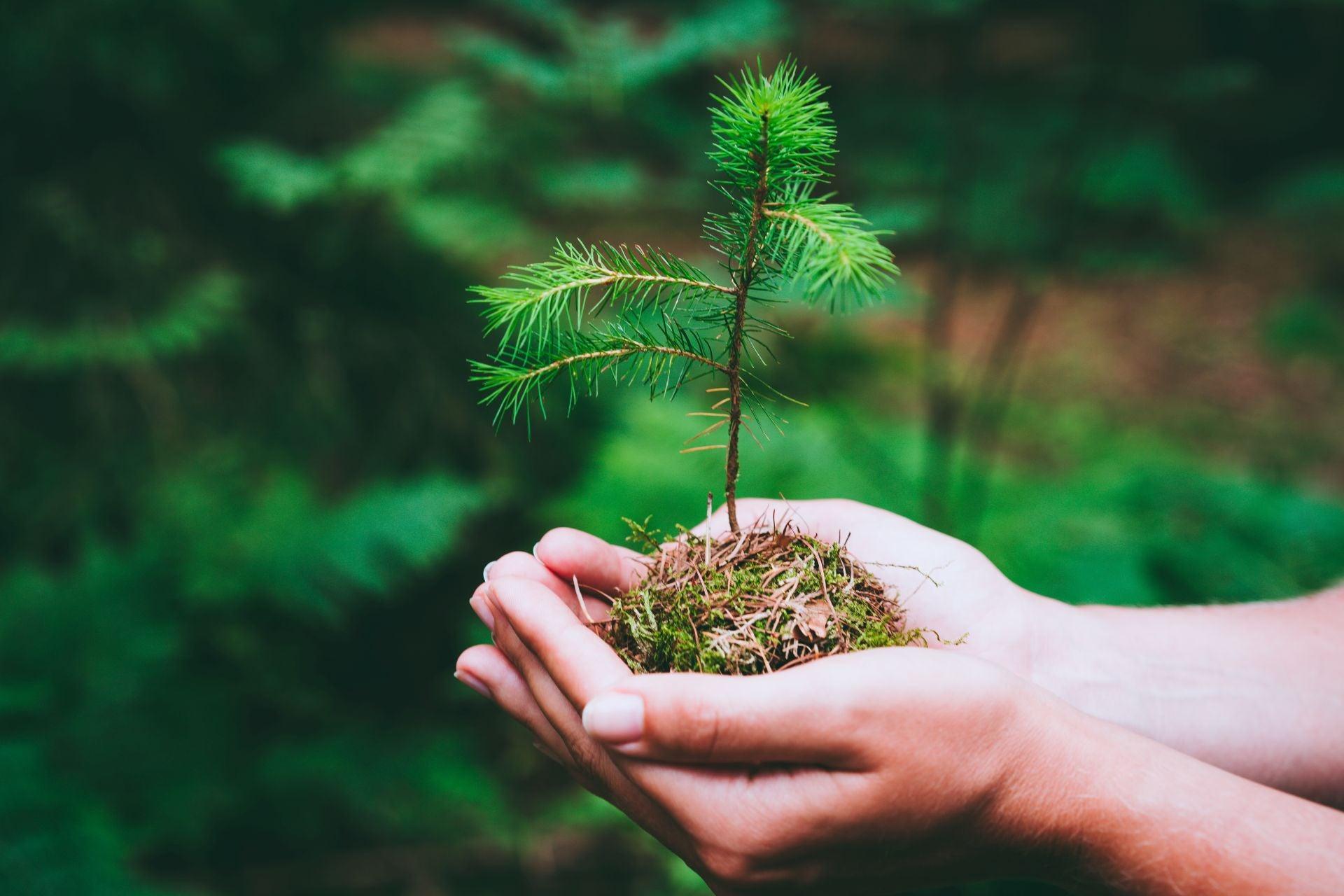 We take great care in ensuring that all of our mattresses are manufactured with the highest quality and environmentally friendly materials, which are sourced responsibly from renewable resources. We are committed to conserving resources and reducing waste, implementing recycling practices at all stages of the mattress manufacturing process. Additionally, we collaborate with private enterprises and charitable organizations to promote and support the economic benefits of recycling.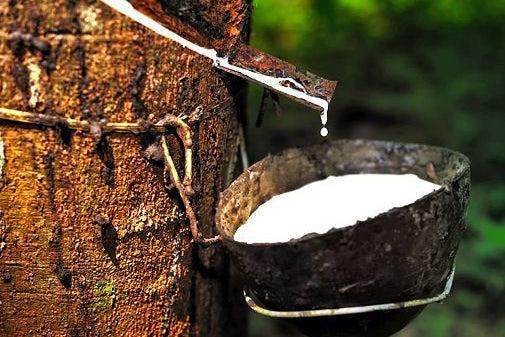 The production of each Luxury Bliss mattress utilizes the daily output of 5,000 Hevea Brasiliense trees, which have an average lifespan of 16 years, producing liquid latex sap. These trees are grown on our partner plantation in Sri Lanka, which not only helps remove thousands of metric tons of carbon dioxide from the atmosphere each year, but also provides employment opportunities for local communities.
Harmful chemicals and toxins have no business being anywhere near you while you sleep.

That's why we don't let them anywhere near our mattresses.
Michael Hughes, Founder
See why people love their Luxury Bliss
We're humbled to have received over 4,000 reviews on our Luxury Bliss latex mattress. Below are just a few of compliments we receive daily.
This mattress has exceeded all expectations.
This mattress has exceeded all expectations. We bought a second one for our little one, as well. Truly the most comfortable mattress we've ever had.
Jenn P.
06/27/22
A great experience from start to finish
ordering and receiving our Plushbed was a great experience from start to finish. Very attentive customer service, punctual delivery and best of all we are thrilled with our new mattress. Above and beyond expectations.
Mariana G.
06/03/22
Highly recommend a Plush Bed
Very happy with my Plush Bed experience. The quality of the product is fantastic, and the customer service is second to none! Finally sleeping through the night again. The latex is very responsive, sleeps cool and the layer of wool on the top is the icing on the cake. So, so comfortable...
Nicole M.
5/05/22
Perfect Mattress for a Bad Back
This is my second PlushBeds mattress and the Luxury Bliss Organic Latex mattress is the Best! Couldn't sleep without it ever again! Thank you for a great product that is worth the money I spent.
Gisela K.
5/27/22
Flexible Payment Plans
PlushBeds and Affirm have teamed up to offer 0% APR and a 4 interest-free installments option. Just choose "Pay over time with Affirm" at checkout.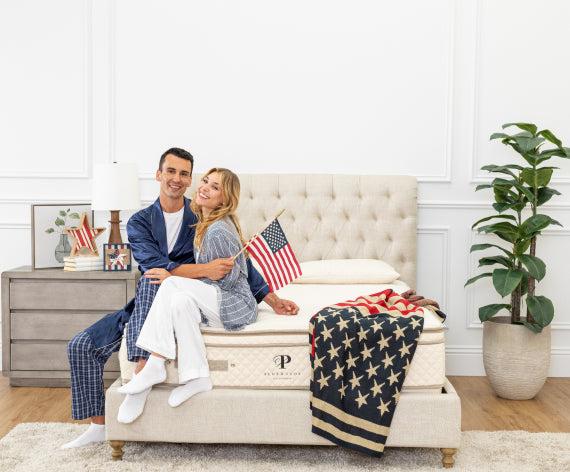 Financing
Affirm offers monthly financing starting at 0% APR* on $499-$10,000 orders.
Pay in 4 installments
Affirm offers 4 interest-free installments on your credit or debit card for $499-$3500 orders.**
*Rate ranges from 0%-24.99% APR. A down payment may be required. Monthly financing through Affirm issued by WebBank, member FDIC and subject to credit approval. See terms.
**CA residents: Loans made or arranged pursuant to a California Finance Lenders Law license. See terms.
Our organic latex mattress supports your body and your overall health
The Luxury Bliss is a popular choice among chiropractors and orthopedic specialists due to its exceptional support and pressure relief properties. Its buoyant feel gently cradles the pressure points of the body, helping to alleviate aches and pains, and promoting deep and restful sleep.
Works well with All Bases, Boxes, and Bed Frames
All bed types supported
A Luxury Bliss mattress works with all bed types:
A company you can trust
At PlushBeds, we take complete ownership of the entire manufacturing process, from sourcing the latex directly from our organic plantations, to handcrafting each mattress in our organic California factory, and delivering them to your doorstep. We are both the manufacturer and retailer, ensuring vertical integration and quality control. Each mattress is crafted to order, ensuring that it is freshly made just for you when shipped.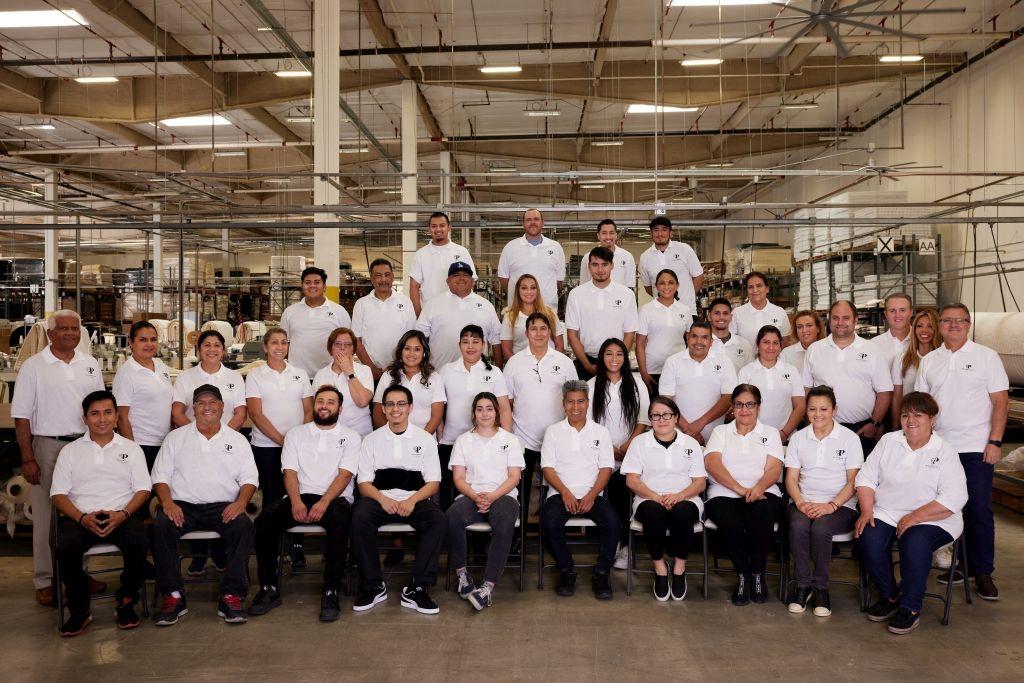 Lifetime Warranty
Our commitment to quality is reflected in our industry-leading lifetime manufacturer's warranty on every mattress we produce. We stand behind the quality of our products and are confident that you will be satisfied with your purchase.
100-night money back guarantee
If for any reason you are not satisfied, we offer a 100-night money-back guarantee, allowing you to return the mattress for a full refund of the purchase price.
Learn More
Thousands of Verified Reviews
The Luxury Bliss has received thousands of positive reviews, and is highly recommended by chiropractors and orthopedic specialists for its exceptional support and comfort. It has been recognized for its superior level of support and is a popular choice for those looking for a comfortable and supportive sleep experience.
Mattress Concierge
We believe that customer service extends far beyond the point of sale. That's why we assign a dedicated mattress concierge to every order, providing ongoing individualized service and support 7 days a week, ensuring you have a seamless and satisfying experience.
Handcrafted in California from the world's finest materials
The Luxury Bliss mattresses are masterfully crafted by skilled artisans at PlushBeds in California, with an unparalleled level of craftsmanship and meticulous attention to detail. We use only the finest raw materials from around the world to create a luxurious and long-lasting sleep experience.
A+ Rating with the Better Business Bureau
Our outstanding track record with consumer protection agencies and our A+ rating from the Better Business Bureau are proof of our commitment to providing top-quality mattresses from a reputable, reliable, and stable company. Invest in your future health and wake up feeling refreshed and rejuvenated with the Luxury Bliss mattress.
Make an Investment in your Future Health and Wake Up Rejuvenated and Energized with the Luxury Bliss mattress..
History of Latex Mattresses
John Boyd Dunlop invented latex foam in the 1920s, and the first latex mattress was constructed in 1931. However, since then, the introduction of the hybrid latex mattress has taken the sleep experience to a whole new level. Below, we discuss some of the benefits of this popularized mattress type, the types of beds a latex hybrid can be used with, its customizability, and some frequently asked questions regarding this mattress.
Benefits
Comfort: Hybrids are designed to provide maximum comfort to the sleeper. The natural latex layer provides a gentle buoyancy effect, which helps to relieve pressure points, and prevent discomfort. The individually-wrapped coils, on the other hand, provide a supportive mattress core that helps to ensure spinal alignment.
Durability: Hybrid mattresses are made with high-quality materials, including natural latex and fabric-encased coils. This makes them more durable and long-lasting compared to traditional foam mattresses, which have the tendency to compress and sink in over time. Latex is extremely resilient, and regains its shape time after time, year after year. And, the steel coils are as hardy as they come.
Support: The combination of latex and innerspring coils makes this hybrid mattress an excellent choice for people who need extra support and spinal alignment, such as those who suffer from back pain, or arthritis. The support it offers also plays a part in the excellent motion transfer reduction this mattress is so well known for. And, the extra edge support reinforces the mattress whenever you need to sit on your mattress to put your shoes on, or other things of that nature.
Temperature Regulation: Natural latex is naturally breathable, which makes it an excellent choice for those who tend to get hot while they sleep. The innerspring coils also help to promote air flow, ensuring that the sleeper stays cool and comfortable throughout the night.
Hypoallergenic: Our Luxury Bliss mattresses are naturally hypoallergenic, making them an excellent choice for those who suffer from allergies. Natural latex foam is also antimicrobial, and resistant to mold, mildew, and dust mites.
Customizable: One of the great things about Luxury Bliss mattresses is that they can be customized before purchase to meet the individual needs of each sleeper. Hybrid mattresses are available in a range of firmnesses, from Soft to Extra-Firm. We find that most people (>85%) find either the Medium or Medium-Firm to suit their liking, which are the two firmnesses we offer. However, you may always call the number in the upper left-hand corner of our website to request a customized firmness, for no extra charge.
Luxury Bliss mattresses are available in all standard sizes, from Twin to King. Whether you're furnishing a small guest room or a large master suite, you'll be able to find the perfect size to fit your bed.
Types Of Beds it can be Used With
Luxury Bliss mattresses are compatible with a variety of bed frames, including platform beds, box springs, and adjustable beds. They are also suitable for use with bunk beds, daybeds, and trundle beds, making them a versatile choice for any bedroom.
Platform Beds: These low-profile beds are perfect for our hybrids, as they offer a sturdy base that will not interfere with the comfort and support provided by the mattress.
Adjustable Beds: If you like to read, work, or watch TV in bed, an adjustable bed can provide a comfortable and supportive platform for your hybrid latex bed.
Traditional Bed Frames: Whether you have a metal frame or a wooden one, a latex hybrid mattress will fit comfortably on any traditional bed frame.
FAQ
What is a hybrid latex mattress?

A hybrid latex mattress is a mattress that combines natural latex with innerspring coils. The result is a mattress that provides both comfort and support, making it an excellent choice for people who want a high-quality sleep experience.

Are hybrids better than traditional latex mattresses?

It depends on the individual needs and preferences of the sleeper. Hybrid latex mattresses offer a unique combination of comfort and support, making them an excellent choice for people who want the best of both worlds.

What is the lifespan of a latex hybrid mattress?

The lifespan of a hybrid latex mattress depends on the quality of the materials used, as well as the frequency of use. The Luxury Bliss Hybrid Latex Mattress comes with an unparalleled Lifetime Guarantee
– so you are covered for the life of your mattress. We believe in it that much! Try to find a better guarantee anywhere else.

Is a latex hybrid mattress good for people with back pain?

Yes, a hybrid bed can provide excellent support and pressure relief, which can help alleviate back pain.
Have Your Questions Answered