Can I Get a Split Mattress with Different Firmnesses?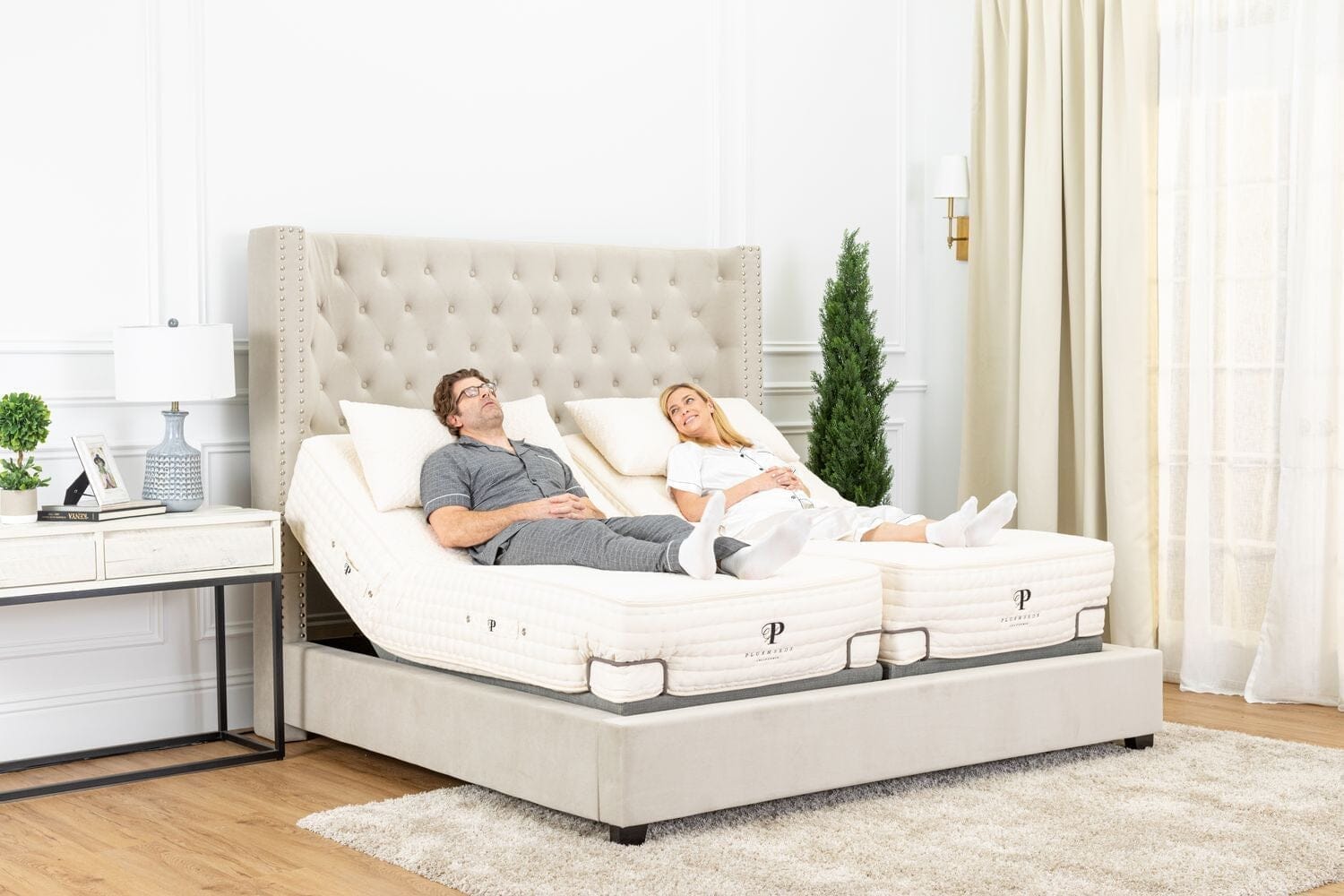 If you and your partner want to share the bed, but have different ideas of comfort, getting a split mattress can be the best way for both of you to have an ideal sleeping experience. Although ordinarily available in California King and King size mattresses, Split King mattresses are also available in Queen sizes in some cases.
What is a Split Mattress?
A split mattress is usually a King size mattress that is split down the middle, forming two separate beds. When put together, the dimensions of split mattresses are similar to a King size bed, being 76" X 80". Separately the mattress is made of two Twin XL mattresses of 38" X 80" each.
To form a Split King mattress, the two Twin XL mattresses are put side by side on the same bed frame and headboard, and are covered using one bed sheet to make it appear like one King-sized bed.
Some brands like PlushBeds offer split mattresses in California sizes, if you want extra leg space. Split Cal King mattresses have 72" X 84" dimensions, comprising two beds measuring 36" X 84" each.
Although uncommon, you can also get Split Queen sized mattresses. For instance, the PlushBeds Botanical Bliss Organic latex mattress comes in Split Queen size, with a dimension of 60" X 80". In contrast, the Twin mattresses individually come in dimensions of 30" X 80" each.
Why Get a Split Mattress?
While it can be delightful for partners to share a bed, sleeping comfortably on the same mattress can be challenging, if they have different sleeping positions and preferences. For instance, if one person likes a Medium-Firm mattress, while another wants to sleep on a firmer mattress, using the same mattress can disrupt sleep for both.
In such a case, investing in a split mattress can allow each person to get a separate Twin size mattress of their preferred firmness and comfort level, while allowing them to sleep together in the same bed.
Pros and Cons of a Split Mattress
If you sleep with your partner, and want to improve sleep quality for both of you without getting separate beds, you need to consider a split mattress. But, before you purchase a split mattress from your favorite brand, you need to consider some pros and cons.
Pros
Sleeping on a split mattress can have enormous benefits for partners with different preferences for mattress firmness and sleep positions. The benefits, as mentioned below, often outweigh the negatives.
Ability to Customize Each Bed Side
You can choose your ideal mattress based on your body weight, firmness preference, and sleeping position. Sleeping together on the same bed can be challenging, if you and your partner have different mattress preferences, because of a difference in your body weight and sleeping positions.
Split mattresses come in the form of two mattresses that are placed together to give an impression of a single bed. Because of the two separate mattresses, you can get the individual mattress based on your unique preference, and get the comfort and support you desire.
For instance, if you like a Medium-Firm mattress, while your partner prefers a firm bed, you can each have your preferred firmness and still share the bed by getting a split mattress.
Best Mattress to Use on an Adjustable Base
People get adjustable beds for varied reasons, including comfort, preventing acid reflux, or snoring, etc. If you have an adjustable bed base, getting a Split King mattress can allow you and your partner to change the bed setting on your side without disturbing the sleep of another.
Getting a Split King mattress over two Twin adjustable bases can help you raise or lower your side of the bed as you wish, without disturbing your partner's sleep.
Helps in Motion Isolation
If you or your partner moves around a lot during sleep, sleeping on the same mattress can disturb your sleep. As Split King mattresses have two Twin size mattresses, it can allow motion isolation, helping both of you get deep, uninterrupted sleep throughout the night.
Easy to Transport
As a split mattress is composed of two Twin size mattresses, it is easy to carry them separately while transporting them.
Cons
Split mattresses come with two Twin XL mattresses. Because of the unique bed arrangement, split mattresses suffer from the following drawbacks.
Adjusting the Gap in the Middle
Split mattresses are composed of two individual mattresses placed side by side on the same bed frame. This causes a gap in the middle that can cause discomfort to the couples. If you are wary of investing in a split mattress because of the gap in the middle, and have concerns about whether the gap will cause sleeping problems, the answer is no.
If you are getting a split mattress made from latex foam, each of the two Twin XL mattresses will hug each other, causing minimal to no gap issues. In the case of innerspring mattresses, the two individual Twin XL sized mattresses can create a one to the two-inch gap in the middle.
In such cases, you can fill or bridge the gap in the middle, especially if you use the middle of the bed at night.
No Sleeping in the Middle
If you feel comfortable snuggling in the middle of the bed, a Split King mattress can cause discomfort. To have a restful sleep on a split mattress, you need to stay in your half of the bed, and not drift towards the middle.
Differences in Firmness
The primary purpose of getting a split mattress is to allow individual partners to have custom mattresses in their bed sections. If both you and your partner like different mattress firmness, one side will be softer.
Split California King mattresses with uneven mattress firmness can cause a lopsided look with the mattress middle that slopes from one side to the other. It can be very uncomfortable to sleep near the middle of the bed in such a case.
Split Mattress Availability
Split mattresses are not as readily available as normal-sized beds, and not many mattress manufacturers make them. Although you will have limited options to shop for a split mattress, you can get many options while purchasing online.
Price Differences
Because of their lack of availability, split mattresses typically cost more than regular sized beds. Other than the lack of availability, split mattresses are more expensive, as they need more materials, and take longer to build.
How to Choose a Split Mattress
If you sleep with a partner, getting a split mattress can improve your sleep quality to a great degree.
If you are considering getting a split mattress, take note of both of your bed preferences. Consider the available floor space, whether your bed frame is suitable for a split mattress, and your budget before going for your dream mattress.
Before shopping for your mattress, consider your body type, weight, and preferred sleeping position. Also, view the mattress specifications like its weight, size, and the quality of materials used, whether natural, like in latex foam, or artificial, like in memory foam mattresses.
To get the best mattress, you need to consider the essential features before considering the additional features a mattress offers.
Mattress Type
Before shopping for a mattress, you need to decide on the type of mattress that would provide you with the best sleep experience. Nowadays, a variety of mattresses are available. You can pick your bed from latex foam, memory foam, innerspring, or a hybrid. Each has its benefits and drawbacks. Consider your preferences and body type before choosing the mattress that fits your lifestyle.
Mattress Materials
Mattresses can be built from a wide range of materials grouped into natural and artificial. While mattress materials like latex foam are made from latex sap that is derived from rubber trees, memory foam mattresses are made from synthetic polyurethane foam that is made artificially in laboratories.
While organic or natural latex mattresses can be expensive, they are free from artificial dyes, glues, and other toxic chemicals, and can be an excellent option for eco-conscious and sensitive sleepers.
If you want body contouring and motion isolating features, you stick to an all foam mattress purchase. Hybrid mattresses are an excellent choice, if you are looking for a combination of different qualities in your bed.
Material Quality
The quality of a mattress relies heavily on the mattress materials and its construction method. Although price is not always a reliable indicator of mattress quality, in most cases, getting an expensive mattress can provide you with the comfort and support you need.
In contrast, poorly constructed mattresses are often made from synthetic compounds that can affect your sleep quality and overall health and well being.
Although synthetic mattresses are affordable, they will quickly disintegrate with time, causing you to spend more on replacing the bed in a short time.
Firmness Levels
The firmness levels of your mattress can affect the amount of support and comfort you get from it. The ideal firmness for you would depend on your body type, weight, sleeping position, and personal preferences.
Can I Get a Split Mattress with Different Firmnesses?
While a regular mattress can offer your preferred firmness, if you are sleeping with a partner, it can cause some challenges, especially when your partner's preference differs from yours.
Yes, getting a split mattress can help you overcome the problem. For instance, if you prefer a Medium-Firm mattress while your partner leans towards a firmer bed, you can get a split mattress with two Twin XLs of individual firmness levels.
That way, you can each enjoy your firmness preferences, while experiencing the comfort of sleeping on the same bed.
Motion Isolation
Sleeping with your partner can be incredibly challenging when either of you tend to toss around in your sleep, disturbing the other partner. While getting a memory foam mattress can be excellent for enjoying the motion isolating properties, it can still cause sleep disturbances.
The best solution in such a case would be to invest in a split mattress. A split mattress with two separate Twin XL beds can restrict the spread of movement between partners, allowing both of you to get a good night's sleep.
Pressure Relief
Memory foam mattresses are especially suited to release pressure from your head, neck, and shoulders, allowing you to experience great sleep.
Temperature Regulation
Body heat tends to build up as you regularly sleep on your mattress. Mattresses built from natural materials, like latex foam, release body heat, helping you sleep cooler. Other beds, like innerspring mattresses, also have sleep coils that allow airflow, and better temperature regulation while you sleep.
Although traditional memory foam mattresses tend to absorb body heat, making it uncomfortable, especially if you are a hot sleeper, modern cooling gel-infused memory foam beds can keep you cool as you sleep comfortably.
Body Contouring
If you like to snuggle in your bed, getting a memory foam mattress may be your best option. Memory foam has soft, plush layers that hug your body, providing excellent body contouring properties.
Edge Support
Mattresses with excellent edge support make getting in and out of bed easier. It can also allow you to enjoy the entire sleep surface area of your mattress.
A Split King model with a sturdy perimeter can keep you inside your bed, and not drifting to your partner's sleep surface. But, a reinforced perimeter can cause discomfort to sleep in the middle.
Sleeping Position
Sleeping position is a significant criterion when determining the best mattress for you. Ideally, a softer mattress is great for a side sleeper. In comparison, back and stomach sleepers tend to go for a firmer mattress. Combination sleepers, in contrast, stick to the medium firmness options.
Price
The price of a mattress can be an important factor you need to consider when getting a bed. Split mattresses have more materials, and require extra construction. Hence, they tend to be pricier than traditional mattresses.
Mattress manufacturers differ in how they price their Split Queen or King sized mattresses. While some cost both sides together, others price the Twin XL beds separately, allowing you to purchase them individually.
If you want a good mattress on a budget, look for heavy discounts during the holiday season.
Mattress Warranty and Return Policies
Mattress warranty and return policies vary across mattress brands. Most online brands like PlushBeds offer free returns after the 100-night trial period.
Make sure to read the fine print of the mattress warranty to determine what it covers, and for how long. Even when the mattress comes with a lifetime warranty, check information regarding what defects qualify, what the exclusions are, whether the warranty is prorated, and what is expected from the mattress owner.
Free Shipping and White Glove Delivery Services
Most mattress companies provide free shipping, while certain premium brands can offer white glove delivery services.
Opting for a free white glove delivery would provide you with doorstep delivery. At the same time, the mattress would be unboxed and installed in a room of your choice by trained professionals on payment of a specific charge. In some cases, the professionals can carry away your old mattress, and recycle them at a cost.
Split Foundations
It makes sense to get a split foundation if you want an adjustable bed. That way, both sides can be moved independently, and placed side by side to form a regular sized bed.
Sleep Better with a PlushBeds Split Mattress
A Split King mattress can be an excellent investment, if both you and your partner have different sleep preferences.
PlushBeds is where you can get high-quality mattresses made from premium natural and organic ingredient,s to provide you with a memorable sleeping experience.
If you want an eco-friendly bed made from natural or organic latex, you can try the Botanical Bliss Organic Latex Mattress from our company.
You can get the mattress in Split King, Split Queen, and Split California King options, where you can pick your firmness level between the medium and firm options.
You can experience world class mattresses from PlushBeds, which come with free shipping, a 100 night's trial with free refunds, and a white glove delivery service.
Takeaway
If you and your partner want to enjoy your individual sleeping preferences while sleeping on the same bed, a Split King mattress can take your sleep to the next level of comfort and luxury.
Link to Us!
If you found this article useful and shareable, please copy and paste the following into the html code of your website or blog:
Learn More About Going Green at the <a href="https://www.plushbeds.com/blogs/green-sleep/can-i-get-a-split-mattress-with-different-firmnesses">PlushBeds Green Sleep Blog</a>.
*Please note that we DO NOT accept guest blog posts. Any inquiries into this will be respectfully left unanswered.
Related Posts:
The post Can I Get a Split Mattress with Different Firmnesses? appeared first on PlushBeds Green Sleep Blog.