Is A Latex Mattress Good For Stomach Sleepers?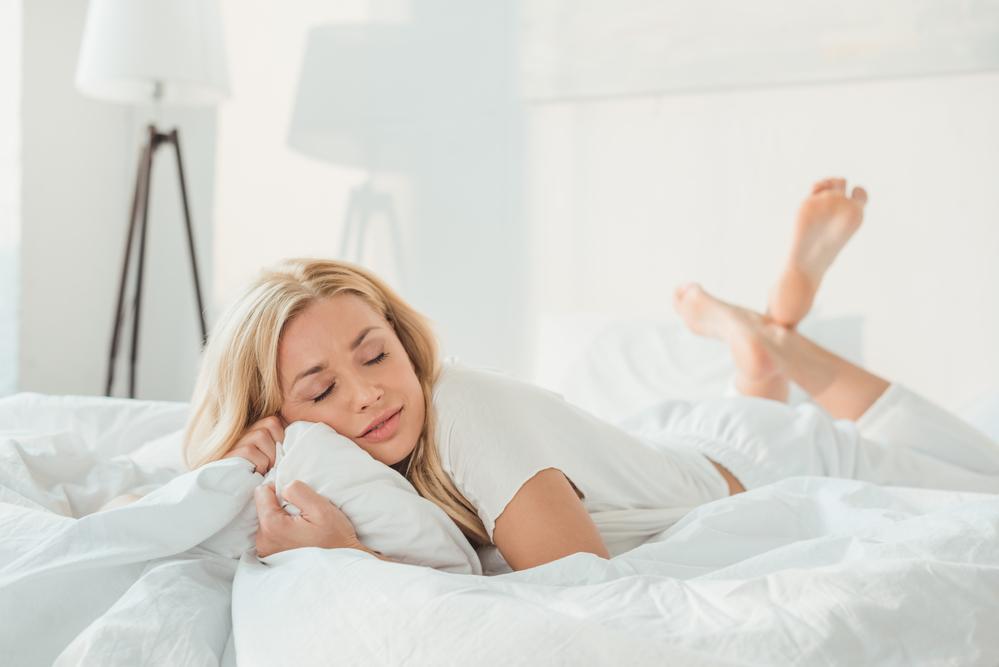 Do You Sleep On Your Stomach?
Stomach sleepers have specific needs when it comes to mattresses and sleeping on the right mattress is essential in order to get a good night's sleep.
Sleeping on your stomach is commonly associated with back and neck pain. The reason is simple: It's is nearly impossible to maintain proper spinal alignment when sleeping on your stomach. This can result in a herniated disk and long lasting pain. This is typically common with certain memory foam and traditional spring mattresses that do not provide adequate firmness and support.
Why Does Stomach Sleeping Cause So Many Problems?
The bulk of your body weight rests around the midsection of your body. Sleeping on your stomach places additional strain on your back, because you're unable to maintain a neutral spinal position while doing so.
Stomach Sleeping Solutions
One solution that appears to help, according to Mayo Clinic, is to sleep with a pillow beneath your pelvis and lower abdomen. If this doesn't provide prompt relief, consider sleeping without a pillow beneath your head, if you find it doesn't cause you strain.
There is one other highly effective solution to consider for stomach sleepers. Invest in a quality organic latex mattress. Not only is latex known for offering unsurpassed support and comfort, but it also delivers superb resilience. Where other mattresses develop lumps, bumps, and indentations over time, natural latex mattresses bounce back to their original form, year after year.
What Should Stomach Sleepers Look For In A Mattress?
Stomach sleepers have specific needs when it comes to mattresses. If you are a stomach sleeper, look for these things, in your next mattress:
Support. This is the most important feature a mattress can provide for stomach sleepers. You should purchase a mattress that offers medium-firm support to help promote spinal alignment while you sleep.
Comfort. It doesn't matter how much support your mattress provides if it's so uncomfortable you can't sleep on it. Look for a mattress that offers some element of cushioning comfort in addition to support.
Cost Effectiveness. For most people, buying decisions come down to price. However, when you consider the number of hours you spend in bed daily, it makes sense to consider your mattress an investment.
Materials. It's also important to consider the materials in your mattress. Not only are some materials less resilient than others, and subject to lumps, bumps, and indentations as a result, but some mattresses on the market today are made with toxic ingredients including PBDEs, formaldehydes, glues, and other materials associated with health risks, headaches, off-gassing, harming the planet, and more. Choose wisely to avoid bringing these materials into your home.
Your Size. While your size may not mean as much when it comes to the type of mattress you purchase, it can mean a great deal when it comes to the proper thickness of your mattress. The more you weigh, the thicker you'll want your mattress to be, so that it can continue to deliver exceptional support without compressing or breaking down. People weighing between 200 and 400 pounds should look for a mattress that is 10″ to 12″ thick. Those weighing more than 400 pounds, should look for a mattress that is 12″ thick and up.
These things will help you find the perfect mattress for your needs, as a stomach sleeper. There is another factor you should know about the mattress you're considering as well. It's the ILD number.
What Is ILD And What Does It Mean For Mattresses?
ILD is short for "impression (or indentation) load deflection." When it comes to mattresses, ILD indicates the firmness or softness of a mattress. The softer the mattress, the lower the ILD. Softer mattresses generally fall within the range of 20 ILD while the firmest mattresses are somewhere in the 45 ILD range.
If you sleep on your stomach, you need a mattress that provides a fair amount of support. However, many stomach sleepers also prefer some degree of comfort from their mattresses, too. So, you don't want the firmest mattress. A medium-firm mattress is typically best for stomach sleepers.
PlushBeds Mattresses For Stomach Sleepers
What's the best choice for stomach sleepers? The Botanical Bliss Mattress from PlushBeds in medium-firm. It offers the perfect combination of the support stomach sleepers need, along with a 100% natural latex comfort layer that provides exceptional cushioning comfort. This means you get the support you require, along with the comfort you crave in a mattress, allowing you to get your best night's sleep, night after night.
The firmness of your Botanical Bliss Mattress is also completely customizable. Simply unzip the cover and rotate the layers to adjust the firmness. Also, you have the ability to adjust the firmness on each side of the mattress, so 1 side of the mattress can be firmer or softer than the other.
The Botanical Bliss Mattress also comes with a free 100 night trial. Try it out today! You have nothing to loose.
Link to Us!
If you found this article useful and shareable, please copy and paste the following into the html code of your website or blog:
Learn More About Going Green at the <a href="https://www.plushbeds.com/blogs/green-sleep/is-a-latex-mattress-good-for-stomach-sleepers">PlushBeds Green Sleep Blog</a>.
*Please note that we DO NOT accept guest blog posts. Any inquiries into this will be respectfully left unanswered.
Related Posts:
The post Is A Latex Mattress Good For Stomach Sleepers? appeared first on PlushBeds Green Sleep Blog.