Where are PlushBeds Made?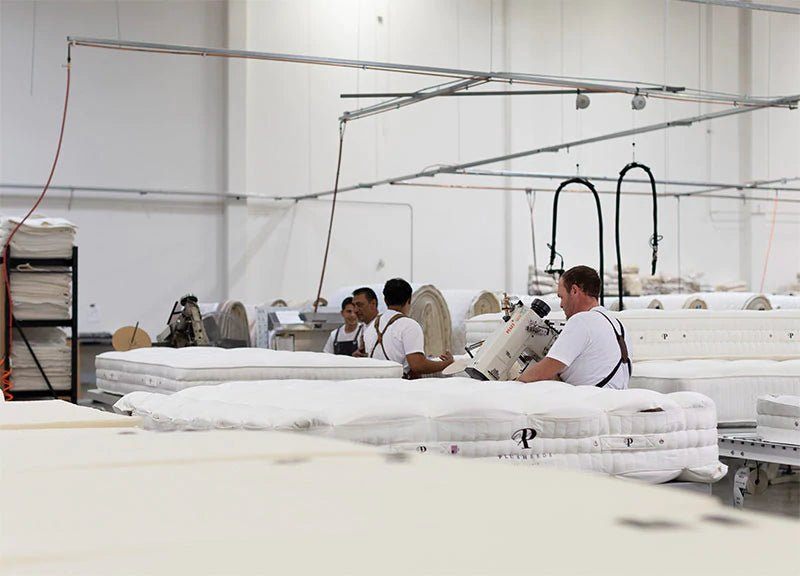 In today's market, it's important for consumers to know where they're spending their hard-earned dollars. This is especially important when it comes to investing in a mattress. Thankfully, when it comes to PlushBeds, consumers can rest assured they're investing in a 100% homegrown, American-made product.
Where are PlushBeds Made?
Every PlushBeds mattress and PlushBeds product is made in the heart of California, U.S.A., and shipped directly from factory to customer.
PlushBeds Factory
Deep in the heart of Camarillo, CA, the certified organic PlushBeds factory spans over 80,000 square feet, and houses not only the PlushBeds manufacturing facilities, but an innovation lab complete with research team. Location
The PlushBeds factory is located in the heart of Camarillo, CA, right here in the United States. You can find their manufacturing facilities at 3233 Mission Oaks Blvd. Building C, Camarillo, CA.
Dually-Certified Organic
The PlushBeds manufacturing facility stands proud as one of only six manufacturers in the United States that is both GOTS (Global Organic Textile Standard) and GOLS (Global Organic Latex Standard) certified.

While GOTS prohibits the use of chemicals that can cause health risks, including birth defects and in some cases, cancer, GOLS guarantees that the latex being used in PlushBeds products is natural, non-toxic, and eco-friendly. GOLS also ensures the fair treatment of workers at every stage of the latex procuring process. 
Rigorous Inspections and Quality Checks
To maintain our standing as a dually-certified organic manufacturer, PlushBeds undergoes rigorous inspections and quality checks annually.

To qualify as a dually-certified organic manufacturer year after year, PlushBeds has taken the pledge to exceed these stringent standards each and every day. The PlushBeds guarantee means that each and every product has been carefully crafted by hand, in California, using ethically and sustainably sourced materials.
To maintain our dually-certified organic standing with GOTS and GOLS, PlushBeds requires each mattress to undergo a comprehensive 95-point inspection before ever leaving the factory floor.
No Outsourcing
When it comes to maintaining some of the highest mattress standards in the market, PlushBeds does not cut corners. Maintaining their GOTS and GOLS certified stance annually means NO outsourcing. When you purchase a PlushBeds product, your hard earned dollars are being invested ethically, every step of the way.
PlushBeds ensures that all raw materials are ethically sourced by personally meeting with suppliers on a regular basis. The PlushBeds standard means all materials used in every product have been acquired in a worker-friendly, sustainable fashion.
Ship Direct to the Customer
PlushBeds maintains our shockingly affordable prices for such high quality products by cutting out the middleman, and shipping our products directly from the factory floor to the customer.
Direct shipping not only saves you money, but protects your product. You can rest assured your mattress has undergone PlushBeds' intensive 95-point inspection immediately before shipping, preventing damage, or other hazards often caused by third-party shipping companies.
Ethical, Eco-Friendly, and Exceptional Standards
When it comes to PlushBeds, quality is key. By striving to exceed the already tremendous organic certification standard, PlushBeds has created a top of the line, eco-friendly mattress, bringing you and your family comfort that's unmatched.
From the moment your mattress is crafted, to the moment it ships directly from California to your home, you can rest assured your mattress is in good hands. PlushBeds high standard is withheld throughout the entire company, meaning the skilled workers handcrafting your product are treated fairly, working in safe conditions, and being paid a true living wage. 
Customer Service Availability
PlushBeds values both new and returning customers. Friendly customer service representatives are available by phone to take your questions/concerns daily.
You can reach PlushBeds Customer Service by phone at 1-888-409-3414, 7 days a week between these hours:
Monday - Friday 9am to 9pm EST
Saturday - Sunday 9am to 9pm EST
You can also contact PlushBeds via our website "Contact Us" page located here: https://www.plushbeds.com/pages/contact-us
PlushBeds associates are eager to assist. If you reach out to customer service outside our listed hours, a representative will get back to you in the utmost timely manner.
Link to Us!
If you found this article useful and shareable, please copy and paste the following into the html code of your website or blog:
Learn More About Going Green at the <a href="https://www.plushbeds.com/blogs/green-sleep/where-are-plushbeds-made">PlushBeds Green Sleep Blog</a>.
*Please note that we DO NOT accept guest blog posts. Any inquiries into this will be respectfully left unanswered.
Related Posts:
The post Where are PlushBeds Made? appeared first on PlushBeds Green Sleep Blog.