GOLS Certified Organic Latex: What it is and How it can Help Your Sleep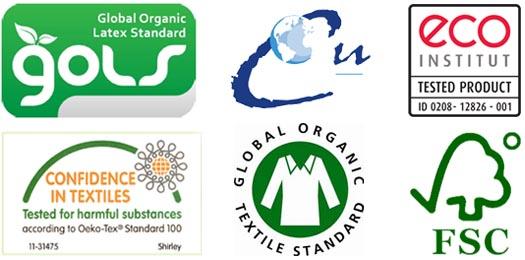 GOLS stands for Global Organic Latex Standard. Until recently there were no minimum standards required for a product to be considered organic latex. In fact, GOLS is the first of its kind worldwide when it comes to creating a standard for organic latex.
Organic latex that bears GOLS certification has met or exceeded specific standards in the processing and manufacturing steps.
Control Union Certifications believed it was important to set minimum standards for latex products made with organic raw materials. These standards impact many aspects of the latex life cycle including:
Manufacturing
Packaging
Labeling
Distributing
Processing
Trading
The goal is to encourage businesses to use sustainable processing methods when working with organic latex. This standard also concentrates on the impact products and processing have on health, safety and welfare, and the planet.
Why are These Standards Important?
Many consumers make an informed decision to purchase natural organic latex mattresses because they want to make healthy choices that are good for the planet. Without some sort of minimum standards or requirements, it's nearly impossible to tell the differences from one mattress to the next. All claims of being organic latex would be highly subjective whether the mattresses actually contained five percent natural organic latex or 95 percent natural organic latex. Products with GOLS certification must contain a minimum of 95 percent certified organic raw materials.
What Does the Certification Mean?
GOLS offers two different label grading designations. Latex products are often labeled "made with organic" or "contains organic" to signify that these products contain 95 percent certified organic latex at a minimum. Those that are "made with X% of organic" or "contain X% of organic" contain at least 70 percent certified organic latex along with other certified organic raw ingredients.
What Sort of Standards are Required?
During the processing stage, the standards become notable. It must be possible to trace the certified organic products back to its original field or supplier. A consistent quantity of certified organic raw materials should be used or a sufficient explanation made as to why there are occasional fluctuations. Separation of organic products that are and are not certified should be maintained throughout the process either by space or by time. Certified organic products must be identifiable throughout the manufacturing process and documentation must be made in a manner that's easy to understand and thorough.
There must also be a written policy and plan in place for the responsible management of any waste and/or pollution created in the manufacturing process. Special attention should be paid to plans to reduce, reuse, and recycle waste as well as to reduce the need to burn waste.
Other standards are vital in the GOLS certification process as well. There are strict policies regarding child labor, freely chosen employment, living wages, working hours, discrimination, and freedom of association and collective bargaining rights and more.
While all of this may sound a bit technical, the bottom line is that, there are many great reasons to prefer organic latex products that have GOLS certifications.
This will help you rest easier in more ways than one.
Your cart is currently empty.
Loading...