Mattress Foundation Buyer's Guide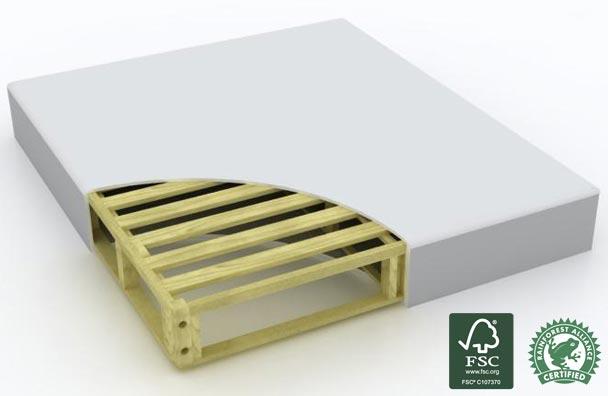 Finding the right foundation for your mattress is important because it helps to maintain the structural integrity of your mattress. It also provides proper spinal support and comfort and it can extend the life of your mattress. Most importantly, you've made a substantial investment in your mattress. The wrong mattress foundation can negate all of the benefits of your mattress and it may even void your warranty. 
There are several types of mattress foundations on the market today. Each one offers its own strengths and benefits. However, there is not one type of foundation that is universally beneficial for all mattress types. You must know the type of mattress you plan to purchase first. This will help you choose the proper foundation, that will provide adequate support for your mattress.
Box Springs
Box springs are one of the most popular types of mattress foundations on the market today. They are highly beneficial for improving ventilation to your mattress and they are preferable to placing coil and innerspring mattresses on floors or solid wood foundations.
Ventilation is more important than you may realize. It offers many great benefits such as:
Helps people sleep cooler

Prevents mold and mildew from growing inside your mattress

Reduces sweating at night

Prevents mold or mildew from forming outside of the mattress and/or the floor beneath it
Additional benefits of box springs involve the appearance of your bed. Not only does it help to lift your mattress off the floor, but it helps to add height to the mattress, which makes it easier to climb into and out of bed.
One more consideration to keep in mind for buying box springs is that they are one of the more wallet-friendly choices for mattress foundations on the market today. Though, this could be a distinct disadvantage as well because of cheap manufacturing processes for many of them. They cannot properly support the weight of heavier mattresses for lengthy periods of time. 
Disadvantages of Box Springs
There are quite a few important disadvantages to box springs you should know about when shopping around for mattress foundations. The first of which involves the cheap manufacturing process and materials used in making most box spring foundations. Beyond that, it is wise to consider the following possible downsides:
Breeding ground for dust mites, mold, and mildew

Negative impact on quality of sleep by affecting the firmness and support of mattresses

Poorly designed and unable to support premium quality mattresses effectively

Can actually cause heavier mattresses, such as natural latex or memory foam mattresses, to sag or dip
Many mattress companies continue to push box springs with their mattresses, some offering deep discounts to consumers who purchase mattresses and box springs in pairs, despite the fact that there are far superior options available when it comes to mattress foundations.
Platform Foundations
Many organic latex mattresses and modern memory foam mattresses require something sturdier and more durable than box springs for a mattress foundation. Platform foundations work well in many cases, offering a firm, flat surface to serve as the foundation for the mattress.
Platform beds are usually low bed frames featuring head and foot boards and wood slats spaced no more than three inches apart to support the mattress. Platforms come in many sizes, and do not require box springs. This makes them more economical decisions for many consumers, and because there are so many sizes and varieties, a more aesthetic option for them as well.
One benefit of choosing a platform foundation is that many of them come with built-in storage. This provides storage beneath your bed for things like clothing, additional bed linens, blankets, etc., without cluttering your room or occupying more visual space, within your room, with dressers. Many people love this feature for the clean, modern look it brings to the bedroom.
A considerations to keep in mind when buying a platform foundation involves the quality. Choosing an inferior platform foundation can lead to sagging or lack of support that results in lower back pain for you. Many platform beds are also low to the ground. While this might not seem like a big problem today, it may become one as you age and getting into and out of bed becomes more challenging. This makes other types of foundations, like adjustable bed foundations, a better choice for people looking for mattresses and foundations that grow along with them.
If you believe a platform foundation is the right choice for you, then it is worth your while to purchase a high-quality platform foundation, capable of supporting your mattress properly. 
Adjustable Foundations
With adjustable foundations, you have a great deal of power over your sleep, at your fingertips. For many people, these foundations have transformed the way they sleep. However, it is important that you buy the right kind of mattress for an adjustable foundation, or you could make a substantial investment in an impractical sleep situation. It's important to know that most innerspring or coil mattresses must be used on flat surfaces. They simply do not respond to the type of manipulations that occur with adjustable foundations. When you have a mattress designed for use with an adjustable foundation, though, they offer outstanding support and unsurpassed versatility.
PlushBeds has several top quality adjustable foundation styles to choose from: 
Each one offers impressive features to enhance your sleep experience, such as:
Under the bed lighting

Massage

Varying lift positions

Adjustable heights

Compatible with most modern bed frames and headboards

Quiet lift systems

Remote control

Bluetooth enabled
Some adjustable foundations even have USB ports. Many of them come with the option of both sides lifting to the same height or split varieties in which each side adjusts individually. This ability to adjust sides individually is an absolute must for couples that have different sleep preferences. They are also absolute wonders for people suffering from a variety of health conditions, including those who have:
Acid reflux

Arthritis pain

Poor circulation

Joint mobility issues

Heart problems

Asthma

Respiratory issues

Neck and shoulder tension

Low back pain

Osteoarthritis

Sleep apnea
Adjustable foundations help with all of these conditions. Those suffering from any or all of these conditions, can reap the benefits of an adjustable foundation for many years to come.
Orthopedic Foundations
PlushBeds offers orthopedic foundations specifically designed to withstand the weights of a premium mattresses like our natural latex mattresses and memory foam mattresses.
The heavy duty orthopedic foundation from PlushBeds offers outstanding support, for weights up to 1,200 pounds, at prices that are extremely affordable. It also has many benefits that you are sure to appreciate, such as:
Sturdy spruce wood construction (treated with heat rather than chemicals and involving no particle board)

Covered with organic cotton fabric

Easy to assemble (assembles in minutes)

Euro-slatted for exceptional breathability

8 inch height to raise mattresses to comfortable positions
The heavy duty orthopedic foundation from PlushBeds is available in a variety of sizes including:
Twin

Twin XL

Full

Queen

King

Split King

Cal King
This makes the orthopedic foundation an excellent choice for many families looking for superb support, in an environmentally friendly product, without paying a fortune to receive it.
The PlushBeds orthopedic heavy duty foundation meets the standards required by the Forest Stewardship Council (FSC) and is Rainforest Alliance Certified, meaning it has met a variety of standards for environmental, social, and economic sustainability.
Low Profile Orthopedic Foundations
PlushBeds offers an additional, Low Profile Orthopedic Foundation that delivers the same benefits as the heavy-duty orthopedic foundation, with a lower height for those interested in a lower bed. It has Low profile 5 inch height. It's also an ideal solution for those who may have high bed frames or for those who have taller mattresses. Considering that PlushBeds Natural Latex Mattresses and Memory Foam mattresses come in heights up to 12 inches for select mattresses, the lower profile can be a necessity in some homes. The Low Profile Orthopedic Foundations are comprised of sustainable spruce wood that has been heat-treated rather than chemically treated.
Add The Bed Frame
Along with a supportive foundation, a heavy-duty bed frame provides you with great support for your mattress. Here at PlushBeds, we offer the Prestige Metal Bed Frame, which is lightweight, yet extremely strong. It's adjustable for Twin, Twin XL or Full, or you can go from Queen to King to California King with its ingenious push pin design. A popular feature that our customers love about the Prestige Metal Bed Frame is that the legs are moved back, which can help prevent you from stubbing your toes.
The Bottom Line on Mattress Foundations
When searching for the perfect mattress foundation, the bottom line is to find the right fit for your mattress and your preferences. With so many outstanding options to choose from, it is a good idea to research the mattress and the foundation together, and always to buy both from a reputable company, like PlushBeds.
Link to Us!
If you found this article useful and shareable, please copy and paste the following into the html code of your website or blog:
Learn More About Going Green at the <a href="https://www.plushbeds.com/blogs/green-sleep/mattress-foundation-buyer-s-guide">PlushBeds Green Sleep Blog</a>.
*Please note that we DO NOT accept guest blog posts. Any inquiries into this will be respectfully left unanswered.
Related Posts:
The post Mattress Foundation Buyer's Guide appeared first on PlushBeds Green Sleep Blog.