Sofa Bed Mattress Buyers Guide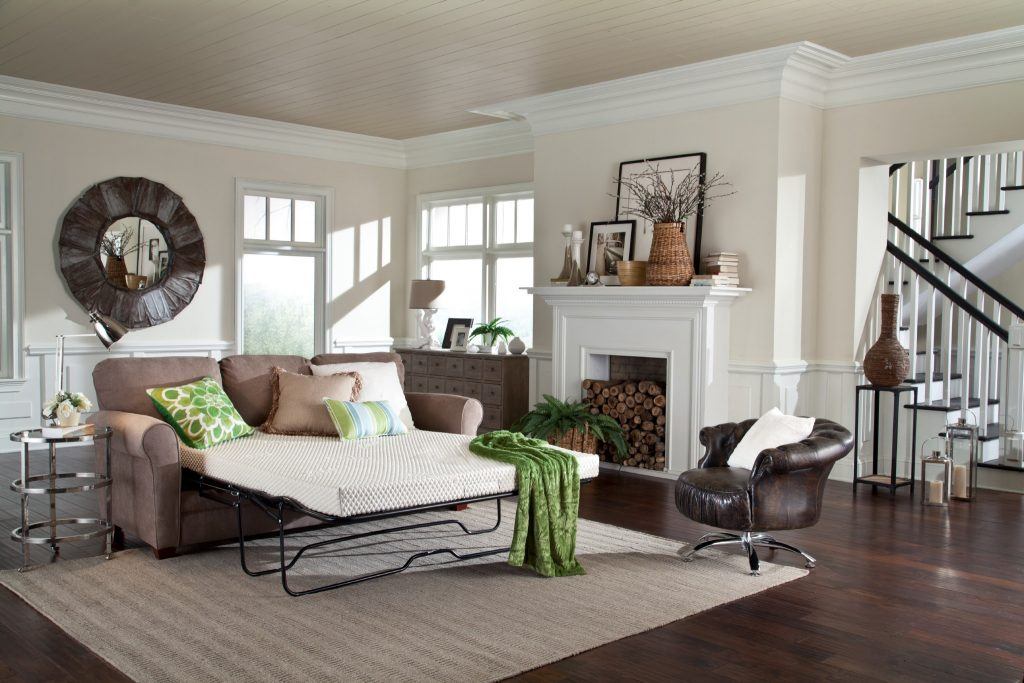 Most people who invest in a sofa bed, do so for the comfort of visiting family, friends and other guests. You want your guests to be comfortable and to enjoy their stay. For this reason, you may want to invest in a comfortable mattress for your sofa bed. This will ensure that your guests sleep comfortably during their stay.
Why Should You Invest In A Sofa Bed?
If you like to entertain, sofa beds are one of the most practical investments you can make. It doesn't require you to give up a room in your home to accommodate your guests. And it provides your guests with a comfortable place to sit during the day, and to sleep at night.
Here are just a few reasons to consider a sofa bed for your home:
Maximize tight living quarters
Save space in your home (no need for a guest bedroom)
Have versatility (sofa or bed according to need)
Easily convert from a sofa to bed (and back again)
Offer compact living quarters for guests
Provide a perfect infirmary for sick or injured family members
Avoid having storage when not in use (unlike portable cots, inflatable mattresses, and other alternatives)
Encourage more visits from family and friends who would otherwise need to pay for hotel accommodations
As you can see, there are plenty of reasons to invest in a sofa bed for your home. If you agree, one of the first decisions you must make, concerns the type of sofa bed you intend to purchase.
Sofa Bed Types
The type of sofa bed that works best for your needs will vary, according to your living situation, and how often you have guests sleep over. Some people live in tiny studio apartments, making sofa beds the best solution for their needs. Others only need sofa beds to provide occasional guest accommodations for holidays and special events.
There are four different types of sofa beds to consider for your home:
Traditional Pullout Sleeper Sofas
Traditional pullouts offer the greatest versatility for most homes. They offer comfortable sofa seating during the daytime hours, and pullout at night to reveal a mattress where guests can sleep.
Many of them, depending on the size, accommodate up to two adults or three children, making them an ideal solution for families to accommodate holiday guests, children's slumber parties, and other large gatherings.
Pullout Sleeper Chairs
In tighter living quarters, pullout sleeper chairs provide sleeping accommodations for a single guest. If you live in a studio or one-bedroom apartment, and want the ability to accommodate the occasional guest, but don't have a great deal of space, this is the choice for you.
Futons
Futons offer the versatility of a sleeper sofa but do not offer the same degree of design sophistication or overall comfort that a traditional pullout sofa bed delivers.
Futons are best suited for younger audiences who are just starting out, and don't have the budgets to purchase a traditional sofa bed. Other people who may appreciate a futon over a sleeper sofa are people who need the space to accommodate guests, but move frequently, and don't want to move a heavier sofa bed each time they relocate.
Daybeds
Commonly associated with younger audiences, most daybeds come with optional trundle units that slide under the bed and out of the way, when not in use, but provide additional sleeping space, when pulled out and in use.
These beds aren't quite as versatile as sofa beds because they aren't very comfortable to use as sofas, and are better suited for a spare bedroom rather than the living room.
Tips For Buying Quality Sofa Beds
Buying a sofa bed sounds like a simple thing. It can be if you are not concerned about quality or the environmental impact of the sofa bed you purchase. If you are concerned about these things, then there are a few questions you should ask, before you buy a sofa bed, such as:
How will your sofa bed be used?
Who is likely to use your sofa bed?
How often will your sofa bed be used?
What kind of space do you have for additional sleep accommodations?
How are you going to get the sofa bed into and out of your home or apartment?
What materials were used to manufacture the sofa and the mattress?
Does the sofa bed have a large carbon footprint?
Will the sofa bed fit into your home or apartment?
Do you have help to move the sofa bed into your home or apartment?
Learning the answers to these questions can help you make more informed buying decision in your search for the right sofa bed.
Considerations When Buying Sofa Beds
When buying a sofa bed, some things matter more than others. Here are a few considerations you'll want to keep in mind, as you shop around and compare sofa beds, to find the best fit for your needs, your home, and your lifestyle.
Sofa Bed Weight
Sofa beds are generally heavier than traditional sofas. The weight must be considered not only for getting the sofa into your home, but also for moving it out and around your home, when needed.
Sofa Bed Size
Size matters in more ways than one. Each of the following circumstances are greatly affected by the size of the sofa bed, and may impact whether the sofa bed in question will work for your or not.
How many people can the bed accommodate? This is important if you're entertaining on a large scale or have a large family.
What are the dimensions of the sofa? You must determine whether it will fit into your living room. In some cases, you may have a specific area within your living room where it needs to fit.
Will it fit through the door of your home? Some homes have larger doors than others. Measure all the doors in your home, and the sofa, to make sure it will fit through the door of your home.
Do you have tight corners or stairs in your home? If so, will the mattress work in those tight spaces?
Take the time to learn the answers to these questions, before you bring a sofa bed into your home, to determine if it's a good fit for your needs.
Frame Construction
The frame is what holds your sofa bed together. It's also an important indication of the quality of the sofa bed. It's important to research the materials that make up the frame of your sofa bed.
Sofa Comfort
Finally, you want to make sure it's a comfortable place to sit. It is quite likely that you will use your sofa bed as a sofa more often than as a bed. With that in mind, you want to know that it's a comfortable place to sit.
Also check to ensure the cushions are made with high quality materials, well-constructed, and offer comfortable support for seating.
Why Sofa Bed Mattresses Matter
Ancient Greeks valued hospitality greatly. The even had a special word for the generosity and courtesy they offered to people who are far from home – xenia. Sofa beds with quality mattresses give you the opportunity to display your own form of xenia in a thoroughly modern world.
Now that you've invested a great deal of time exploring the sofa bed itself, the time has come to turn your attention toward the sofa bed mattress. Sofa bed mattresses are notoriously uncomfortable. In fact, many guests groan inwardly at the thought of spending the night on one of these mattresses.
Our goal is to help you change that preconception by helping you select a sofa bed mattress that is so comfortable, that you might want to give up your bed in favor of the sofa bed.
The good news is that PlushBeds offers exceptionally comfortable sofa bed mattresses, which fit into all sofa beds, to accommodate your needs.
Sofa bed mattresses affect the overall quality and comfort of your guests during their stay. With the right sofa bed mattress, you can transform your sofa bed into a luxury oasis for your guests.
This means your guests can enjoy comfortable and rejuvenating sleep during each night of their stay. And guests who get a good night's sleep during each night of their stay, will feel refreshed, energized and enjoy their stay more. This means, they will also visit you more.
Types Of Sofa Bed Mattresses
There are three basic sofa bed mattress types on the market today. Each one offers different qualities. The three types include:
Natural Latex Sofa Bed Mattresses
Natural latex sofa bed mattresses are ideal for those looking for superior support and pressure point relief. It is also the most resilient and longest-lasting mattress.
Additionally, it is a natural and healthy option for your guests and home.
As an added benefit, the open cell design of natural latex allows air to flow through freely, keeping your guests dry and cool while they sleep.
Memory Foam Sofa Bed Mattresses
Memory foam sofa bed mattresses are ideal for those looking for a softer mattress with body contouring comfort.
It's important to note that memory foam mattresses tend to sleep hotter than latex mattresses. Overcome this by choosing a cool gel foam mattress, which gives you that same memory foam feel, all while sleeping cool.
Cool Gel Foam Sofa Bed Mattresses
Cool gel foam sofa bed mattresses are ideal for those looking for a softer mattress, with body contouring comfort and for those who like to sleep cool.
This type of mattress is ideal for homes that are located in warmer climates or for summer vacation homes.
Shopping For Sofa Bed Mattresses
Shopping for sofa bed mattresses isn't difficult as long as you know the right things to look for. If you've identified the type of mattress you want (from the selections mentioned above), you can narrow your search parameters further by focusing on the following items:
Size
Just as size matters for the sofa bed itself, it must fit inside your home and in the space you have set aside for its use, so size matters for the sofa bed mattress. It must fit the sofa bed you have. Otherwise it is useless to you.
Make sure you measure the current mattress before removing it. Measure not only for size, but also for thickness. Also remember it's always a good rule of thumb to measure twice for purchases like these, so you never need to worry about getting the measurements wrong.
Firmness
The comfort of a mattress goes far beyond the firmness or softness of the mattress. People have diverse preferences when it comes to how firm they prefer their mattresses. A good rule of thumb is to meet somewhere in the middle with a sofa bed mattress that offers a medium degree of firmness, while also offering superior support and comfort.
The other consideration that greatly affects comfort of a mattress is how much air flows through the mattress. Without adequate air flow, the mattress can trap the heat of your body close and disrupt sleep.
Health
The health of your family and guests is a primary consideration for all good hosts. Not all sofa bed mattresses are made with natural ingredients that are healthy to expose your friends and family to.
Some are made with a variety of petrochemicals and other ingredients that present terrible off gassing fumes and may even be harmful to you and your loved ones, like:
Polybrominated diphenyl ethers (PBDEs), commonly found in fire retardants in furniture and mattresses
Heavy metals
Prohibited phthalates
Formaldehyde
Harsh dyes
Chloroform
Volatile organic compounds (VOCs)
If you want to clear the air in your home and breathe easier, then you want to make sure your sofa bed mattress is free from these harmful ingredients.
If you aren't sure, check out any certifications your mattress may have – especially those from independent certification organizations.
Planetary Concerns / Carbon Footprint
Many buyers today are shifting their focus to planetary concerns, and letting their dollars speak with that focus. Every purchasing decision you make that has the planet in mind, is a step in the right direction.
Look for organizations and companies that share your commitment to the planet, and offer products made with socially and environmentally conscious manufacturing processes.
Warranty and/or Durability
Companies that stand behind their products are growing increasingly rare. Most sofa bed mattresses have an expected lifespan of five to seven years.
Look for companies that offer sofa bed warranties longer than seven years, and stand behind their products, so you can buy with confidence.
Caring for Your Sofa Bed and Mattress
Once you find a great sofa bed mattress for your guests' comfort, you must make sure you take great care of the sofa bed and the mattress as well. The good news is that you don't have to bring in professional cleaners to make your sofa bed look and feel like new.
Remove all cushions from the sofa bed. Clear out all things that may have fallen between the cracks. Remove larger objects like money, pens, etc. by hand, and use a vacuum cleaner attachment to remove smaller debris.
Pull out the sofa bed mattress so it's standing as a bed.
Remove the mattress cover if you have one, and wash the cover according to the manufacturer's instructions.
Vacuum the mattress with the brush attachment on your vacuum cleaner to remove any loose debris.
Use a cloth dipped in cool, soapy water (mild, natural detergent) to remove stains on the mattress. Make sure you do not use enough water to soak the mattress, and only dampen it slightly.
Allow the mattress to dry.
Once the mattress is dry, replace the cover, and fold the mattress back into the sofa.
Vacuum sofa surfaces with your brush attachment as normal, and use the vacuum's crevice tool to reach the inner recesses of the sofa bed.
Voila! You now have a guest-ready, fresh and clean sofa bed and mattress.
PlushBeds Sofa Bed Mattresses
PlushBeds is proud to offer a line of luxurious sofa bed mattresses, designed to meet the diverse needs of every sleeper. Each of our environmentally-friendly sofa bed mattresses provides outstanding support, unsurpassed comfort, and peace of mind that your guests will sleep comfortably.
Natural Latex Sofa Mattress
If you're looking for a planet-friendly natural latex mattress for your sofa bed, you can't go wrong with our Latex Sofa Bed Mattress. This mattress is made with 100 percent natural botanical latex, and it is reinforced with a CertiPUR certified Plushfoam layer. Additionally, this mattress offers the following benefits:
Made in the USA
Made without fillers and toxins
Odor-free with no chemical offgassing
Made without petrochemicals
Hypoallergenic
Anti-microbial
Dust-mite, mildew, and mold resistant
The GreenGuard Gold Certified mattress is 4.5 inch thick, which is the standard size for sofa bed mattresses, and comes in a variety of sizes. Make sure you measure your existing sofa bed mattress to ensure you get the precise size you need from the following options:
Single 24" x 72"
Twin 35" x 72"
Twin Wide 38" x 72"
Full 52" x 72"
Full Wide 54" x 72"
Queen 58" x 72"
Queen Wide 60" x 72"
These natural latex memory foam mattresses are made with premium natural talalay latex, and offer firm support for a 250-pound adult to sleep comfortably, before folding the mattress back into your sofa bed.
Memory Foam Sofa Mattress
As the name implies, this 4.5 inch thick sofa bed mattress is a Slice of Heaven to sleep on. This GreenGuard Gold certified mattress is made of premium memory foam along with CertiPUR certified Plushfoam for a density that is nearly three times denser than regular foam.
Experience the sleep quality you can expect in some of the world's finest resorts when you sleep on our Sofa Bed Memory Foam Mattress, which is available in a variety of sizes, including:
Single 24" x 72"
Twin 35" x 72"
Twin Wide 38" x 72"
Full 52" x 72"
Full Wide 54" x 72"
Queen 58" x 72"
Queen Wide 60" x 72"
PlushBeds memory foam conforms to our eco-friendly ideals because they are made with a C02 blowing agent, and because the foam is made with soy-based polyols rather than petrochemicals. This, combined with our fresh foam technology, means there is no off gassing, and that you can buy with confidence that your mattress is not harming the planet.
Cool Gel Memory Foam Sofa Mattress
If you're looking for the unsurpassed comfort of memory foam, but want to beat the heat factor it represents, then you need the Gel Mattress for Sleeper Sofa. This GreenGuard Gold certified mattress offers the same comfort you expect from a memory foam mattress, while delivering superior cooling properties when compared to traditional memory foam.
In fact, the sleeping surface on the Cool Bliss gel sofa bed mattress is 25 percent cooler than the average memory foam mattress. This is in addition to being hypoallergenic, eco-friendly, and odor free, thanks to the PlushBeds Fresh Foam Technology.
The Cool Bliss Gel Sofa Mattress is 4.5 inches thick, and available in the following sizes for your convenience:
Single 24" x 72"
Twin 35" x 72"
Twin Wide 38" x 72"
Full 52" x 72"
Full Wide 54" x 72"
Queen 58" x 72"
Queen Wide 60" x 72"
Make sure you measure your existing sofa bed mattress, to ensure you get the proper size mattress for your sofa bed, and to avoid potential delays in getting the mattress you need for your guests.
PlushBeds
PlushBeds is well known for handcrafting the finest quality organic and natural mattresses, that meet the highest ethical and environmental standards and offer the best options for quality, personal health, comfort, and support. PlushBeds also creates superior quality sofa bed mattresses, available in some of the world's finest hotels including:
The Ritz-Carlton
Waldorf Astoria
Hilton
Marriott
Ramada
All PlushBeds sofa mattresses come with a 10-year manufacturer's warranty, along with the famous PlushBeds 100-night money back guarantee. We believe you will see for yourself why our sofa bed mattresses are among the best in the business!
Link to Us!
If you found this article useful and shareable, please copy and paste the following into the html code of your website or blog:
Learn More About Going Green at the <a href="https://www.plushbeds.com/blogs/green-sleep/sofa-bed-mattress-buyers-guide">PlushBeds Green Sleep Blog</a>.
*Please note that we DO NOT accept guest blog posts. Any inquiries into this will be respectfully left unanswered.
Related Posts:
The post Sofa Bed Mattress Buyers Guide appeared first on PlushBeds Green Sleep Blog.