What is a GOLS Certified Organic Latex Mattress?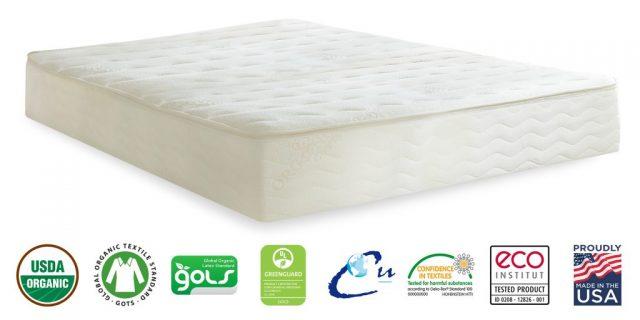 When buying a latex mattress, there are numerous certifications that indicate the quality and purity of the mattress. Read on to learn why the Global Organic Latex Standard (GOLS) certification is the most important certification that your latex mattress should have.
What Does GOLS Certified Organic Mean?
The GOLS certification stands for Global Organic Latex Standard (GOLS). It is the first global standard for certifying organic latex. It was pioneered by Control Union, and is the top organic certification issued for organic latex, made from organic raw materials today. The GOLS certification is the most respected certification for latex mattresses today.
When you purchase a latex mattress that meets the stringent GOLS certification requirements, your mattress is made with pure, certified organic raw materials, and it does not contain chemicals, emissions, fillers and/or polymers.
What Is the Criteria for the GOLS Certification?
The organic rubber plantation where the rubber trees grow (to create the organic latex for mattresses) must also meet the rigorous requirements to receive GOLS certification. But this certification doesn't end there. These standards affect a variety of aspects of the life cycle of latex.
A product needs to contain over 95% of certified organic raw material in order to achieve GOLS certification. The GOLS certification standard monitors the other 5% of material required for producing latex foam strictly.
This highlights the importance of reading labels when you shop for healthy and eco-friendly bedding products. Search for bedding accessories that have a guarantee of being constructed out of 100% organic latex, meaning they're made with no fillers, other compounds aren't added, and only earth-friendly farming practices are used. You'll also want to shop for products with a GOLS certification.
The GOLS standard features:
Emission test requirements
Permissible limits for harmful substances
Filler and polymer percentages
GOLS certification is USDA National Organic Program (NOP) endorsed, globally recognized, and meets stringent standards during the harvesting, manufacturing, labeling, packaging, distributing, and trading process. 
Manufacturing: The latex foam needs to be manufactured and processed in GOLS approved units. Each step in processing, which includes waste disposal, is checked and verified by certifying agency inspectors. These steps help to decrease the likelihood of chemical residues and environmental pollution, offering consumers a sustainable end product.
Processing: Must use processing methods that are sustainable and sourced from raw organic material. Each machine operator will need to follow waste-decreasing procedures, and is furnished with an environmental policy with certain targeted goals. Used water is sent to a treatment plant for wastewater, which guarantees sustainability. Wet processing units are responsible for cleaning, bleaching, finishing, printing, sizing, and dying products. This needs an ample amount of chemical, energy, and water consumption. Each unit tracks their waste and consumption level, to ensure they don't surpass an acceptable limit.
Labeling: For latex to be labeled GOLS certified, it needs to contain at least 95% certified raw organic material of the total weight, along with other various factors.
Packaging: PVC packaging can't be used. Also, all cardboard or paper packaging and labels are certified by the Forest Stewardship Council (FSC) or Programme for the Endorsement of Forest Certification (PEFC), and recycled. The certifications show confirmation the cardboard or paper was responsibly harvested.
The GOLS guidelines go over the whole supply chain, which includes distribution and trading of the final product. Processing units and rubber plantations up to the final retailer are certified, and meet the standard. Traceability to the final retailer from the plantation is ensured through the use of transaction certifications at each product sale in the supply chain.
Essentially, the GOLS certification follows the organic latex from the organic latex farm, to the farmer, to the manufacturing process, to the shipper. A GOLS Certified Organic Latex Mattress satisfies mandatory environmental and social regulations, too. A GOLS Certified Organic Latex Mattress is studied, dissected, and certified at each level, before earning the highly-cherished certification.
What Is the GOLS Certification Process?
The certification process for a GOLS Certified Organic Latex Mattress is extensive. It measures the ingredients that go into the mattress, how they are grown, what is used to help them grow, and even how they are made, packaged, and shipped. Additionally, the GOLS standard for certification requires organizations to follow certain standards in the way they pay and treat the people who make their products as well as the planet.
This means you are buying mattresses made with great care:
For the health of your family
For the good of communities where they are made
To conserve resources, and do no harm to the planet
Buying a GOLS Certified Organic Latex Mattress allows you to sleep soundly, knowing you've made a socially and ecologically conscious purchase that is good for the health of you and your family.
If you are committed to bringing products into your home that are organic, chemical fee, toxin-free, healthy, and made with fair practices for communities and the planet, then this certification is one that matters.
Why Does GOLS Certification Matter?
You might be wondering why buying a GOLS Certified Organic Latex Mattress is important. After all, there are other certifications out there.
There are so many different certifications which make different claims. This can make it difficult to determine if the mattress you're about to purchase is partially, or completely, free of chemicals.
For example, some mattresses have labels, which claim that the product is "all natural." But a label like this could be meaningless if there are no organic certifications behind it. Also, a mattress which is labelled an "organic mattress," may only have some certified organic materials in it, such as an organic cotton cover. But, the materials inside of that cover may be filled with chemicals. Certified organic materials must make up 95 percent of the materials in a mattress in order to truly be an "organic mattress", and there should not be any harmful chemicals used in the manufacturing process.
Therefore, when you're shopping for a mattress, it's important to understand the various mattress certifications. That way, you can be sure of what you are purchasing, and whether it is free of harmful chemicals.
After all, we spend one-third of our lifetime sleeping on our mattress. Sleepers who buy mattresses made with organic materials want to make healthy choices for their families. Without minimum requirements or standards, they wouldn't be able to distinguish one mattress from another. With GOLS certified products, they can rest easy, knowing they have this assurance.
Choosing The Right GOLS Certified Organic Latex Mattress
The GOLS certification is the highest standard when it comes to certification for organic latex mattresses. The highest quality latex mattresses will have this certification.
That is why we offer the Botanical Bliss Organic Latex Mattress. It is handcrafted with the purest GOLS certified organic latex latex, GOTS certified organic cotton, and GOTS certified organic wool. The mattress is also Oeko-Tex Standard 100 and GreenGuard Gold certified for purity.
As the manufacturer, we handcraft and customize each mattress as the orders come in. The Botanical Bliss comes in 9-inch, 10-inch, and 12-inch thicknesses, and medium and firm. The cover unzips, and the comfort can be easily adjusted by swapping the individual layers inside of the cover. For couples with different needs, we can make a mattress with a different firmness on each side of the bed as well.
The Botanical Bliss mattress is made with the PlushBeds philosophy that something as intimate as a mattress, something you spend seven or more hours on each day, should be chemical-free, toxin-free, and healthy to sleep on.
Most impressive with the Botanical Bliss mattress by PlushBeds is not necessarily what goes into the making of this mattress, but the many things that do not, such as:
Harmful phthalates
Carcinogens
Petroleum fillers
Harsh chemicals
Formaldehydes
Heavy metals
Chemical fire retardants
Synthetic blends and fibers
Pesticides
Fungicides
Glue
Combine the absence of harmful ingredients with the benefit of a mattress that comes with free shipping, nominal fee returns, 100-night sleep trial, a free comfort exchange program, a 25-year warranty, and you'll find plenty to love about this luxurious GOLS Certified Organic Latex Mattress.
What Is the Difference Between GOLS vs. GOTS
The GOLS and GOTS labels are very similar. Both track organic products starting from harvesting straight up through the supply chain. The primary difference between them is the type of tracked material. GOLS regulates products that are natural rubber refined, like a latex foam mattress, and GOTS regulates textiles made from natural organic fibers such as:
Both GOLS and GOTS certification systems guarantee all end products are made from honest organic materials. Their rigorous requirements promote things like:
Fair labor practices
Environmental sustainability
Consumer satisfaction
So, it's acknowledged that the global-wide standards yield the highest quality, and safest organic materials. Consumers who buy GOLS or GOTS grade label products can feel confident their environmental stewardship will make a difference.
Feel Confident Shopping Organic at PlushBeds
The Global Organic Latex Standard is the processing and materials standard for finished organic latex foam and organic latex. Along with certifying the latex is organic in itself, GOLS certification also means the production and manufacturing process meets standards for safety, human health and welfare, along with environmental standards. PlushBeds certified organic latex mattresses are made from GOLS certified organic latex, and have the GOLS certification.
PlushBeds is dedicated to offering you the healthiest and purest organic bedding and mattresses on the market, while maintaining ethical, sustainable, and environmentally-conscious business practices to help protect our planet, and safeguard your health. To achieve this, PlushBeds assures their products and business meet the highest standards of the most stringent organic certifications and tests in the industry.
You can learn more about PlushBeds different certifications here.
You can view PlushBeds GOLS certificate here.
Link to Us!
If you found this article useful and shareable, please copy and paste the following into the html code of your website or blog:
Learn More About Going Green at the <a href="https://www.plushbeds.com/blogs/green-sleep/what-is-a-gols-certified-organic-latex-mattress">PlushBeds Green Sleep Blog</a>.
*Please note that we DO NOT accept guest blog posts. Any inquiries into this will be respectfully left unanswered.
Related Posts:
The post What is a GOLS Certified Organic Latex Mattress? appeared first on PlushBeds Green Sleep Blog.