Memory Foam Mattress Buying Guide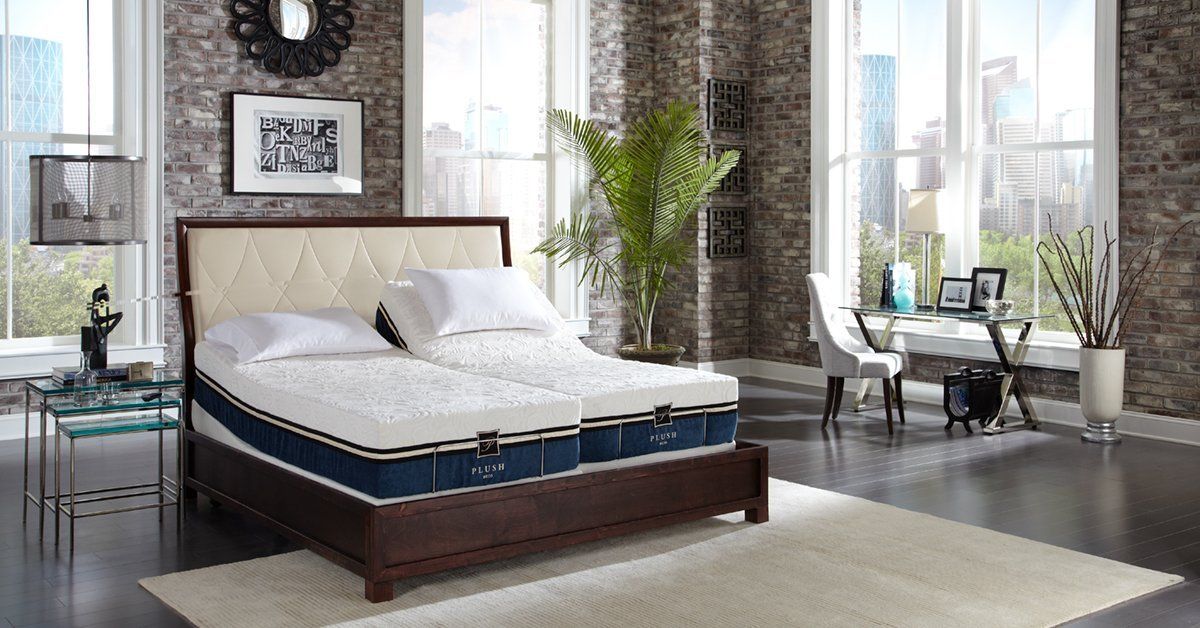 This memory foam mattress buying guide provides you with information to help you make an informed memory foam mattress buying decision, so you can enjoy the ultimate, energized and refreshed sleeping experience.
What is a Memory Foam Mattress?
Memory foam consists of open-cell foam crafted from polyurethane foam with extra compounds for improving elasticity and viscosity — the reason behind it's name "viscoelastic foam."
Viscosity is where there's a response to the material when there's pressure applied. Elasticity causes it to stretch and snap back to its initial shape. Therefore, when you lie down on the mattress, the viscoelastic memory foam will mold to your body due to the pressure applied, but it returns to its initial shape after you leave the bed.
Memory foam mattresses, despite their name, usually only contain memory foam in the top layer or layers. It would be impractical to make a bed that only consisted of this responsive material, and it wouldn't offer you the full support you require. The different foams within the bases are more supportive and dense, and are what provide the mattress with its structure.
Why Should I Want a Memory Foam Mattress?
There are several reasons why you'd want a memory foam mattress, including they:
Are Ideal for Pain Reduction
The conforming and soft components of viscoelastic foams are perfect for helping individuals suffering from day-to-day pain in their muscles and joints. This is the one essential reason that mattress makers have been using this foam for manufacturing thousands of beds made for helping individuals suffering from pain.
Memory foam, combined with various other materials, help target back pain along with excessive build up of pressure. A variety of foam densities help to align the spine, and distribute your weight as evenly as possible. Individuals with other forms of pain could also benefit from memory foam mattresses, too. Obtaining a proper night's sleep plays a significant role in your overall health, and it can go a long way buying a comfortable mattress. Depending on your problem, a memory foam mattress is a good start to finding pain relief.
Provide a Real Body Fit
Mattresses made of memory foam respond to pressure and heat, and mold to your body, which allows the surface to distribute your body weight evenly, and go back to its initial shape once you're off the bed, and the pressure is removed.
Offer Temperature-Control Support
Body temperature could impact the quality of your sleep. Memory foam mattresses are made using temperature-sensitive materials that allow your mattress to adjust to the weight and heat of your body. As your body temperature rises, the softer the mattress becomes, providing you with a great night's sleep. If you tend to sleep hot, you might want to think about purchasing a memory foam mattress with cooling features.
What Are the Different Types of Memory Foam Mattresses?
There are various types of memory foam mattresses, including:
Traditional:

This type helps support your body by the way it responds to your weight and shape, which also helps increase your circulation, and reduce pressure points.
Gel Memory Foam:

This type consists of a gel formulation that's usually found in shoe inserts used for reducing pressure. The gel will increase how much air flow you get through the mattress, and draws heat away from you when you're sleeping. Gel memory foam mattresses are ideal if you tend to heat up while sleeping.
Latex Foam:

While not necessarily a type of memory foam, latex foam is comfortable and plush. The primary benefit of this foam is it's antimicrobial and hypoallergenic, making it perfect for those with allergies.
Which Memory Foam Mattresses Are Right for Me?
PlushBeds offers two types of memory foam mattresses you can choose from.
The Cool Bliss Mattress
With PlushBeds Cool Bliss Mattress, you'll wake up energized and refreshed each morning. Indulge in five comfort layers that work together to provide you with a deep, rejuvenating sleep, and optimal cooling comfort.
It provides you with the same benefits of a traditional memory foam mattress, but doesn't cause you to sleep hot, or give off that quicksand feeling. It's made with innovative technology for superior support and cooling comfort. Lab testing has shown immense enhanced properties when compared to other popular foams with low air flow.
Offers pressure relief.

With the Cool Bliss mattress, you're provided with both premium memory foam's pressure-relieving benefits and the support you receive from natural latex, for an outstanding floating sensation.

No off-gassing or chemical odors.

The Cool Bliss mattress is GreenGuard Gold certified, so you can feel confident you're resting on a mattress that doesn't just provide you with ultimate comfort, but also allows you to breathe easily. There aren't any irritants or off-putting smells, and you won't have to sit and wait for days while your mattress "airs out" before being able to use it, and get a great night's sleep.

Provides enhanced airflow.

Not to mention, PlushBed's patented GEL memory foam provides enhanced airflow, and dissipates moisture and heat three times quicker than other competitors' gel memory foam mattresses.
The Ocean Mist Mattress
With the Ocean Mist mattress, you're provided with deep, rejuvenating sleep. It's cool gel technology eases both heat and moisture for outstanding comfort, exceptional coolness, and amazing luxury at an affordable price.
Provides great pressure relief.

The Ocean Mist mattress offers great pressure absorption with incredible recovery response, so you experience only the best sleeping experience on a memory foam mattress.

No off-gassing or chemical odors.

The Ocean Mist memory foam mattress meets even the most stringent chemical emissions testing that can ease allergies and other sensitivities.

Includes cool gel technology.

This alleviates both moisture and heat for exceptional coolness, comfort, and luxury. It dissipates

moisture and heat three times faster than other memory foam mattresses.
How to Select the Right Memory Foam Thickness?
The temper foam's thickness will have an effect on the way your bed feels. Thicker foams can relieve more pressure, but they could potentially compromise support. Memory foam layers of memory foam mattresses are typically between two to four inches. You might experience more thickness with denser foams, since they're more supportive. It's not uncommon to see a couple of foams with different densities stacked on top of each other.
How to Select the Right Memory Foam Firmness?
You might think it's difficult to obtain an idea of levels of firmness while you shop online. But, when looking at indentation load deflection (ILD), it makes it more possible for you to make an informed decision. The higher the ILD rating is, the firmer the product should be.
Products with an ILD of 12 are typically extremely soft. Those with a 50 ILD would be extremely firm. So, if you like the firmness to be somewhere in the middle, you'd want to look for products in the mid to upper 20's. Both the Cool Bliss and Ocean Mist memory foam mattresses by PlushBeds provide a medium-soft firmness level.
What are the Right Foundations for Memory Foam Mattresses?
Deciding on the perfect mattress foundation is essential, too, since it helps to maintain your mattress's structural integrity. It also offers the right comfort and spinal support, and can extend your mattress's lifespan.
There are various foundations for mattresses today on the market. Each type of foundation offers its own benefits. But, there isn't any one foundation that is perfect for all types of mattresses. Therefore, you'll need to know which type of mattress you're buying before you decide on the foundation.
Some choices are:
Adjustable Foundations:

Adjustable foundations can transform how you sleep. But, it's essential you purchase the right type of mattress if you're going with an adjustable foundation. Most coil or innerspring mattresses need to be on a flat surface. They don't respond to the manipulation types that occur with adjustable foundations. So, you'll want to choose a mattress made for use with an adjustable foundation, if you're looking for ultimate and unsurpassed support and versatility.

Box Spring:

These are the more common types of foundations for mattresses out there today. They're very beneficial for enhancing mattress ventilation, and they're preferable to placing innerspring or coil mattresses on the floor.

Platform Foundations:

Many modern memory foam mattresses do need something more durable and sturdier than a box spring for the mattress foundation. In many cases, platform foundations work fine, and offer a flat, firm surface to serve as the mattress foundation. Platform foundations come in various sizes, and don't require box springs, making them an economical choice for many people. They're also an aesthetic choice, too.
Memory Foam Mattress Lifespan
A memory foam mattress's durability is one of its benefits. Typically memory foam mattresses will last you about seven years or so, but with the proper care of a quality memory foam mattress like The Cool Bliss or The Ocean Mist mattress from PlushBeds, you could get over 10 years use out of it or more.
Extras
At PlushBeds, you're provided only the best products that aren't just comfortable, they're also healthy. Combine that with the amazing customer service we provide, and you get the perfect balance of comfort, support, and peace of mind.
Give one of PlushBeds memory foam mattresses a try - The Cool Bliss or The Ocean Mist - and see for yourself the luxury you can experience while obtaining a great night's sleep. 
Link to Us!
If you found this article useful and shareable, please copy and paste the following into the html code of your website or blog:
Learn More About Going Green at the <a href="https://www.plushbeds.com/blogs/green-sleep/memory-foam-mattress-buying-guide">PlushBeds Green Sleep Blog</a>.
*Please note that we DO NOT accept guest blog posts. Any inquiries into this will be respectfully left unanswered.
Related Posts:
The post Memory Foam Mattress Buying Guide appeared first on PlushBeds Green Sleep Blog.