How to Make Your Old House Green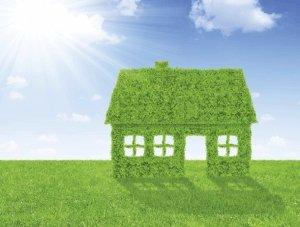 It hasn't always been about being green. Older homes weren't necessarily designed to be green. Renovating older homes to be greener living quarters is one of the areas where it can be require a little more creative thinking. Depending on the age and original construction of the home, you may find specific challenges when it comes to stopping draughts and creating a more energy efficient place to live.
Homes built before 1919 were designed so that rain would be absorbed by the walls and evaporate at a later time. Windows were designed, whether intentionally or not, well, leaky. This allowed for greater natural ventilation, and the walls, while solid, were built to be breathable.
Using modern tactics to make the house more energy efficient will greatly reduce the energy bills. Unfortunately, it's far more likely to lead to other, more expensive problems to fix.
So what's the solution to making old houses green? You have several options available to you. You can think outside the box a bit. Or you can start with small, simple changes.
You'll find both options in the suggestions below. Keep in mind, though, that going green is not an all-or-nothing proposition. Each step towards a greener home is a step in the right direction – even if you must take a little time between steps.
Conduct a Professional Energy Audit
In this task, a highly-trained auditor will walk through and around your home to identify areas where energy improvements can be made. He or she will explain to you the small and big steps you can take to shore up your home and make it a greener place to live.
Unless you're working with an auditor specifically qualified to offer advice on historic homes (if your home falls into that range), you will need to weigh carefully any advice the auditor offers on exterior facing walls inside your home and all walls outside your home.
Some suggestions you may receive from the energy auditor that might prove beneficial involve:
Caulking areas around windows, doors, baseboards, and corners.
Insulating hot water pipes throughout the home.
Adding attic insulation.
The real value of working with energy auditors is that they can explain to you the areas where your home is losing the most hot or cold air, and offer suggestions for stopping the mass exodus of air from within the home.
Consult with a Green Contractor who has Specific Experience Working with Historic Homes
In some areas, there are strict regulations as to what kinds of changes can be made to the interiors or exteriors of historic homes in order to maintain the integrity of the home in keeping with the period in which it was built.
Contractors with specific experience dealing with historic homes in your area will know these requirements as well as the energy saving or green updates you can make.
Start Small
You don't have to take out a new mortgage on your home in order to make favorable changes for the planet. Small changes can start you off in the right directions. Choosing to add new depth to your greening efforts will only make things better as time goes on.
Ceiling Fans
While not likely an option for homes on historic registries, there are many modern ceiling fans that facilitate historic looks. Because older homes often have high ceilings, ceiling fans become important tools for regulating temperature throughout the year.
During winter, ceiling fans can be used to push warm air down and circulate it throughout the room rather than allowing it to hover near the ceiling or escape through the roof.
During summer months, ceiling fans can be used to circulate cool air and create air movement throughout the room while actually helping to draw the warm air up and keeping it out of circulation.
Use LED Light Bulbs
Until the past couple of decades, light bulbs had not seen many changes in the 100 years since they were first invented. Today, however, LED light bulbs offer superior light, last eight to ten times as long as incandescent bulbs, and produce nominal heat – making them an excellent choice for use in homes without adding to the heat during summer months. They also use ⅓ to 1/30th watts less of electricity than that of incandescent or CFL light bulbs, respectively.
Install a Programmable Thermostat
This tiny device can have a huge impact on your utility bill with absolutely no bother to you – aside from the initial installation that is. What it does is allows you to set temperatures for your home and then forget about it.
You can set the home to be cooler or hotter (according to the season) while you're at work and the home is empty, and then warm up or cool off to more comfortable temperatures for the family during the hours when everyone is home. You can even program thermostats for different weekend hours.
Use Solar-Powered Water Heating
For most household uses, the sun offers plenty of warmth to heat water. It's a free source of energy, and water heating methods using this process are quite effective. It's true that you'll likely need other water heating sources to supplement, such as tankless water heaters. Both sources provide substantial savings over traditional water heaters for the home.
Install Tubular Skylights
Tubular skylights are an outstanding way to light the home. Modern technology makes some models sufficient that they can harness the light of the moon to bring light into the home at night.
During the daylight hours, though, the light they bring in is bright enough to light small rooms, closets, and bathrooms without any other source of electricity required. On particularly sunny days, they are even brighter than most lightbulbs.
Not only is this a green solution for lighting the home, but it's also far more practical than the bulky, leaky, skylights of old.
Use Green Building Materials
Regardless of the updates and upgrades you hope to make in your old house, the odds are good that there will be plaster removal and painting involved. This means new walls.
Planet Loving Drywall
Unfortunately, gypsum drywall, the substance used as a traditional replacement for plaster walls of old, requires a great deal of energy to create, and isn't exactly disposal-friendly.
The new green solution is a substance called EcoRock. According to the EPA, it is made of 85 percent recycled content, and requires substantially less energy to create. What really sets it apart, though, is that it is completely recyclable.
For homeowners fighting the mold battle or who have concerns about mold, you will be glad to know this drywall substitute is resistant to mold – and termites. The one drawback is that it does cost a little more than traditional drywall.
Eco-Friendly Paint
While color and texture are certainly important when it comes to paint, purchasing paint that's good for the planet is important, too. In the past two decades, we've seen the growth of paint companies willing to offer eco-conscious paint alternatives. You want to find paints that are 100 percent VOC (volatile organic compound) free.
Windows
Depending on the age of your home and how authentic you want the home to look for the age, windows can be a bit of a challenge. One way to remain authentic while blocking air from flowing freely in is to install plain glass storm windows over the original windows. These windows will have to be custom made for each window as windows were not mass produced to standard sizes in older homes as they are today.
Flooring
Green flooring choices are growing by the day. Many people will prefer bamboo with a slightly darker than normal stain for historic homes. Bamboo provides an easily renewable, sustainable, and absolutely gorgeous flooring choice. There are other green flooring options available to consider for older homes, though, including the following:
Cork
Eco-friendly carpet
Tile
Laminate Floors (look for laminate flooring that has the North American Laminate Flooring Association, or NALFA, Certification Seal)
Any of these will make a great choice. While carpet isn't a favorite for many people interested in preserving the historic integrity of their homes, carpets can add a little insulating warmth to the floor while maintaining the character of the home. They are definitely worth considering.
Another flooring idea to consider is the idea of installing radiant heat flooring. This keeps the floors nice and warm while reducing heating costs throughout the home by making it feel warmer.
Kirei Board
Whether you're building furniture, taking care of casework, or creating cabinetry for kitchens or bathrooms, Kirei Board provides an earth-friendly alternative to wood. It is constructed with reclaimed sorghum, coconut, wheat, and straw. Additionally, Kirei Board contains no added formaldehyde and instead uses a nontoxic adhesive.
Insulation
While most older houses could use a good insulation upgrade, experts argue that roof insulation is generally the most cost effective due to the risks of complications resulting from insulating exterior walls and the area beneath the floors of older homes. It's not a bad move to make as approximately 25 percent of heat is lost through the home's roof.
With changes like these, large and small, your home is sure to be a greener place to live – one you can be proud to call home sweet home.
Link to Us!
If you found this article useful and shareable, please copy and paste the following into the html code of your website or blog:
Learn More About Going Green at the <a href="https://www.plushbeds.com/blogs/green-sleep/how-to-make-your-old-house-green">PlushBeds Green Sleep Blog</a>.
*Please note that we DO NOT accept guest blog posts. Any inquiries into this will be respectfully left unanswered.
Related Posts:
The post How to Make Your Old House Green appeared first on PlushBeds Green Sleep Blog.