The 25 Top Healthy Food Blogs of 2017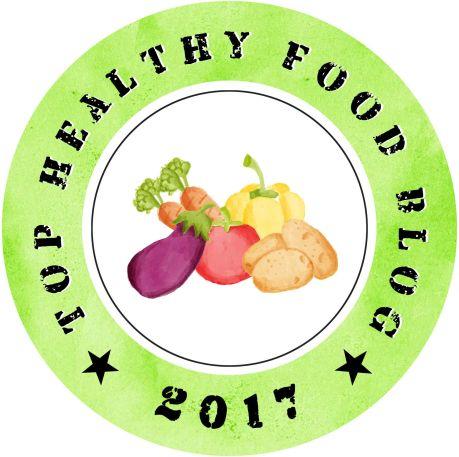 The Best of the Best Healthy Food Blogs
Healthy eating is weighing heavily on the minds of many as 2017 gets underway. We have searched the far reaches of the World Wide Web to find outstanding healthy food blogs to help you meet your healthy eating goals, and get the results you're searching for.
Whether your goals are to lose weight, eat healthier, or address certain dietary issues or deficiencies, we believe these 25 health food blogs can help you make healthier, mindful, and delicious food choices in 2017 and beyond. We hope you'll agree!
*Our apologies in advance for not having a head shot for each author of a top healthy food blog (yet). We do our very best to show respect for these fine people by not posting their images without establishing contact with them first for their permission. Further images will appear as the permissions do
.
Oh She Glows: Glow from the Inside Out
If better skin is your goal, you can't go wrong with the Oh She Glows: Glow from the Inside Out blog, which features vegan dishes that help you bring your best glow from the inside out. Many of the recipes, in addition to being meat- and dairy-free, are also free of soy, gluten, and processed ingredients – making them excellent choices for people with certain food allergies and sensitivities.
Some of her healthy recipes, which are in the number of 500 and growing, include vegan banana bread, summer glow Buddha bowl, and a list of plant-based make-ahead freezer meals made with new parents in mind, but works for busy parents too!
The blog was created by Angela Liddon, who also has The Oh She Glows Cookbook and Oh She Glows Every Day for sale, in addition to the many fun and free recipes she features on her website.
Angela is also active on Facebook, Instagram, Pinterest, Twitter, and Google Plus, so be sure to connect with her to find out any other great nuggets of wisdom and healthy eating insight she might have to share.
My New Roots
Sarah Britton started My New Roots in October 2007. Since then she has shared her own experiences as she experiments in the kitchen, exploring her love for whole foods. She offers recipes and food ideas that focus on plant-based eating and shares her discoveries with her readers. She believes that food plays a vital role in health, and practices a holistic nutrition philosophy.
Sarah is a Holistic Nutritionist and Certified Nutritional Practitioner (CNP). For those unfamiliar with Holistic Nutrition it involves incorporating physical, environmental, spiritual, and emotional balance in all aspects of your life. This includes dietary and lifestyle choices – her blog is designed to help you make dietary and food choices that promote your overall health and happiness. Among recipes from Sarah are recipes for coconut black rice breakfast pudding, chickpea tortilla nachos, cream of broccoli and cashew soup, and butternut squash lasagna.
You can stay connected with Sarah and My New Roots and get some of her best recipes by following her on Facebook, Instagram, and Pinterest.
Andie Mitchell – Recipes Inspiration Life
Anyone interested in eating to lose weight will find plenty of golden nuggets of truth and wisdom on the various pages of the Andie Mitchell blog. Here, Andie details her own 135-pound weight loss journey, and discusses the importance of embracing whole, unprocessed foods, and learning to add more vegetables, fruits, and natural foods that offer vital energy into your diet.
Andie Mitchell is also a New York Times best-selling author with two books available: Eating in the Middle and It was Me All Along.
The great thing that sets Andie Mitchell's blog apart from other weight loss blogs is that it also addresses maintenance rather than helping you reach your weight loss goals and then leaving you to flounder in the wilderness about how to maintain your hard-won results. You'll learn a wide range of healthy recipes made with whole foods, containing as few ingredients as possible, like broccoli salad with apricots and pecans, tuna avocado toast with tomato, and balsamic chicken salad with apples and white cheddar.
Follow Andie Mitchell on Facebook, Instagram, Pinterest, Twitter, and Google Plus to keep up with her latest insights and amazing weight loss-friendly recipes.
Deliciously Ella
Deliciously Ella is a blog that was created on a journey to address health needs of Ella Mills (Woodward) who had been diagnosed with a condition called Tachycardia Syndrome. The symptoms and side effects and the illness and the medications she was taking had a devastatingly negative impact on her life, and she decided to take action with diet and lifestyle changes to help herself.
Deliciously Ella is the story of her journey to better health through healthy food and she shares her triumphs and setbacks along the way. She is passionate about helping others by sharing her experiences and offers outstanding and tasty recipes, like chocolate orange truffles, sweet potato brownies, and loaded Mexican style potato skins – to whet your appetite.
Ella also has several books available, including Deliciously Ella with Friends, Deliciously Ella, Smoothies and Juices, Deliciously Ella Every Day, and Deliciously Ella.
Nom Nom Paleo
One name you will hear a lot in the dieting world is paleo. This way of eating is one that looks to the past for diet guidance, and eliminates many processed foods like cereal, candy, pasta, and pre-packaged foods. Nom Nom Paleo offers recipes that are rich in natural, timeless foods like meat, fish, nuts, vegetables, and seeds. But, these recipes don't look like your ancestors nuts and berries.
Nom Nom Paleo is written by Michelle Tam who has been called the "Martha Stewart of Paleo" by the New York Times creating recipes The Kitchn refers to as "always popping with flavor."
In addition to blogging at Nom Nom Paleo, Michelle has penned the cookbook Nom Nom Paleo Food for Humans. Recipe offerings on Michelle's blog include slow cooker beef bone broth, slow cooker kalua pig, bacon wrapped pineapple, meatloaf muffins, and oven-baked sweet potato fries. All Michelle's recipes keep paleo principles of eating front and center, and involve no processed ingredients.
Visit Michelle Tam and Nom Nom Paleo on social media at Facebook, Instagram, Pinterest, Twitter, and Google Plus to learn more about Paleo, and get fast access to new recipes as they arrive.
Sprouted Kitchen
Sprouted Kitchen operates under the premise that freshest ingredients are always best. Sara Forte offers seasonal recipes in her approach to cooking that provide the best flavor and greatest versatility. Her focus is on using whole grains, healthy fats, and natural sugar alternatives in addition to the freshest possible fruits and vegetables in all her recipes. She also suggests that readers make their own alterations for tastes, preference, and individual health or dietary needs.
Unlike many healthy food blogs, Sprouted Kitchen happens to offer a complete section devoted to chocolate that includes delicious options like almond date truffles, brown butter cupcake brownies, chocolate cupcakes with cocoa mascarpone frosting, and peanut butter cereal balls.
When it comes to outstanding meals, you won't be disappointed with Sprouted Kitchen either. You'll find a wide variety of soups and vegetable dishes, like cauliflower and brown rice gratin. You will also find recipes for dishes like grilled halibut sandwiches with jalapeno slaw and lemongrass tofu bowls.
With so many great choices you will have little trouble finding excellent meal choices for even your pickiest eaters. Learn more about the flavorful selections and ingredients used at Sprouted Kitchen by following on Facebook, Instagram, Pinterest, and Twitter.
The Domestic Man
If you're looking for healthy foods that are gluten-free and paleo-friendly, look no further than The Domestic Man. Russ Crandall is the mastermind behind The Domestic Man and he has created a food blog based on his own experiences changing his diet due to serious health issues in 2010. In addition to sharing a new recipe with blog readers every Tuesday, Crandall also has three cookbooks: The Ancestral Table: Paleo Recipes for a Traditional Life, The Safe Starch Cookbook, and Paleo Takeout: Restaurant Favorites without the Junk.
Read through The Domestic Man blog to find recipes for delicious foods that include garlic smashed potatoes, curried beef stew, smothered pork chops, and chicken soup with kale. All these recipes are made with healthy ingredients and most of them are prepared without processed ingredients that offer so many negative health side effects.
Follow The Domestic Man on Facebook, Instagram, Pinterest, Twitter, and Google Plus to get instant notification when new recipes are released, and to learn some interesting facts about food along the way.
The Healthy Apple: How to Detox Your Food and Your Life
The Healthy Apple is more than a healthy food blog, though it does focus a fair amount of space to information about eating for your health, including foods that detoxify the body, fight inflammation, boost immunity, and promote overall good health. The Healthy Apple is the brainchild of Amie Valpone, who understands the struggle you face to find balance in life and in the food you prepare for your family. She is the author of Eating Clean: the 21-Day Plan to Detox, Fight Inflammation, and Reset Your Body.
Amie uses a clean eating philosophy in the recipes she shares with her readers. Among her recipes you will also find notations for dishes that are gluten-free, dairy-free, soy-free, vegan, vegetarian, sugar-free, etc.) to help those with food allergies or sensitivities to easily identify which foods will work for their dietary needs. She offers many recipes including some interesting selections, like on-the-go snacks, condiments, seafood, side dishes, and more. Some recipes you might want to try from The Healthy Apple include: quinoa bowl with basil tomato sauce, roasted squash salad with creamy almond drizzle, and quinoa tacos.
Consider following The Healthy Apple on Facebook, Instagram, Pinterest, Twitter, and Google Plus to learn more about changing your life and your health by changing your diet.
The Picky Eater
What really makes The Picky Eater perfect is the fact that these recipes work for people who don't require special diets – or do not go gently into the thought of eating healthy foods. They offer great flavor that even husbands and kids will love while being deceptively healthy at the same time. Her recipes are a sort of fusion between whole, organic, fresh foods and deep-dish junk food sensibilities. In Anjali's blog, you will find a nice selection of fun, flavorful, "junk" foods that are actually healthy!
The idea that healthy food can taste good is foreign to many people who have been raised on processed foods, but The Picky Eater bridges the gap by offering delicious and healthy versions of everyday favorites, like chocolate brownie oatmeal, pumpkin pie oatmeal, 7-layer bean dip, baked oven fries, Mediterranean style paninis, Greek nachos, margarita pizza, macaroni and cheese, skinny spicy spaghetti with garlic, parmesan, and veggies, and more. These don't even include the many desserts available for The Picky Eater.
Follow Anjali Shah on social media at Facebook, Pinterest, Twitter, and Google Plus to get updates when new recipes are revealed, and to learn more about transforming junk foods into healthier options.
The Minimalist Baker
The problem with healthy foods, for many people, is that you find what looks like a delicious recipe and then need to rob a bank to go buy the 25 ingredients it takes to make these delicious and nutritious dishes. Not only are these dishes expensive to make, but they are also cumbersome, making it easy to make mistakes, leave something out, or add something twice.
Dana at Minimalist Baker understands your pain. Healthy recipes at the Minimalist Baker contain 10 or fewer ingredients, are prepared in one bowl or pot, and require less than 30 minutes of prep-time.
Additionally, most recipes at Minimalist Baker are plant-based and gluten-free recipes. You will also find some recipes that are egg-free and dairy-free, too. Best of all, new recipes are posted every three days, making it easy to find something new and delicious to try, including some of these beauties: 30-minute chocolate donuts, vegan potato salad, no bake pb & j energy bites, vegan pumpkin roll, and peanut butter cup cookies to get you off to a great start.
There is more to Minimalist Baker than sweets, though. You will find plenty of foods that are perfect for everyday cooking on this impressive blog – all of which are simple to prepare and good for you to eat.
Follow Minimalist Baker on social media at Facebook, Instagram, Pinterest, and Twitter for fast updates when new recipes arrive.
Kath Eats Real Food
Written by Registered Dietician, Kath, Kath Eats Real Food focuses on eating healthy – initially as part of her personal efforts to lose weight. She also has a personal blog that focuses solely on oatmeal. In addition to recipes and nutrition information and guidance, Kath also offers instructional videos to help explain various ideas and topics.
Kath has been blogging about food and nutrition since 2006, and has developed quite a collection of recipes during that time. Initially, she blogged three times per day – for each meal of the day. She has recently switched formats so that she doesn't update quite as frequently but still lavishes her readers with good food, nutritious insights, and quite a few glimpses into her personal life and family. She also has a bit of a passion for wine, which she discusses frequently in her blog.
You will find a huge variety among the recipes offered at Kath Eats Real Food (also referred to as KERF). This includes dishes like: Mediterranean Pita Pocket Sandwich, Spiced-up Soufflé, Whole Wheat Blueberry Cobbler Muffins, Bacon Cheese Bean Burgers, Mole Coconut Burgers, and so many more delicious food items that are all made with real ingredients.
Visit Kath on Social Media and stay up to date with her latest recipes by following on Facebook, Instagram, Pinterest, and Twitter.
Cookie and Kate
Kate adores cooking and always has. She especially loves preparing healthy foods to share with good companies. Cookie is her rock steady sidekick for cooking and many more adventures. Together, they create recipes that are fun, flavorful, and healthy.
The recipes on Cookie and Kate are vegetarian recipes as she prefers to not cook meat. She believes in whole foods, and chooses locally sourced foods that are in season whenever possible for her menu planning and food preparation.
Her purpose in creating Cookie and Kate was to celebrate good food and the nourishment it provides the body. Some of the great recipes you'll find at Cookie and Kate include: whole grain pumpkin spice waffles, caramelized sweet potato, red pepper, and feta frittata, pesto pasta salad, roasted veggie enchilada casserole, roasted butternut squash risotto, and broccoli rabe and black bean quesadillas.
Follow Kate (and her trusted sidekick Cookie) on their next culinary adventures through social media at Facebook, Instagram, Pinterest, Twitter, and Google Plus.
The Year in Food
Created by Kimberley Hasselbrink, The Year in Food offers visitors various snapshots of Kimberley's journey to discover creative cooking and ways to incorporate seasonal fruits and vegetables into her diet daily. She believes that food, like anything in life, is all about the moment. Her recipes and ideas often focus on cooking at the moment of peak freshness and during the heart of seasonality for fruits and vegetables in her recipes.
Some of the recipes you'll find featured on The Year in Food include campfire grilled salmon tacos, grilled salmon taco salad, lentil and bean soup, harvest tacos, Cajun spiced sweet potato burgers, grilled roasted chicken, cranberry carrot loaf, squash pasta with yogurt, peas, and chili, chickpea pasta with parsley pesto, rhubarb strawberry chia pudding, winter pasta with cauliflower and Brussels sprouts, and campfire frittata.
In addition to her blog, which offers many amazing and delicious recipes, Kimberley has also written the book, Vibrant Food: Celebrating the Ingredients, Recipes, and Colors of Each Season.
Visit The Year in Food on social media at Facebook, Instagram, Pinterest, and Twitter to learn more about the newest recipes, explore Kimberley's beautiful photography or just to figure out something healthy and delicious to prepare for dinner.
101 Cookbooks
The 101 Cookbooks blog dates back to 2003 when Heidi Swanson had a goal of sorting through her enormous collection of cookbooks. As the blog evolved, Heidi's shift focused on whole foods that are natural and nutritious. For more than 10 years, the 101 Cookbooks blog has been bringing beautiful food and nutritional insights to kitchens and tables around the world. During that time, Heidi has gathered together a formidable collection of recipes of her own, and she's sharing those recipes and her insights about them with her readers.
You can choose to explore these recipes by categories, ingredients, or even by season. Heidi even offers a few cookbook recommendations along the way too.
The one category you don't want to miss is Heidi's Favorites, which includes dishes like the luminizing beauty bowl, pickled turmeric eggs, broccoli cheddar soup, pineapple rice, old-fashioned blueberry cake, buckwheat cheese straws, immunity soup, potato chowder, lemongrass turmeric curry paste, carrot cake, asparagus stir-fry, Japanese pizza, cashew curry, winter salad, and kombucha holiday punch.
Following Heidi on social media will help you stay on top of any new recipes and developments. She can be found on Facebook, Twitter, Instagram, and Pinterest.
Green Kitchen Stories
If you're ready to embrace a simpler way of eating, Green Kitchen Stories is a great place to begin. The focus is on vegetarian food prepared with natural ingredients, good fats, whole grains, fruits, and vegetables.
This blog tells stories about the people behind it, David and Louise, and their quest for healthy vegetarian recipes, organic products, and whole food – not to mention about the green wall in their kitchen. They represent a combination of culinary passions between the two of them. David is a vegetarian with a passion for baking and Louise is focused on preparing healthy foods for the family that are tasty, simple, and healthy.
They currently have two books available in English: Green Kitchen Travels and The Green Kitchen. You will find many outstanding recipes like banana granola, spinach muffins, gluten-free nut crackers, lemon spelt bread, acai bowl, blueberry coconut super smoothie, one put butternut and cabbage stew, summer pasta with smashed tomatoes, peaches & mozzarella, holiday stuffed pumpkin, Korean lettuce wraps with Kimchi, chestnut tart with oyster mushrooms, cinnamon roasted vegetables, Portobello and peach burger, vegetarian mini pizzas, broccoli pesto, and many more amazing vegetarian and healthy dishes.
You can follow The Green Kitchen on Facebook and Instagram so that you are always up to date with the latest information and recipes.
Fannetastic Food
Healthy eating is a way of life for Anne, a registered dietitian in Washington, D.C. who shares her passion for healthy eating on the pages of Fannetastic Food. Her concern is in helping you live a healthier, happier life without counting calories. She has a Masters of Public Health degree in Nutrition and shares a wide range of health tips, fitness and running information, and amazing recipes on the pages of her blog. Many of the recipes are gluten-free; some are vegan. One of the great things is that she offers recipes for real people.
Some of her popular recipes include: chicken and white bean chili soup, carrot cake muffins, Greek lamb burgers, healthy chicken enchiladas, Mexican chicken casserole, Mexican lasagna, salmon with lemon mustard dill sauce, savory curry granola bars, strawberry scones, smoked salmon and dill wrap, beans and rice salad, spiced mashed sweet potatoes, easy coconut curry, Mexican brown rice casserole, chicken and veggie pasta, and even a few perfect finishes like zucchini brad ice cream, and no bake blueberry custard pie.
Follow Anne and her many adventures in the kitchen and out on social media with Facebook, Instagram, Pinterest, Twitter, and Google Plus.
Olives for Dinner
Erin shares her love of photography and vegan cooking in Olives for Dinner. The blog is beautifully done and filled with not only great recipes for Vegans, but also great insights on why Erin believes vegan eating puts people on the pathway to lives that are happy and healthy. She shares recipes for appetizers, breakfast and brunch items, desserts, entrees, and vegetable side dishes proving that eating healthy can be tasty, beautiful, and fun. She seems to have a passion for complex flavor combinations, and offers a wide variety of recipes.
Some of the great recipes you'll find at Olives for Dinner include vegan grilled cheese with smoky tomato soup, red quinoa and sweet potato croquettes, bang bang cauliflower, gochujang and peanut butter broccoli, broccoli tots with curry ketchup, crispy vegan shrimp toast, loaded baked potato hash brown waffle, sweet potato and rosemary beignets, roasted ginger and coconut shrimp, crispy kung pao brussels sprouts, seared king oyster mushrooms and a homemade teriyaki glaze.
Learn more about enjoyable vegan recipes by following Erin on Facebook, Instagram, and Pinterest, and where she shares insights about recipes and her photography with her followers and fans.
Low Carb Traveling
People looking for ways to eat healthier to lose weight who are interested in a low carbohydrate diets will find Low Carb Traveling to be a great place to start. Not only does Lynn share many recipes with her readers, but she also offers outstanding insights on how to kick start weight loss with a ketogenic or low carb diet and how to break weight loss stalls that occur along the way. One thing Lynn does that is somewhat unique is share her personal daily food diaries including the nutritional macros from her meals.
Lynn offers a variety of low carb recipes on her blog including some that might feel a little like cheating while you are on a diet. Some of her most popular recipes are for fried squash, low carb peanut butter cookies, sausage balls, low carb garlic cheese sticks, low carb bread, cheesy parmesan cauliflower bake, low carb brownies, and more.
Because Lynn is a frequent traveler she also shares her travel experience and low carb food options that are healthy for weight loss while dining out. Lynn believes in low carb meals that are healthy to eat and easy to prepare.
Follow Lynn's travel and low carb experience on social media, too, on Facebook and Twitter.
The Kitchen Shed
The Kitchen Shed is a UK based blog all about clean eating. On the pages of The Kitchen Shed you will find valuable resources to help you get started, a clean eating shopping list, meal plans – including plans that are vegetarian and gluten-free, and many, many great recipes. Charlie is the mastermind behind The Kitchen Shed, and she is currently a beauty therapist studying to be a nutritionist.
There are many wonderful recipes available on The Kitchen Shed, including recipes for things like avocado egg salad, bacon and egg pie, beef chili (organic), beef and kale meatballs, brown rice breakfast bowl, turkey burgers, nan bread, butternut squash and sausage bake, gluten free brownies, vegan brown rice pasta carbonara, cheese pita pizza, carrot and coriander soup, slow cooker Cajun chicken, cauliflower mash, chicken and spinach curry, hummus and chickpea salad, kale and stuffing frittata cups, vegetable lasagna, chicken and broccoli lasagna, lentil salad, egg fried cauliflower rice, egg baked sweet potatoes, Mexican meatloaf, pot roast, pancakes, and even pecan pie bars.
Follow The Kitchen Shed and Charlie on social media at Facebook, Instagram, Twitter, Pinterest, and Google Plus.
Everyday Maven
Alyssa at Everyday Maven lives in the Pacific Northwest, and shares her passion for real food recipes with her readers. The recipes you'll find on Everyday Maven are delicious, healthy to eat, and not overly complex to prepare.  Most importantly, she begins with real food, and works to avoid foods that are overly processed or that contain preservatives and artificial ingredients. Many of the recipes you'll find at Everyday Maven are also gluten free making the site a great place to go for people interested in a gluten free lifestyle.
You will find many great recipes to share with your family at Everyday Maven – whether you're cooking for small crowds or a large gathering, there is sure to be something that will be just right, such as sesame chicken skillet with spinach and onions, turmeric cauliflower rice with coconut, low carb salmon nicoise salad, paleo breakfast casserole with broccoli rabe, chicken sausage, and shallots, shrimp and broccoli stir fry in ginger sauce, slow cooker chicken fajita soup, paleo chocolate mug cake, slow cooker chocolate cranberry clusters with Hawaiian pink salt, paleo chicken pot pie, ground chicken picadillo, and slow cooker sausage and peppers.
Alyssa offers a variety of flavors in her foods and food preparation methods giving you many crock pot or slow cooker meals for easy preparation. Follow Everyday Maven on social media at Facebook, Twitter, Pinterest, and Instagram.
Eat Yourself Skinny
Kelly uses her passion for food and fitness to help show readers that cooking and eating healthy food can be both fun and easy. Her blog, Eat Yourself Skinny, offers a wide range of specialty recipes including many that are gluten-free, clean eating, paleo, vegetarian, dairy-free, low carb, and vegan. In addition to recipes from breakfast, lunch, and dinner, you will find recipes for delicious, healthy snacks, beverages, and desserts at Eat Yourself Skinny.
Some of the snacks you will find include things like healthy zucchini bread, sweet and spicy sweet potato fries, vanilla almond oatmeal with blueberries, eggnog mocha mug cake, quinoa mini stuffed peppers, spaghetti squash boats with spicy sausage, zucchini noodles with creamy avocado pesto, healthy cauliflower fried rice, skinny pumpkin mug cake, stuffed veggie pizza rolls, tilapia tacos with peach mango salsa, spicy shrimp with cilantro and lime, slow cooker butternut squash and farro chili, lentil and sweet potato stew, detox immune-boosting chicken soup, egg white and avocado salad, sesame chicken, banana breakfast muffins, and perfectly roasted broccoli and sweet potatoes.
Follow Kelly on social media at Facebook, Instagram, Pinterest, and Twitter to keep up with her latest recipes and adventures.
The Lean Green Bean
Written by Lindsay Livingston, a registered dietitian in Columbus, Ohio, The Lean Green Bean focuses on simplicity and balance. The meals and snacks are filled with healthy fats and complex carbs, lean proteins, fruits, and vegetables. The Lean Green Bean focuses on a variety of topics related to eating and living healthy, including healthy recipes, workout information and discussions, tips for new moms, and nutrition information as Lindsay seeks to prove that eating and living a healthier lifestyle doesn't have to be expensive or overly complicated.
You will find many healthy, fun, and easy recipes to follow at the Lean Green Bean including recipes for baked pumpkin donuts with cinnamon glaze, pork and egg breakfast pizza, apple cinnamon breakfast bars, slow cooker honey garlic chicken thighs, crockpot chicken alfredo, white chicken chili, instant pot beef stew, broccoli pesto pasta salad, easy smoked salmon dip, cranberry meatballs, easy spinach balls, lentil sloppy joes, bbq pulled pork stuffed sweet potatoes, easy tuna melts, and more.
Follow Lindsay on Facebook, Pinterest, and Twitter for fast access to her latest recipes and insights.
Domesticate Me!
Serena Wolf, author of Domesticate Me, graduated Le Cordon Bleu cooking school in 2011. Since then she has worked as a private chef, culinary instructor, and as a recipe developer. It is blogging that has become her passion. On the pages of her blog she offers exciting and delicious clean eating recipes to share with her readers.
Among the many exciting recipes you'll find on her blog are foods like Brown rice jambalaya with shrimp, chicken sausage, and bell peppers; superfood stir-fry, one skilled braised chicken thighs with spinach and white beans, stuffed poblano quinoa bake, Thai curried butternut squash soup, roasted butternut squash tostadas with hummus, caramelized onions, and goat cheese; turkey un-fried rice, and two potato gratin with herbs and goat cheese.
Follow Serena on Facebook, Twitter, Instagram, Pinterest, and Google Plus to keep up with the newest recipes she adds to her collection.
The Full Helping
At The Full Helping, Gina, who has struggled with anorexia and a search for balance and health, offers healthy vegan recipes. She believes that eating good and doing good are closely linked and works hard to be a better neighbor to the animals that populate our planet. She seeks to incorporate a sense of fun and purpose in her recipes, and while the overall meals are healthy, she understands that there doesn't always need to be a nutritional purpose for every single ingredient. Her blog also serves as a sort of evolutionary journey from her struggles with an eating disorder and an unhealthy relationship with food to one that embraces food and celebrates it.
Some of the recipes you'll find at The Full Helping include delicious dishes like vegan split pea soup with smoky tempeh croutons, loaded garlic kale potatoes, Moroccan millet and roasted carrot pilaf, oh-so-simple French lentil soup, simple vegan cornbread sage stuffing, vegan pumpkin chocolate marble loaf, curried lentil vegetable cakes, sweet potato breakfast bowls with savory granola, easy lemon pepper tempeh and vegetable pasta bowls, white bean artichoke kale-sadillas with green herb dipping sauce, and many more.
Follow Gina on Facebook, Instagram, Pinterest, and Twitter to keep up with her newest Vegan dishes and to learn more about Gina's culinary evolution.
Lexi's Kitchen
Lexi's Kitchen is a paleo-friendly blog that offers an assortment of gluten-free and dairy-free recipes as well. Alexis Kornblum Davidson (Lexi of Lexi's Kitchen) also has a cookbook available: Lexi's Clean Kitchen.
In addition to a wonderful collection of free recipes, Lexi offers meal plans on her blog that offers five meals per week along with a shopping list of the ingredients you will need. When searching her recipes, you can choose certain keys for things like nut free, vegan, paleo, gluten-free, egg-free, dairy-free, and 30 minutes or less. This helps you refine your focus if you have special dietary needs or restrictions – or time constraints.
One of the interesting thing about Lexi's Kitchen is that you can search according to many different types of recipes. One recipe subheading that many men can get on board with is the "Game Day Eats" category that offers interesting dishes like the slow cooker baked potato bar, egg roll bowls, slow cooker carne Asada – great over a plate of nachos, pizza stuffed peppers, white chicken chili, taco salad, and buffalo chicken dip.
Follow Lexi's Kitchen on social media so you'll be one of the first to see new recipes as they are revealed: Facebook, Instagram, Twitter, and Pinterest.
Well that's a wrap folks! We hope you have found some genuine food for thought among these pages, and more than a few blogs you'll want to return to often in your own quest for a happier, healthier lifestyle – including your diet.
*Note to the wonderful top healthy food bloggers: If your picture doesn't appear next to the write-up of your blog, it's because we didn't receive your permission yet. If you'd like your pic there, we certainly would too, just get back in touch with us to let us know
.
For each of our award winners, if you wish to place the Top Healthy Food Blog 2017 distinguishment upon your winning blog, you may pick it up below:
*Permission is granted to alter the size of this award if necessary to fit your blog format's space constraints.
Your cart is currently empty.
Loading...