What Makes a Mattress Eco-Friendly?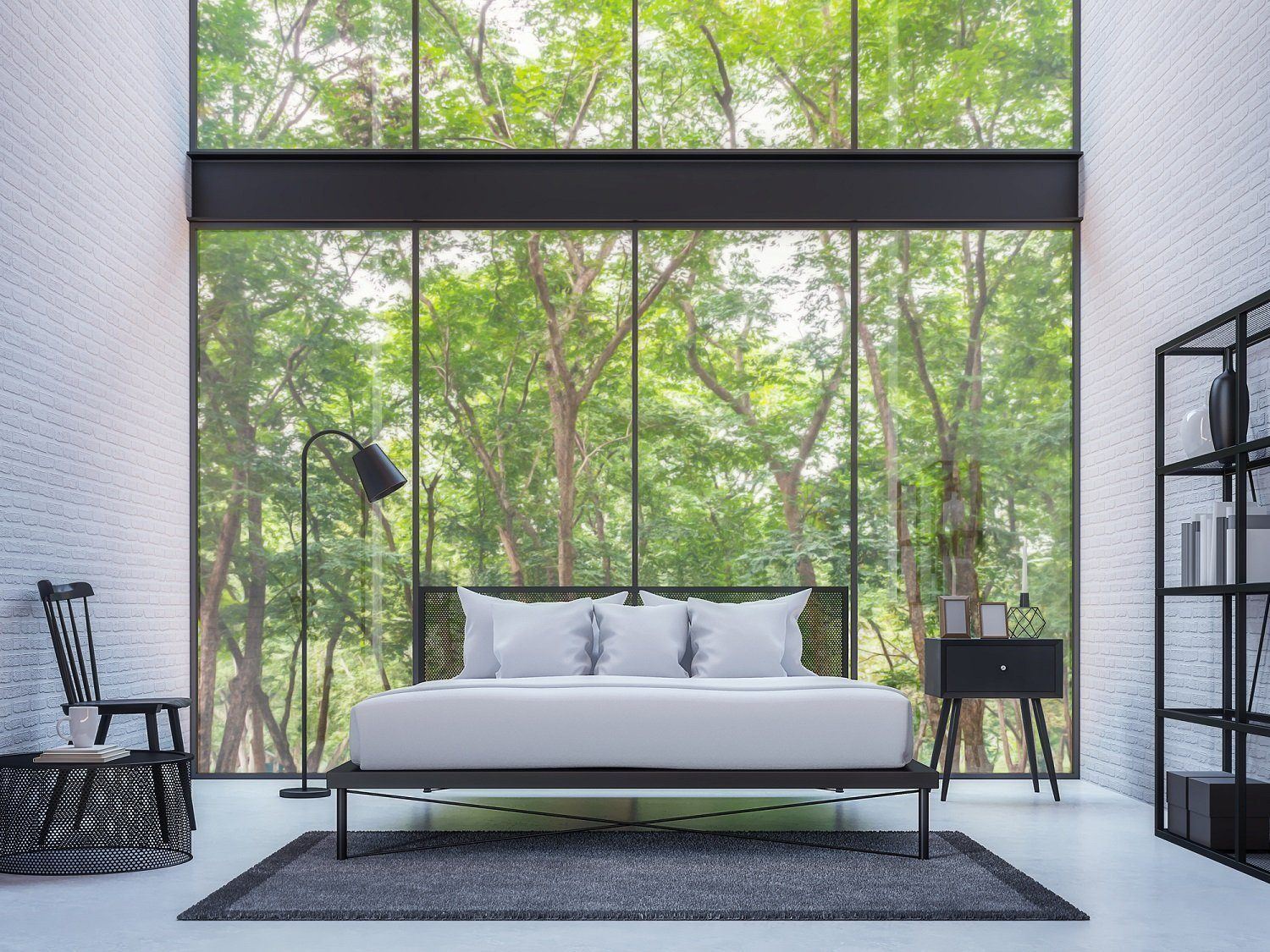 It's likely you've already made some dedicated life changes to reduce your carbon footprint and help bring a positive change to the environment. Whether it's upcycled fashion that can avoid a trip to the landfill, meatless meals, or buying local, you probably place sustainable and eco-friendly living near the top of your priority list.
Green living is on the rise, and many people want eco-friendly options for their homes — and that includes an environmentally friendly mattress. An eco-friendly mattress can provide quality slumber while making sure you don't come in contact with toxic chemicals or harmful off-gassing.
There are certain criteria that make a mattress eco-friendly. Here, we'll cover what to look for when shopping around for a new mattress that aligns with your values for sustainable living.
Why Consider an Eco-Friendly Mattress?
Many people are making the switch from traditional innerspring mattresses to eco-friendly mattresses. This is because standard mattresses are typically made from polyurethane foam or synthetic latex and contain flame retardants. Fire retardants can pose numerous health risks to humans, particularly children, and animals. When these harmful chemicals are combined, they can give off strong odors and emit volatile organic compounds (VOCs) and other toxic chemicals into the environment.
A non-toxic mattress provides an emissions-free sleep experience. With organic certifications from the Global Organic Textile Standard (GOTS), the U.S. Department of Agriculture (USDA), and the Global Organic Latex Standard (GOLS), you can enjoy a good night's sleep without the presence of harmful chemicals.
What to Look for in an Eco-Friendly Mattress
When shopping for the best mattress made of eco-friendly materials, there are some things to look for, such as certifications, brand transparency, the types of materials used during the production process, and your own comfort needs.
Check Third-Party Certifications
Truly green mattresses are ethically sourced and undergo a series of testing and third-party certifications that should provide you with the reassurance you need to make an informed decision. There are several trusted production standard certifications, including OEKO-TEX, Certipur-US, and USDA Organic.
If you're new to the eco-friendly mattress market, it's a good idea to also look for organic material and textile certifications, like OEKO-TEX certified — meaning the textiles are free from harmful substances. For instance, the Global Organic Latex Standard (GOLS) certifies organic latex and ensures the manufacturing process meets the stringent standards for environmental and human health. The Global Organic Textile Standard (GOTS) oversees the manufacturing and production of organic wool and cotton and defines standards that meet human and environmental safety.
To really hit gold, though, try to look for mattresses that have received the GreenGuard Gold Certified designation. By far the most rigorous of third-party certifications, GreenGuard Gold mattresses are free from harmful substances such as formaldehyde, heavy metals, chlorofluorocarbons (CFCs), PBDE flame retardants, and over 10,000 toxic chemicals typically found in traditional mattresses.
The great news is that all PlushBeds mattresses are GreenGuard Gold certified — a label less than 1% of all mattresses receive. You're in good hands when you choose a PlushBeds mattress.
Research the Transparency of the Mattress Brand
Brand transparency builds trust. If only more companies would jump on this trend, buying options could be much simpler.
When narrowing down your mattress options, research the transparency of the brand. Brands that have nothing to hide should put it all out there. Some things to look out for when researching a brand's values and practices include accountability, phenomenal standards, sustainability throughout the supply chain, and giving back to the world.
We're all familiar with accountability, and you can apply it to your personal and career goals. Organic mattress companies can show accountability through third-party testing that shows their dedication to the highest standards of sustainable manufacturing and production.
All-natural mattress companies that provide customers with sustainable sleep solutions work with quality craftsmen who hold the same values and dedication to the health and wellness of the environment and people. Brand values can't hold up if not everyone is on the same page, though. That's why PlushBeds continues to meet supply standards by building genuine relationships with suppliers.
In every product we make, we use renewable resources that have been sustainably acquired. We also lead the industry in comprehensive certifications with a wide variety of eco-friendly and organic material awards. These certifications are important to us because they represent our unwavering commitment to making sure you sleep safely and peacefully every night.
Learn About the Types of Materials Used
Eco-friendly mattresses come in a variety of materials. Some of the most common include memory foam, organic cotton, natural latex, and a latex hybrid mattress with organic cotton or wool fill. Each provides a set of benefits that different sleepers may find attractive when choosing the right mattress.
Memory foam: Memory foam provides support and a cooler night's sleep. PlushBeds'

memory foam mattresses

are GreenGuard Gold, CertiPUR, and OEKO-TEX Standard 100 certified.
Natural and hybrid latex: Not all latex is synthetic; in fact, natural latex is found in the sap of rubber trees. You can find hybrid and natural latex mattresses in the PlushBeds Bliss Collection.
Organic cotton: Organic cotton can provide a durable mattress fill free from pesticides and offers medium-firm support for back or side sleepers. When you choose GOTS certified organic cotton, you can feel good about choosing a textile that meets strict environmental standards.
Wool: Wool can protect us from the winter chill and help regulate temperature, helping hot sleepers get more zzz's. Its breathability and natural wicking quality can keep you cool and dry.
Learn About How the Mattress was Produced
With more and more discussion on environmental changes and how our choices can affect the Earth, it's worth looking into the production side of a mattress company. Not all organic mattresses are created equal.
High-quality materials, such as natural Talalay latex or natural wool, are great choices, but production processes can diminish the sustainability of mattress materials. Innovative manufacturing design can reduce environmental impact. You can even choose a U.S.-based brand that can reduce environmental transit pollution.
Of course, production processes can affect the longevity of your mattress. You can provide an extra layer of durability with a hand-tufted wool mattress topper from PlushBeds. Adding an organic mattress topper or mattress cover can help you extend the life span of your mattress and provide temperature-regulating comfort that can improve your sleep. Check out PlushBeds' down alternative, wool, and memory foam toppers.
Consider Your Own Comfort Needs
Even in the face of environmental consciousness, keep in mind your own comfort needs. Do you like a firm mattress to climb onto each night or a top layer of pillowy, plush softness? Or maybe you fall somewhere in the middle and want medium-firm support.
When shopping around for an eco-friendly mattress, don't lose sight of what helps lull you to sleep. There are many options that can suit your comfort level and sleep needs. For example, an organic latex mattress can offer added support and relief. In fact, PlushBeds' Botanical Bliss® Organic Latex Mattress can provide luxurious support and is recommended by health providers for soothing pressure relief. We'll even let you try it for free for 100 nights so you can determine if it's the right one for you.
The right mattress can help in so many ways. From alleviating body aches to waking from a restful night's sleep without all the tossing and turning, your new mattress is an investment, and you want it to be right for you.
Discover Eco-Friendly Mattress Options from PlushBeds
Are you ready to experience a luxury mattress that can offer comfort and support while helping the environment? Visit PlushBeds and experience blissful, eco-friendly sleep. Stay cool with The Cool Bliss® Cooling Gel Mattress or sink into deluxe comfort with The Luxury Bliss® Organic Hybrid Latex Mattress — with an organic cotton cover and a New Zealand wool fire barrier. No matter which mattress you choose, PlushBeds provides a 25-year warranty.
PlushBeds can bring you the organic sleep you've been dreaming of, with eco-INSTITUT certified mattresses made in California from sustainably sourced GOLS certified organic and natural materials.
Link to Us!
If you found this article useful and shareable, please copy and paste the following into the html code of your website or blog:
Learn More About Going Green at the <a href="https://www.plushbeds.com/blogs/green-sleep/what-makes-a-mattress-eco-friendly">PlushBeds Green Sleep Blog</a>.
*Please note that we DO NOT accept guest blog posts. Any inquiries into this will be respectfully left unanswered.
Related Posts:
The post What Makes a Mattress Eco-Friendly? appeared first on PlushBeds Green Sleep Blog.