How to Choose the Best Organic Mattress Protector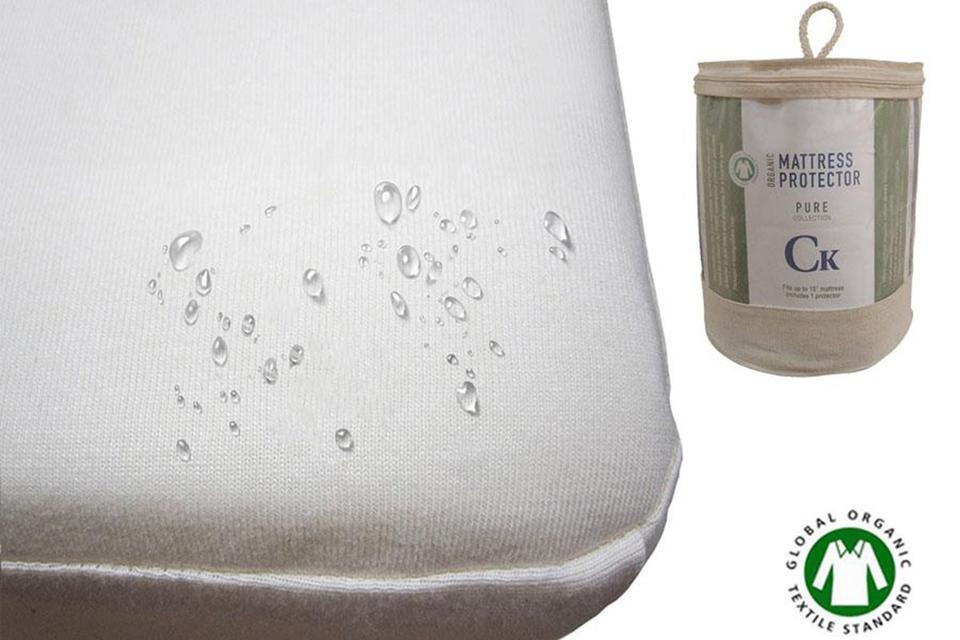 Mattress protectors provide a number of benefits and can help improve the longevity of your mattress. When shopping around, you may have run across several nontoxic, organic mattress protectors and wondered which option would work best for you.
Mattress protectors, also known as mattress covers, can be the right solution for those who want something hypoallergenic and made of organic materials that are free from harmful chemicals. Here, we'll cover why organic bedding options are a great option and share some things to consider when choosing the best organic mattress protector for you.
What's the Purpose of a Mattress Protector?
A mattress protector provides a layer of protection for your mattress. Unlike a topper or mattress pad, a mattress protector fits over your mattress much like a fitted sheet. Those with deep pockets can secure tightly around the four corners of your mattress.
Made from water-resistant materials, mattress protectors can reduce staining and spills and offer some protection against common allergens, such as dust mites. And because you can't traditionally wash a mattress, machine-washable mattress protectors can help create a cleaner sleep environment.
A lot of people consider purchasing a mattress cover when they buy a new mattress, but it really can come in handy at any stage of a mattress's life.
Why Opt for an Organic Mattress Protector?
By now, we know organic anything can be good for us and the environment. If you're already making the transition in your bedding, like investing in an organic cotton sheets, an organic mattress protector can make a nice addition, like PlushBeds' Organic Mattress Protector.
There are several features that come with an organic mattress protector, like our Organic Cotton Mattress Protector, that more synthetic options just can't provide. Depending on the brand, you can rest easy on USDA- and GOTS-certified organic cotton and enjoy soft, breathable comfort. And with an ultra-smooth cottony top and a non-toxic polyurethane waterproof underside, you can stay dry without that crinkly sound you get from other types of waterproof toppers.
With an organic mattress topper, you can even create a space free from volatile organic compounds (VOCs) and off-gassing polyvinyl chloride (PVC). PVC is often found in a large number of plastic products and contains harmful chemicals, such as lead and phthalates. Studies have shown that phthalates can disrupt hormones and affect children's health and development. That's why many parents opt for an organic crib mattress protector made safe without the use of harmful materials, such as phthalates and flame retardants.
Things to Consider When Choosing Your Mattress Protector
With all the information we can ever want right at our fingertips, it's natural to do some research before making any buying decisions. You want the right price and a great product that lives up to its promises.
When shopping for a green mattress protector for your bed, there are some things to consider before making a final choice. For organic bedding options, it's a good idea to look into a brand's certifications. A lot of companies claim to be organic, but certifications like Global Organic Textile Standard (GOTS) and GreenGuard Gold certified are the real deal. You'll also want to review the type of materials used and their qualities, such as absorbent or antimicrobial. Lastly, you'll want to confirm it's a good, snug fit.
The following sections cover these considerations in more detail so you can have a better idea of what to look for in an organic mattress protector.
Check for Certifications
We like to see designations, titles, and certifications. These things let us know that certain standards are met and that we can trust their quality. While we hear the words "eco-friendly" and "organic" thrown around a lot, official certifications add reassurance about a product's claim.
Here are some types of certifications that apply to organic mattress protectors:
Global Organic Latex Standard (GOLS): Since natural latex provides a waterproof barrier, organic waterproof mattress protectors can receive the GOLS certification. This certifies that the latex mattress protector and its production meets strict environmental standards that can benefit the health of everyone.
GOTS-Certified Organic Cotton: The conventional manufacturing and production of cotton protectors and mattress pads contain high levels of pesticides. Since we spend a good deal of time in bed each day, these chemicals are absorbed through our skin. You can avoid this and enjoy a healthier sleep with organic cotton fabric. A GOTS-Certified Organic Cotton certification designates environmental responsibility in all aspects of production, including social standards for working conditions.
GOTS-Certified Organic Wool: Wool is a popular fiber that many enjoy. When you see a GOTS-Certified Organic Wool certification, you can feel good about a product that uses best practices in the production and manufacturing of wool mattress protectors.
USDA Organic: You've likely seen the USDA Organic emblem on the food products you purchase. More than just farming, the Department of Agriculture oversees the organic labeling of products in the USA. When textile products meet USDA compliance and regulations, they may use the USDA organic seal.
The good news is that PlushBeds has received all of these certifications and more. So, when you purchase a mattress or mattress protector from us, you can feel confident knowing that our products meet the highest standards.
Learn About the Materials
Unlike conventional PVC mattress protectors that can leach or off-gas harmful chemicals, you can get high-quality, non-toxic, hypoallergenic materials that provide a breathable, lightweight, and silent barrier between you and your mattress. Some materials you can find include polyester, wool, and organic cotton.
Polyester: A polyester mattress protector like PlushBeds' Classic Waterproof Mattress Protector can provide you with the protection you need without the use of VOCs or PVC. This mattress protector is also odor-free and has a 100% waterproof polyurethane underside.
Wool: GOTS-certified organic wool mattress protectors can provide soft and durable protection for your mattress. Its natural moisture-wicking capability can also keep you cool and dry and provide an extra layer of warmth in the winter. Try PlushBeds' Wool Mattress Protector for a BPA- and phthalate-free experience. Our cotton is also Oeko-Tex certified.
Organic cotton: An organic cotton mattress protector is your all-around eco-friendly choice and a great option for creating a non-toxic sleep space. GOTS-certified organic cotton provides a higher level of softness than a conventional cotton cover and offers a breathable layer of mattress protection. PlushBeds'

Organic Mattress Protector

is made with certified organic cotton and a non-toxic, 100% waterproof layer so you can breathe easily at night.
Make Sure You Get the Right Size
Life can throw a lot of frustrating things our way, and a mattress topper slip-off is one of them. It doesn't seem to matter how well you make your bed the next day because it's only going to pop off again.
A tried-and-true way you can avoid this is to make sure your mattress protector fits properly. This can involve more than just knowing the difference between a twin XL and a California king. There are a lot of mattress varieties; while they may measure roughly the same, the thickness can vary.
For instance, a pillow-top mattress needs deep pockets that can fit snugly around and under the corner of the mattress. A mattress protector with shallow pockets will, inevitably, slide off. The same can happen vice-versa: Deep pockets around the corners of a standard mattress can be too loose and slip just as easily.
You need a taut-fitting topper that can easily stay in place. Besides knowing whether you have a Cal king, queen, twin, or even a split king, measure your mattress's thickness to ensure a proper fit that can stay in place.
Discover Premium Organic Mattress Protectors from PlushBeds
Enjoy a night's sleep free from harmful chemicals and protect your mattress from spills, stains, and more with an organic mattress protector from PlushBeds. We offer multiple types of mattress protectors, including an Organic Mattress Protector, which is made of GOTS-certified organic cotton jersey — providing your mattress (and you) sustainable comfort that's free from harsh chemicals and dyes.
With its waterproofing capabilities, you can protect your mattress from spills, mildew, and bacteria. Our mattress protector is also easy to care for and machine washable. Simply machine wash in warm or cold water and tumble dry on low. Just avoid bleach or other harsh chemicals.
Enjoy the comfort and luxury of a handcrafted organic mattress protector backed by a five-year warranty and made in the USA.
Link to Us!
If you found this article useful and shareable, please copy and paste the following into the html code of your website or blog:
Learn More About Going Green at the <a href="https://www.plushbeds.com/blogs/green-sleep/how-to-choose-the-best-organic-mattress-protector">PlushBeds Green Sleep Blog</a>.
*Please note that we DO NOT accept guest blog posts. Any inquiries into this will be respectfully left unanswered.
Related Posts:
The post How to Choose the Best Organic Mattress Protector appeared first on PlushBeds Green Sleep Blog.