Cotton Sheets vs. Bamboo Sheets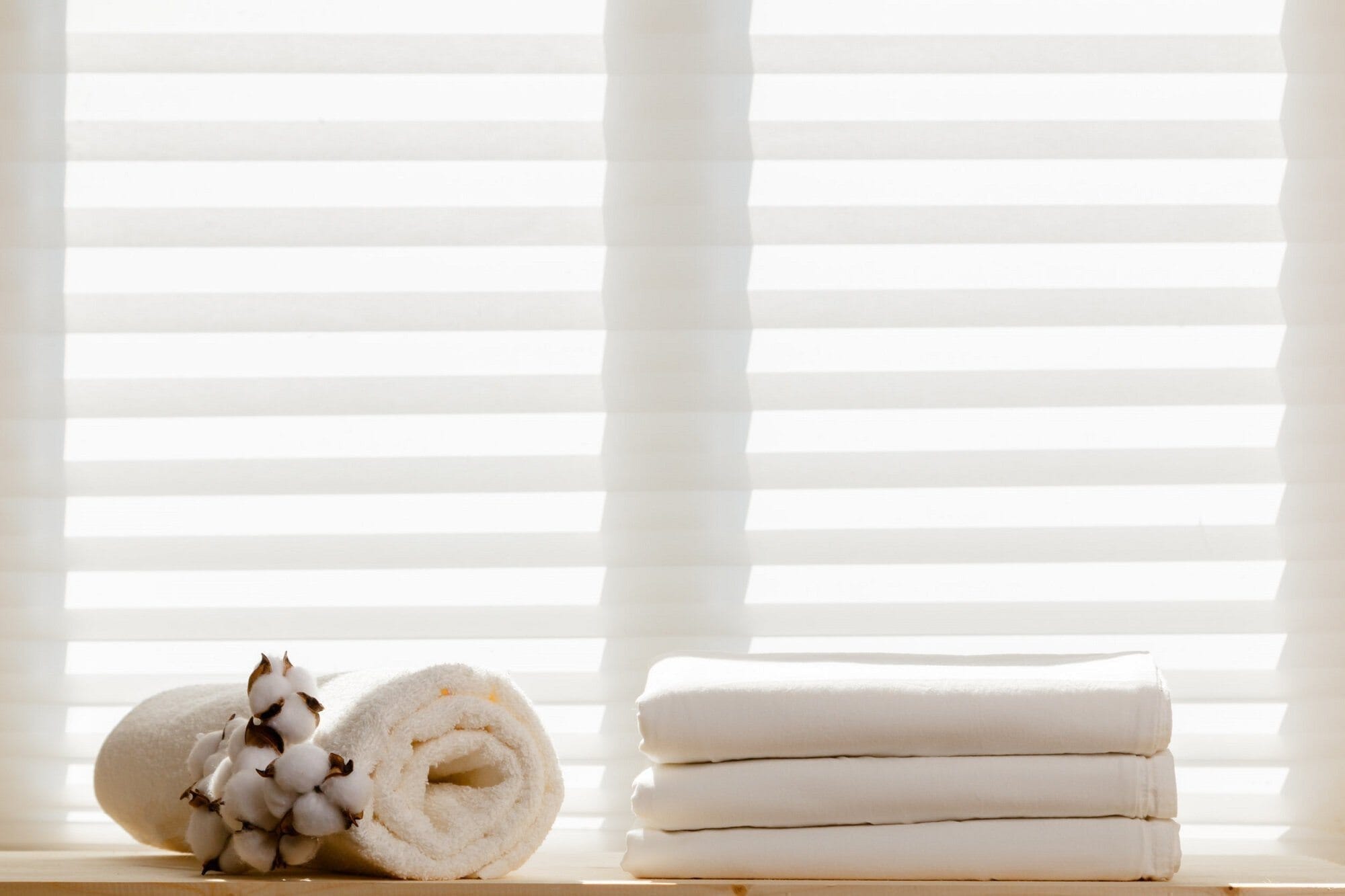 The quality of your bed sheets plays an integral role in ensuring a comfortable, restful sleep. For this reason, you should choose the right bedding material depending on whether you're a cold or hot sleeper. Sheet materials like bamboo, cotton, and linen can help keep your bedding dry by wicking away night sweats. These breathable fabrics can be ideal for hot summer nights.
In this article, you'll learn the difference between cotton and bamboo sheets.
About Cotton Sheets
Various types of cotton fabrics have short or long fibers, which will determine the durability and pilling resistance of cotton sheets. Longer fibers typically produce more durable and softer bed sheets.
Six characteristics that make cotton sheets popular include:
Hypoallergenic: Cotton has hypoallergenic natural fibers, making it ideal for anyone with sensitive skin. Unfortunately, synthetic fibers can trigger allergic reactions, undermining sleep quality.
Breathability: Night sweats can result in dampness and the disruption of sleep. Cotton fibers can keep you dry, cool, and comfortable by allowing heat to dissipate.
Durability: Pima and Egyptian cotton sheets have a longer life span than other cotton varieties, thanks to their longer fibers. These long-staple cotton fabrics boast superior resistance to fading, wrinkling, pilling, and wear.
Soft: Cotton fibers are naturally soft and comfortable, helping you sleep more soundly throughout the night.
Versatility: Various cotton fabrics, including flannel, sateen, twill, and percale, have varying characteristics that ensure versatility. These fabrics expand cotton sheet options based on characteristics like silkiness and smoothness.
Easy care: Keep cotton sheets in good condition by simply washing and drying them using a standard washer-dryer.
What are Cotton Sheets Ideal For?
Selecting the right bed sheets based on weather conditions and seasons is vital to ensuring overnight comfort. Cotton is one of the most popular sheet materials thanks to its breathability, durability, and hypoallergenic and moisture-wicking properties. You can count on cotton bed sheets to keep you comfortable in the summer and springtime.
According to research, room temperature can make a significant difference in determining the quality of sleep and its duration. Many people, particularly hot sleepers, become sweaty and uncomfortable during summer nights.
Thankfully, lightweight and breathable fabrics, such as regular cotton, can help mitigate this problem for a restful night's sleep. Although the preferences of cold and hot sleepers vary, most people feel sleepier in tandem with a significant reduction in body temperature.
Soft, sheer cotton fabrics work well as transitional materials by allowing you to adapt to the changing seasons. As a result, you'll find it easier to switch from the winter to the summer months. Cotton is also softer and more suitable for sensitive skin. During the springtime, cotton sheets reduce fabric pilling, and allow heat dissipation better than synthetic fabrics and wools.
Different types of cotton fabrics come with varying properties to suit specific comfort requirements. Some manufacturers use Supima and Pima cotton to make cool bed sheets. These varieties have extra-long staple fibers, making them lighter, more breathable, and cooler. Egyptian cotton also produces some of the softest sheets, with superior breathability and insulating properties thanks to its longer fibers. You can rely on Egyptian cotton sheets to keep you warm in the winter, and refreshingly cool in the summer months.
Cotton sheets with a thread count between 200 and 400 are sure to make you feel comfortable. Bedding materials with these characteristics ensure a soft, smooth, and cool feeling. However, cotton sheets with a higher thread count can be ideal for cold winter nights because they trap body heat to maximize warmth. In turn, you'll find it easier to enjoy better sleep throughout the night.
PlushBeds offers a diverse collection of high-quality cotton sheets. Browse our collection to find the ideal bed sheets for you. We offer both organic cotton sheets and Supima cotton sheets.
What About Organic Cotton?
Organic cotton is an eco-friendly sheet material that ensures environmental sustainability for farmers and the textile industry. In addition, this type of fabric produces bed sheets suitable for sensitive skin. By opting for organic bedding, you eliminate the need to worry about harmful substances associated with synthetic fabrics. Farmers grow the organic cotton plant without applying harsh chemicals like pesticides.
They handpick the cotton plant, and clean it using organic materials, as well as hot and cold water to avoid contamination by harsh chemicals like bleach. In contrast, the manufacturing process for synthetic cotton involves industrial chemicals, including dyes, which are capable of irritating sensitive skin.
Another key advantage of organic cotton is that its cellulose-laden fibers have a super-soft feel. The absence of strong chemicals makes organic cotton fibers stronger than regular cotton. Industrial chemicals weaken fibers, making them more susceptible to rupturing. Additionally, the fiber retains its natural wax and smoothness.
About Bamboo Sheets
Manufacturers produce bamboo bed sheets using different methods, resulting in a semi-synthetic fabric with varying eco-friendliness and quality. Organic bamboo fabric retains its chemical composition in a manufacturing process that uses cellulose to create fiber.
The resulting fabric is breathable, lightweight, soft, and strong. One of the key characteristics of bamboo bedding material is its antibacterial properties, thanks to its breathability and superior absorption. This material feels softer than most types of cotton fiber used to make bed sheets. Additionally, the breathability of bamboo sheets can keep you cool, irrespective of the season.
You can count on the material to minimize allergic reactions due to the hypoallergenic and antibacterial properties associated with its breathability. The material derives its antimicrobial properties from rayon found in the bamboo plant. Bamboo rayon is a viscose fiber produced by dissolving cellulose.
The best bamboo sheets have long fibers, making them more resistant to wear and pilling than other types of sheet materials. In addition, you can benefit from bamboo's nonabsorbent properties, which prevent the sheets from absorbing skin oils (so you don't need to worry about discoloration). Bamboo sheet sets with a high thread count (300 or higher) have fine threads.
Although bamboo fiber produces durable sheet fabrics, the material still requires considerable care. Bamboo linen requires a gentle approach when it comes to washing and drying cycles.
The manufacturer's instructions will indicate whether you can use warm or cold water for washing. You should also pay attention to air, or tumble drying requirements. For instance, you can tumble dry different types of bamboo fabrics on a low heat setting to avoid wrinkling and other unwanted effects.
What are Bamboo Sheets Ideal For?
If you're a hot sleeper, you may find bamboo sheets to be more comfortable. This material is lightweight, and can help prevent heat retention, allowing you to enjoy optimal wake-sleep cycles. You can also count on this type of sheet fabric to keep you dry throughout the night thanks to its superior moisture-wicking properties and breathability.
Maintaining the ideal body temperature while sleeping is a surefire way to enjoy a good night's rest. Cooling sheets help prevent the dreaded night sweats. Thankfully, PlushBeds offers a comprehensive selection of cooling sheets, including bamboo sheets, for restful sleep.
Discover Premium Bamboo and Cotton Sheet Sets from PlushBeds
When browsing bed sheets, it's important to pay attention to the fabric weave and material type. Not all sheets are the same, and with choices like bamboo and cotton, you have a lot to consider depending on your needs. PlushBeds can make your decision easier with our sustainable products.
At PlushBeds, we stock high-quality cotton and bamboo sheet sets, including a Rayon From Bamboo Ultra-Soft Sheet Set with a soft, silky weave. We also stock Organic Cotton Sheets with a thread count of 300 for superior comfort. To find the right bedding product to meet your comfort requirements, browse our extensive sheets and linens collection.
Link to Us!
If you found this article useful and shareable, please copy and paste the following into the html code of your website or blog:
Learn More About Going Green at the <a href="https://www.plushbeds.com/blogs/green-sleep/cotton-sheets-vs-bamboo-sheets">PlushBeds Green Sleep Blog</a>.
*Please note that we DO NOT accept guest blog posts. Any inquiries into this will be respectfully left unanswered.
Related Posts:
The post Cotton Sheets vs. Bamboo Sheets appeared first on PlushBeds Green Sleep Blog.