How to Get Stains out of a Mattress by Material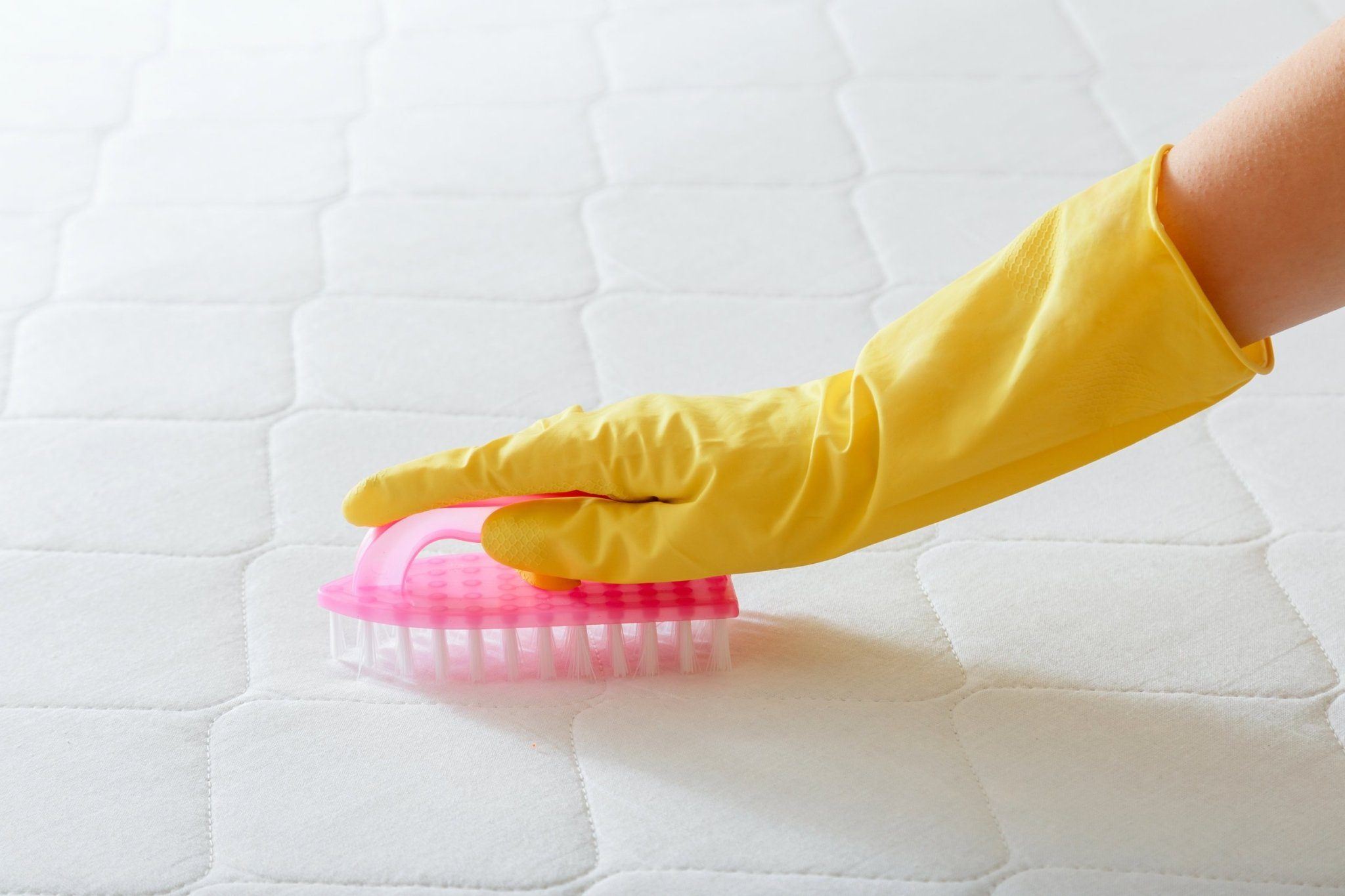 Cleaning your mattress is a surefire way to keep it fresh, hygienic, and looking great. It's important, though, to pay attention to the mattress care instructions provided by the manufacturer. You can use different cleaning methods depending on the type of stain and mattress involved. For instance, you can't clean memory foam mattresses using water.
Examples of stains you can clean include:
Red wine
Sweat
Coffee
Urine
Blood
Vomit
The best part is that most mattress stain removal products are affordable and easy to use. Some cleaning solutions are readily available in your kitchen or bathroom cabinet. You can then dry the stained area by vacuuming with an appropriate upholstery attachment.
Cleaning mattress stains immediately after noticing discoloration is one way to ensure better results. Organic stains typically require enzyme cleaners to break down proteins found in blood and urine stains. You can either make an enzyme-based cleaning solution at home, or buy one. Keep in mind that using water on mattresses can result in the development of mold and mildew. For this reason, it's important to use water sparingly.
Applying a damp cloth containing the stain remover eliminates the need to soak the mattress with water. However, dried urine stains may require a more involved approach than other stains or recent spills.
The Best Mattress Stain Removers
Effective deep cleaning requires specific stain removers, depending on the type of stains on your mattress. You should use either specially designed mattress stain removers, or common household products to achieve the best results. Examples of readily available mattress cleaning solutions include:
Hydrogen peroxide
Baking soda
Cornstarch
Bleach
Liquid dish soap
White vinegar
Laundry detergent
Lemon juice and salt
Ammonia
When it comes to mattress cleaning products for organic stains, opt for enzyme cleaners without toxins. These products make it easier to remove human and pet bodily fluids. Additional supplies you may need include a spray bottle, clean cloth, bristled brush, clean towel, and paper towels.
Here are the cleaning products best suited for each type of stain:
Removing urine stains: White vinegar, hydrogen peroxide, liquid dishwashing soap, and baking soda can help remove human and pet urine stains. Hydrogen peroxide is more effective when dealing with dried urine stains. This heavy-duty cleaning solution comes with an oxidizing agent capable of breaking down urine's chemical compounds.
Removing sweat stains: Hydrogen peroxide and liquid dishwashing soap make it easier to clean sweat stains from a mattress. You can achieve the best results by mixing the two solutions, and applying them sparingly to the mattress.
Blood stain removal: Vinegar and baking soda work well as mattress stain removers when eliminating blood stains. If this combination doesn't yield the right results, though, you can switch to hydrogen peroxide. However, avoid using hot water because it makes the proteins found in blood stains harder to remove.
Coffee, tea, and wine stain removal: Laundry detergent, salt, and vinegar can help you remove food and beverage stains from your mattress. You can dab cold water on the affected area before applying vinegar, salt, and laundry detergent. When applied correctly, these cleaning solutions can clear the stains, leaving your mattress looking great.
Getting Stains out of a Latex Mattress
A latex mattress can provide superior comfort, and help relieve pressure or pains thanks to its firmness and thickness. Another key benefit of latex mattresses is that they're antimicrobial and hypoallergenic. You can count on the mattress to counteract the presence of allergens, including mold, dust mites, and mildew.
PlushBeds offers organic and natural latex mattresses that are handcrafted using the highest standards. Even so, spills or stains can set into the fabric. That's why it's good to know how to remove them.
Latex Mattress Stain Removal, by Type of Stain
Thoroughly cleaning your latex mattress can keep it looking good, and staying hygienic. The stain removal process depends on the nature of the stains involved. By following specific steps, you can remove even the most difficult stains. Some cleaning methods involve blotting, dabbing, and air-drying the mattress.
Common household cleaning solutions can simplify the entire process, allowing you to achieve the desired results without breaking the bank. However, it's important to exercise caution when applying stronger cleaning solutions, like bleach. For this reason, apply certain products sparingly, or test them on a smaller area before proceeding.
Generally, a combination of cold water, mild detergent, and isopropyl alcohol can remove different types of stains on natural latex. Here are some methods to remove different types of stains on a latex mattress:
Removing old, deep-seated, and dried stains: Apply baking soda to the stain, and let it sit for 30 minutes before vacuuming the affected area. Doing so eliminates excess moisture, odors, and dirt. Adding a dash of lavender or lemon fragrance is a practical way to deodorize the mattress.
Removing light blood, urine, and dirt stains: Apply vinegar, baking soda, or another multipurpose cleaning product on the affected area. Alternatively, combine 3% pure hydrogen peroxide (one or two parts) and liquid dishwashing soap (one part). Once the stains disappear, let the affected spot air dry before blotting with a dry cloth.
Removing blood stains: Apply a small quantity of 3% hydrogen peroxide to the blood stains. Rub the cleaning solution onto the mattress until it forms bubbles. Once the bubbles subside, use a clean cloth, and blot the spot before applying an enzyme-based cleaner. Complete the cleaning process by placing a dry towel or cloth onto the area to absorb excess liquid.
Getting Stains out of a Memory Foam Mattress
Memory foam mattresses are soft and highly energy-absorbent, thanks to a substance known as viscoelastic. You can enjoy a comfortable night's sleep because the foam molds to the pressure and heat to ensure a balanced body weight distribution. This type of mattress retains its original shape once you get out of bed.
In the past, memory foam mattresses trapped a significant amount of heat due to the properties of foam materials in the manufacturing process. Thankfully, new technology now enables temperature regulation to prevent discomfort during the hot summer months.
PlushBeds offers memory foam mattresses to suit varying comfort requirements. Over time, though, stains may appear on your new mattress. Here's how to employ the most effective DIY stain removal methods and products.
Memory Foam Mattress Stain Removal, by Type of Stain
Cleaning recent and old stains on a memory foam mattress requires specific methods and products. When handled correctly, the cleaning process can remove yellow stains, sweat, blood, dead skin, beverage stains, urine, dirt, and other types of stains.
Here are some practical ways to clean mattress stains:
Removing urine stains: You can either use vinegar, baking soda, hydrogen peroxide, or an enzyme-based cleaner. If the stain is still fresh, use a paper towel, or a dry cloth to blot the moisture (avoid rubbing) before applying baking soda and vinegar to the spot. When dealing with dry urine, mix 8 ounces of hydrogen peroxide (3%), liquid dishwashing soap, and three tablespoons of baking soda. Spray the mixture onto the stained areas, and wait for 15 minutes. Then, blot the patch with a clean cloth.
Removing old, dried, and deep-seated stains: Apply three parts warm water and one part vinegar to dislodge tougher stains. Alternatively, you can apply hydrogen peroxide sparingly to avoid discoloration or bleaching. After removing the stain, soak a paper towel or cloth before letting the mattress air dry.
Removing beverage stains: To remove red wine, coffee, or other beverage stains, apply baking soda to the spot, and leave it for 10 minutes. Then, soak the liquid with a paper towel before applying baking soda to the affected area. Vacuum the baking soda after 10 hours.
Removing blood stains: Spray hydrogen peroxide, and let the solution bubble on the mattress. Once the bubbles stop, use a damp cloth to wipe the solution and any remaining stains. Finally, air dry the memory foam mattress.
Prevent Future Stains with a Quality Mattress Protector from PlushBeds
A mattress protector has many benefits, including keeping the mattress hygienic, minimizing allergies, and protecting your warranty. It also prevents stains and spills on your latex or memory foam mattress.
PlushBeds offers a wide selection of mattress protectors. Our collection includes a certified organic cotton mattress protector, a classic waterproof mattress protector, and a cotton and wool mattress protector. Discover the mattress protectors offered by PlushBeds, and keep your mattress free of stains or spills.
Link to Us!
If you found this article useful and shareable, please copy and paste the following into the html code of your website or blog:
Learn More About Going Green at the <a href="https://www.plushbeds.com/blogs/green-sleep/how-to-get-stains-out-of-a-mattress-by-material">PlushBeds Green Sleep Blog</a>.
*Please note that we DO NOT accept guest blog posts. Any inquiries into this will be respectfully left unanswered.
Related Posts:
The post How to Get Stains out of a Mattress by Material appeared first on PlushBeds Green Sleep Blog.