How to Choose a Mattress If You Have Scoliosis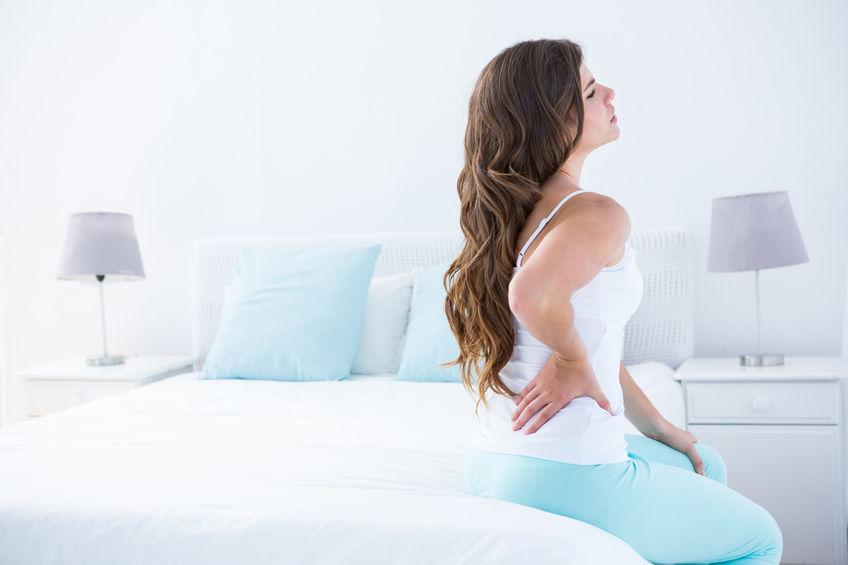 Sleep quality is important for every person's health and quality of life, but it's especially important for those with scoliosis. If you have scoliosis, you might be dealing with back pain and other challenges associated with curvature of the spine, so finding a mattress with extra support is critical.
Unfortunately, the wrong mattress can compound symptoms of scoliosis, cause significant discomfort, and even disrupt sleep. This article will explain how scoliosis can affect your sleep quality, the importance of having the right mattress when dealing with scoliosis, and what you should look for when choosing a mattress.
How Scoliosis can Affect Your Sleep
Scoliosis pain can make finding a comfortable sleeping position short-lived and hard to find. Even if you avoid the added pressure on your back by stomach sleeping, your current mattress may still not have enough airflow to make that experience restful. As scoliosis sleepers can have connected respiratory issues, such as apnea and hypopnea, during sleep, it's crucial to choose a mattress that is breathable.
Scoliosis causes a somewhat S- or C-shaped curve in the thoracic, or mid-center, section of the spine. The curvature of the spine can cause scoliosis sufferers to have different pressure points than those without the condition. Due to the fact that the S- or C-curve for most people with scoliosis is right in the middle of their backs, some styles of mattresses can press uncomfortably on pressure points and/or not provide support in critical gaps, such as under the knees. This can cost scoliosis patients a good night's sleep when it doesn't have to.
If you have scoliosis, it's recommended that you sleep lying directly on your back in a flat position. This position is said to offer the most pressure relief, especially when the right mattress also provides adequate lumbar support. Side sleepers and stomach sleepers may find this change in sleep positions uncomfortable at first. However, corrective bracing can alleviate some of the sleep struggles that come with scoliosis. There's no substitute for selecting the right mattress firmness and finding the right material for your unique pain management needs.
Why Mattresses are so Important for Those with Scoliosis
Having a high-quality bed with a good support system is essential for all body types. However, the need for a mattress with a proper support layer is much greater for pain sufferers, as it can directly impact the symptoms of medical conditions like scoliosis.
This means that a firmer or medium-firm mattress is usually a good place to start when hunting for a new mattress. Of course, the right type of mattress differs for everyone, but the one place where no one should skimp on is quality, even if that means spending a bit more.
For example, gel memory foam mattresses like those available at PlushBeds don't just have one comfort layer — they have five. Layers of memory foam offer excellent motion isolation and spinal support. The patented cooling gel inside these mattresses also means that body heat isn't as much of an issue for hot sleepers.
PlushBeds likewise offers a 25-year warranty, far beyond the standard 10- and 20-year warranty options available with many competitors. Remember that whatever your budget, you don't just want a different mattress — you want a better mattress for your money.
Choosing a Mattress for Scoliosis
There are a few considerations when finding a supportive mattress for scoliosis. On top of picking a mattress, there's a wide array of toppers available, including a latex mattress topper, memory foam, handmade wool, and Alternative Down Mattress Topper, so it can be difficult to know where to start. Sleepers with scoliosis often benefit by transitioning from traditional innerspring mattresses to a mattress with at least a base layer of polyfoam.
With an increased understanding of factors impacting healthy sleep, hybrid mattresses have become quite popular. A hybrid mattress contains multiple layers of foam, gel, or latex working in conjunction with a traditional innerspring design.
The following sections highlight how mattress firmness, awareness of pressure points, and temperature control can help people with scoliosis get better sleep.
The Proper Firmness
When hunting for the right mattress for scoliosis, motion transfer should be a top consideration. Mattress "flex" is a term used to reference how much or how little movement the mattress allows. Some sleepers like a softer, more pillow-top experience. Others like their mattresses on the firm side with less rebound. Mattresses can range from super soft to very firm, with firmness categories in between that vary by brand.
Although mattress firmness preferences are highly personal, scoliosis sleepers need to take special care with spinal alignment and evenly distributed weight. The firmness level of their mattresses means more than just choosing a top layer that feels good. A mid-firm mattress that provides contouring support to the whole body, with no gaps left between the body and the material, is generally thought to be best for preventing the aggravation of scoliosis symptoms.
No matter what kind of mattress you prefer, though, a trial period is the best way to find out if a mattress meets your firmness needs. That's another place PlushBeds can help. With a 100-night sleep trial available for any PlushBeds mattress, you can directly test them out to make sure you choose the right one. You shouldn't only have to rely on a mattress review to make such an important decision.
Pressure Point Minimization
As the back is a point of sensitivity for sleepers with scoliosis, finding a new mattress that comes with thoracic support is essential. Even a small detail, such as the design of the edge support on a mattress, can have an impact on how comfortable it will be for a sleeper dealing with chronic pain.
Shoulder blades and the lower back are spots where scoliosis patients may need extra cushioning. Foam beds can help minimize pressure point contact with their conforming material. It's also helpful to find a mattress that has customizable options, as comfortable positions can change as often as nightly for a sleeper with scoliosis.
The natural latex mattresses available from PlushBeds are specifically designed to alleviate stress on pressure points that are known to cause hip and shoulder pain. Along with maximum durability, the latex foam provides strong alignment and ergonomic support. The PlushBeds Botanical Bliss latex mattress likewise allows for customization so that you can get the best sleep possible every night.
Temperature Regulation
Another critical factor of comfortable sleep for those with scoliosis is temperature. Even if overheating during sleep doesn't wake you up from rest, too much body heat can weaken the quality of the sleep itself. Medical studies have shown there is a clear link between insomnia and body temperatures.
Thermoregulation — or the body's ability to keep itself at a minimal temperature for optimal sleep — can be harder to maintain if you're dealing with scoliosis. The pressure that scoliosis places on the joints can cause them to become inflamed, leading to a natural degree of stiffness and fatigue and raising core body temperature in general. All of this can lead to poorer sleep or hot sleep, which both tend to interrupt the healthy circadian rhythms needed for proper rest.
Hot sleepers can benefit from the organic cotton materials used in the PlushBeds gel memory foam mattresses. Not only does the patented cooling gel ensure your mattress stays comfortable, but hot sleepers who tend to have a lot of body heat around the head area can add a cooling memory foam pillow, as well.
PlushBeds Provides Superior Comfort and Sleep for Scoliosis
If you're facing the challenges that scoliosis can bring to healthy, restful sleep, look no further than PlushBeds. We've got all-foam options to suit every style of sleeper, and our 100-night trial period allows you to evaluate your selection with a lengthy bed-in at your own home. And with our all-natural and organically sourced materials, you won't have to worry about your mattress off-gassing.
While most mattress companies only offer a 10-year warranty or slightly more, PlushBeds mattresses are guaranteed for a full 25 years. Check out PlushBeds today for better sleep!
Link to Us!
If you found this article useful and shareable, please copy and paste the following into the html code of your website or blog:
Learn More About Going Green at the <a href="https://www.plushbeds.com/blogs/green-sleep/how-to-choose-a-mattress-if-you-have-scoliosis">PlushBeds Green Sleep Blog</a>.
*Please note that we DO NOT accept guest blog posts. Any inquiries into this will be respectfully left unanswered.
Related Posts:
The post How to Choose a Mattress If You Have Scoliosis appeared first on PlushBeds Green Sleep Blog.