Mattress Thickness: How to Choose the Right One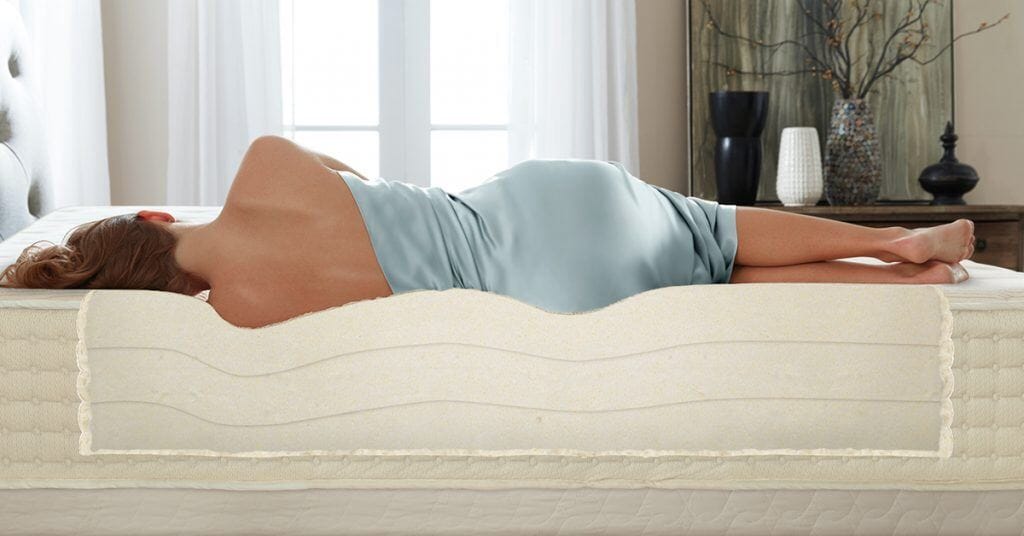 How to Choose Your Mattress Thickness
There are not many things that feel more luxurious than climbing into a big, comfy bed with a thick, plush mattress. The standard thickness for a mattress is between 6 to 9 inches – while some of the more luxurious mattresses are 12 inches. There are even some mattresses that are an astonishing 16 to 18 inches.
But, how much do you really need? Hint: for most people it is nowhere near 16 inches. This mattress thickness guide will help you figure out how to optimize your mattress.
Mattress Thickness Chart 
There aren't any average mattress thickness regulations. Typically, most high-quality mattresses are around eight to 14 inches thick.
Here's a standard list of how mattress companies group their mattresses based on thickness levels:
Low profile mattresses = two to five inches
Slim mattresses = five to eight inches
Standard mattresses = eight to 12 inches
Deep, thick, or tall mattresses = 12 to 16 inches
Extra deep, extra thick, or extra tall mattresses = more than 16 inches
Keep in mind, there's a difference between slim mattresses and low profile mattresses.
Factors Affecting Thickness Preferences
Before you get started, there are a few factors affecting the thickness of a mattress that work best for one person over another. If you sleep as a couple, you need to find a mattress that meets both your needs.
Many people select their mattress's thickness based on one or more of the following factors:
Body weight
Sleeping position
Health and medical conditions
Height preferences
Mobility issues
However, there are other factors affecting the thickness of the mattress that will be the most comfortable for you, including the type of mattress and your own personal preferences. Below you will learn more about each of the factors listed above, and how they impact your mattress comfort level and buying decisions.
Body Weight and Mattress Thickness
For these calculations, you want to consider the body weight for each person, rather than the total body weight for both partners.
People weighing 225 pounds or less should expect to sleep comfortably on a

9-inch mattress

for the expected lifespan of the mattress.
People weighing between 225 and 275 pounds will find that a thicker mattress meets their needs better, and that a

10-inch mattress

is more suitable.
People weighing in excess of 275 pounds may wish to consider a

12-inch mattress

to ensure their continued comfort for the duration of the mattress lifespan.
Some will argue there is little, if any, benefit for advancing beyond 12 inches for a mattress, though others seek to add a layer of plush comfort.
If you're sleeping on a PlushBeds natural latex mattress, you may consider an additional comfort layer, or a latex mattress topper, for additional comfort. Latex toppers from PlushBeds are currently available in 2- and 3-inch thicknesses. Another option is adding a wool mattress topper, if you want the softness, but not the height.
Medical Conditions and Mattress Depth
People with certain medical conditions might find plusher or firmer mattresses are better choices to meet their sleep needs. For instance, those who suffer from back pain might prefer firmer mattresses with fewer layers, while those who have some of the following conditions might prefer thicker mattresses with more comfort layers that boost both the softness and the height of the mattress.
Fibromyalgia
Shoulder pain
Arthritis
Hip pain
Even side sleepers might prefer soft, thick mattresses to help with pressure relief on their hips and shoulders, while laying on their side. The key is to find the mattress height that delivers the greatest possible degree of comfort, so you can get a great night's sleep night after night.
Advantages and Disadvantages of a Thick Mattress
You'll find most mattresses on the market today are nine- and 12-inches in thickness. If the mattress is constructed properly, the thickness profile differences aren't that important. But, there are both advantages and disadvantages of buying a thick mattress.
Advantages of a Thick Mattress
Thick mattresses are better for heavyweight people, since each layer is thicker, and thereby better capable of offering support under heavy body pressure, along with ensuring the individual receives a decent support level.
A thicker mattress typically has a longer lifespan because it doesn't sag as quickly as a thin mattress.
Disadvantages of a Thicker Mattress
Thicker mattresses are heavy. If you're needing to clean underneath the platform or bed, you'd have to move the mattress around, and this will likely require help.
If you have limited mobility, or are elderly, a mattress with more depth can make it more difficult for you to get into and out of your bed.
Advantages and Disadvantages of a Thin Mattress
It's good to know the advantages and disadvantages of a thin mattress before making the decision to purchase one.
Advantages of a Thin Mattress
A thin mattress is more affordable. You have a good chance of finding a decent 10- or 11-inch mattress under $1,000.
Thin mattresses are compatible even with an older foundation and bed frame that may not have the ability of supporting a thicker mattress's weight. So, you might wish to invest in a thin mattress, unless you have no problem replacing your old wooden bed frame.
Disadvantages of a Thin Mattress
A thin mattress has a shorter lifespan compared to a thicker mattress. Thin mattresses tend to sag quicker.
If you're sharing the bed with a partner, a thin mattress may not have the ability to support both your weights for very long. It will likely sag in the middle fairly quickly.
How Thick Should a Mattress Be for Different Sleeping Positions?
There are different thickness levels recommended for different sleep positions.
Back Sleepers
Back sleepers typically require a firm six- to eight-inch mattress. If you're a back sleeper, you'll require support for your shoulders and buttocks. You'll also require a little "give" that will allow the small of your back to receive support, and sink into the mattress. This helps to keep your spine in proper alignment.
Side Sleepers
If you tend to sleep on your side, you'll require support for your shoulders and hips. You should find an eight- to 10-inch mattress ideal. You may wish to choose an eight- or 10-inch foam slab with a solid foam core, and a softer outside foam.
Stomach Sleepers
You'll require more comfort and less support if you're a stomach (front) sleeper. You'll want to choose a minimum of 10 inches thickness, and up to 15 inches is ideal. Memory foam mattresses are good for stomach sleepers, particularly thick ones. If you're a heavy front sleeper, you'll probably be better with a solid core: a strong innerspring, or high-density foam, ideally.
Pregnant People
For women in mid- to late-term pregnancy, a soft top of four to six inches of soft memory foam that sits on top of a four- to six-inch medium hard latex foam base is ideal. It provides outstanding comfort and support, especially if you sleep on your stomach.
Total Height of the Bed
Another thing to keep in mind is the total height of your bed once you add the mattress. A bed that's too tall for your feet to touch the floor, while sitting on the side of the bed, may make getting into and out of the bed difficult. The same can be said of a mattress that is excessively short. It can make it more difficult for some people to roll into and out of the bed.
The mattress isn't the only thing that affects the total height of the bed. Other things have an impact on your bed's total height, include the following:
The bed frame
Box springs
Foundations
Risers you may have added beneath the frame
Fortunately, the total height of the bed is something that can be easily adjusted by changing things like riser height, bed frame, foundation, or the type of mattress you choose. Choose the mattress that works best with the total height of the other components, or adjust the total bed, so that it is a comfortable height for you and your partner, to get into and out of, at all hours of the day and night.
Mobility Concerns
People who have specific mobility issues may require a height for their mattress that works with their mobility aids. Some people, for instance, require wheelchairs or mobility scooters to get around. They need mattresses with heights that allow them to transition easily back and forth without requiring too much strain on their legs, backs, or arms in the process.
Even those who have walkers, or use a cane to walk, may find their needs met best with mattresses that do not require them to climb into or roll out of the bed. Not too high, not too short, and not too plush where they sink into the bed. It really is a balancing act for people who have mobility concerns, to find just the right height in a mattress, and that's one of the ways mattresses from PlushBeds shine, thanks to their customizability.
How a Mattress Topper Can Help Improve a Thin Mattress
If you're looking to add a little depth to your thin mattress, you might want to consider a mattress topper.
A one- to four-inch mattress topper can beef up any thin mattress, and is a cost-effective way of adding additional comfort to any bed.
For example, if your bed sits too low to the ground, a latex mattress topper will help you raise the profile, making it simpler to get in and out of it.
A solid topper allows you to easily add four or more inches to your mattress, and are usually firm enough to hold their height as you're getting into and out of your bed.
Mattress toppers are also an excellent way of reviving a tired, old mattress that's lost its shape and comfort. Simply by laying a plush, nice mattress topper over your uncomfortable and rigid mattress, you can easily get several more years of comfort from your bed.
Plus, toppers come rolled up in a package, so they're easy to have delivered right to your home.
FAQs on Mattress Thicknesses
Is a Thicker Mattress Better?
If you want enhanced support and comfort, you'll ideally want a 10-inch or more depth mattress. If you sleep on your side, you'll get the extra cushioning you require with a 12- to 14-inch mattress. Back sleepers generally are typically more comfortable on medium to firm mattresses with a 10- to 12-inch thickness profile, and stomach sleepers do well with a firm 10-inch mattress that prevents sinkage beneath their abdomen.
What's the Difference in Thicknesses in Mattresses?
You can divide mattresses into various categories depending on how thick they are. A mattress measuring between two and five inches is considered a low-profile bed. A mattress measuring between five to eight inches is a slim mattress. Those between eight and 12 inches are standard mattresses, and those with measurements above these are high profiles.
When it comes to thickness, mattress sizes don't really make a difference. For example, if you're considering a mattress with a thickness and construction that's suitable for you, it's likely you'll find it in queen size.
Is the Durability of a Mattress Affected by the Base Layer?
Yes, the base layer's thickness will affect the durability of the mattress. Mattresses with sturdy fabric-encased coils or base foams typically last around eight to 10 years. When you're deciding on a mattress's thickness, make sure the base layer is a minimum of 50% of the bed's height.
What's the Thickness Level of a 10-inch Mattress?
Ten-inch mattresses are thick enough for supporting individuals who prefer sleeping on their stomachs, since they don't allow for a whole lot of sinkage into the bed. Sinking into the bed would keep your spine from maintaining a position that's as close to its natural position as possible. Ten-inch mattresses are also thick enough for supporting your spine's natural curvature.
What is a Good Mattress Thickness?
A standard mattress has a depth that will vary between eight and 12 inches. Anything inside this range is considered a thicker mattress.
Which Thickness Memory Foam Mattress is Considered Best?
A 10- to 14-inch thick high-quality memory foam mattress provides conforming support for your body type. They can last approximately 10 to 15 years, and are durable. Any memory foam mattress thinner than this might not be durable or supportive enough, and could develop sags and soft spots within a few years.
Is a Two-Inch Topper Sufficient?
A mattress topper can be anywhere between two to four inches thick. They could either firm-up your bed, or soften it, depending on the materials used for making them. If you're looking to change the feel of your bed a tiny bit, a two inch thick topper should suffice.
What is the Thickest Mattress?
The standard mattress thickness is between six to nine inches, although some luxury mattresses are even 12 inches. And, you'll even find some that are an outstanding 16 to 18 inches.
Is an 8-Inch Mattress too Thin?
The average mattress thickness ranges between eight to 14 inches. The ideal mattress will have a minimum of a two- to three-inch comfort layer of thickness, and a base layer that's a minimum of six to eight inches thick.
What is the Depth of a Standard Mattress?
Seven inches is the standard industry mattress depth. But, in the last decade or so, mattresses have become much deeper.
What is the Best Thickness for a Latex Foam Mattress?
The six- to nine-inch latex mattress generally works great for back sleepers. If you sleep on your side, you may prefer a more cushioned, plush, and softer mattress. This would mean you'd want a thicker mattress.
How Do I Measure Total Bed Height?
Measure from the foundation's (not floor) bottom to the top of your mattress. Individuals often think the top of the mattress is the upper seam. It isn't. It's the highest point (the crown) of the mattress. If your measuring only went as far as the upper seam, you'd be off by as much as three inches in actual bed height.
PlushBeds Offers Unique Mattress Thickness Options
All of PlushBeds mattresses are handcrafted and customized for you, with a wide variety of thickness options. Also, the Botanical Bliss Organic Latex Mattress comes with a 100-night comfort exchange guarantee. There's also free delivery, nominal fee returns, and a 25-year warranty.
Because the layers of PlushBeds Botanical Bliss Mattress are not glued together, you can add or remove layers to help you find the right thickness, comfort, and support to meet your needs. Or, you can add a mattress topper to add another 2 to 3 inches to your mattress thickness.
Contact us today to learn more about our handcrafted and customized mattresses.
Link to Us!
If you found this article useful and shareable, please copy and paste the following into the html code of your website or blog:
Learn More About Going Green at the <a href="https://www.plushbeds.com/blogs/green-sleep/how-to-choose-your-mattress-thickness">PlushBeds Green Sleep Blog</a>.
*Please note that we DO NOT accept guest blog posts. Any inquiries into this will be respectfully left unanswered.
Related Posts:
The post Mattress Thickness: How to Choose the Right One appeared first on PlushBeds Green Sleep Blog.