How to Ship Your Mattress Safely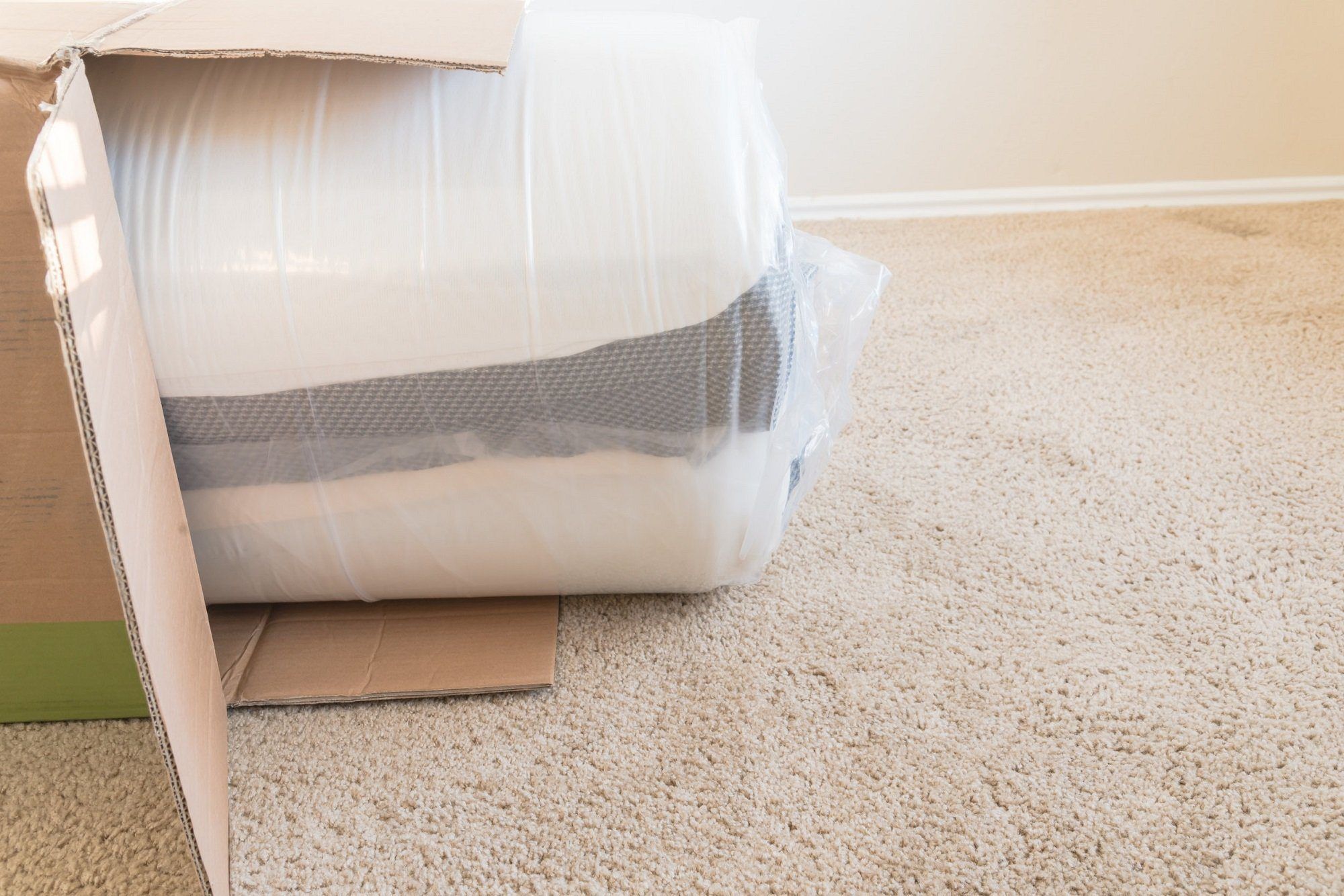 Your mattress is soft, comfy, plush, and big enough for you to stretch out for a restful night's sleep, of course. While that size might be great for catching zzzs, it can prove inconvenient if you ever have to move your mattress to a new home.
While the prospect of getting a bulky and heavy mattress from A to B might be daunting, it's not impossible. You have a few options when it comes to shipping a mattress safely and securely. Read on to find out how it's done.
How Much Does it Cost to Ship a Mattress?
Whether you're moving cross-country or simply switching to a new location in your current hometown, sometimes you won't have any option but to ship your mattress. If you don't have the budget for a moving van, for example, or have a suitable vehicle of your own, shipping might be the most reasonable choice.
So, how much can you expect to pay? Estimate shipping costs of about $300 for regular mattress shipping—more if you're looking for an expedited delivery date. There are also factors like the mattress size to consider. Measure your mattress so you can provide shipping companies with the correct size to get accurate estimates.
Location will also impact shipping rates. If you're shipping your mattress across the country, it will cost more than simply sending it across town. Get shipping quotes from a few shipping services to compare prices and find the most cost-effective option. A white glove delivery service specializing in delicate items will be pricier.
When is it Worth it to Ship a Mattress?
As you may have already guessed, shipping a mattress can be a pricey prospect. In addition to the shipping rates themselves, you also need to factor in the costs of packing materials like protective bubble wrap, packing foam, cardboard boxes, and packing peanuts. There is also the question of shipping insurance to consider.
That said, if you really love your mattress and want to hang on to it, shipping is a viable option. Further, if your mattress is fairly new, it might seem wasteful to leave it behind. This is especially true if you've splurged on a specialty mattress, like a full-size memory foam mattress.
However, if you have an old mattress that isn't that comfortable, to begin with, it might be more cost-effective to get rid of it completely. You can buy a new mattress and have it shipped directly to your new home, saving time, stress, money, and hassle. PlushBeds offers various mattress types plus free shipping.
What's the Cheapest Way to Ship a Mattress?
If you're looking for a cheaper alternative to shipping, you can deliver the mattress yourself. If you go this route, you'll need an appropriately sized vehicle. While you can try tying a smaller mattress to the top of your car, this is risky and not advisable. The mattress may slip and hit other cars, people, or property.
If you have a pickup truck, you might be able to move the mattress in the bed of the truck. Make sure to secure it properly using cables. To keep the mattress clean, wrap it in plastic sheeting or a similar protective layer and place a liner in the bed of the truck as an extra safeguard. A pickup truck will likely only work for smaller mattresses — not larger sizes like California King.
Another option is to rent a van that's large enough to move the mattress. There are various sizes of vans and trucks you can rent. Since you're going to rent the vehicle anyway, you may want to just go ahead and move your whole bed. Consider getting a vehicle that's big enough for other components, like your box spring, too.
How to Ship a Mattress Safely
If you've ruled out alternative options like hiring a moving company and shipping is your best bet, you're probably wondering: How do I ship a mattress? Read on for a step-by-step guide.
Before Shipping the Mattress
Before getting started, you'll need to remove bedding like sheets and pillows and take the mattress off the bed frame. You may want to take the opportunity to disassemble the entire bed and prepare all the various parts, from the bed frame to the headboard, for moving while you're at it. This will make for a more streamlined process overall.
Once you've got the bare mattress off the bed frame, vacuum it to remove any crumbs or dirt. You want to ensure the mattress is protected throughout the journey. Otherwise, dust, pollen, pet dander, dirt, and other debris can mar the exterior. Wrapping it in a sheet is one option and can help keep the mattress clean.
Painter's plastic is another option. This is preferable because it helps protect against moisture too. A damp mattress can breed fungi or mold, resulting in unsanitary conditions and a musty smell. To avoid this, wrap the mattress completely in plastic and secure it in place so it can't slip and leave parts of the mattress exposed.
How to Pack the Mattress for Shipping
With the mattress protectively wrapped in plastic, it's time to pack it. Some mattresses can be folded to create a more compact package for shipping. Others will have to be sent as-is. Provide an extra protective layer using shrink wrap, bubble wrap, and packing foam, and place the mattress inside a mattress encasement (also called a mattress bag).
A mattress encasement zips over the mattress and protects it against allergens, bed bugs, mold, and bacteria. This will help ensure your mattress arrives in the new location in pristine condition. Ideally, you'll have a cardboard box for the mattress, as well. Finally, make sure to provide the appropriate shipping address and label the package accordingly.
Deliver or Schedule a Pickup
Once the mattress is prepared for shipping, it's time to make a move. If you're delivering the mattress yourself, ensure you have a big enough vehicle. You'll want to have at least one friend help you carry the mattress. You can also hire professional movers who will do the heavy lifting (and can even provide their own moving truck).
Alternatively, you can have a shipping company do the dirty work. As mentioned, many factors impact shipping costs, from the size of the mattress to how far you're sending it. Request free quotes from a few providers first. Once you've chosen a provider, schedule a pickup time and be on-site to hand over the mattress when the shipping company team arrives.
You'll also have to provide them with the appropriate drop-off location and make sure you or someone else you trust is there to receive the mattress at the designated drop-off point. Confirm these details with the shipping company in advance. You don't want to risk your mattress going undelivered or getting left outside.
About the PlushBeds 100 Night Sleep Trial and Easy Returns
Finding the perfect mattress isn't always easy. If you have one you love and are moving, shipping it to your new home might well be worth the effort. That said, if your current mattress isn't up to snuff, it could be time for an upgrade. When you buy a new mattress, you can have it shipped directly to your new home, ensuring a seamless process.
When you order your mattress from PlushBeds, your new mattress will be delivered directly to your front door via FedEx—and the shipping is free with no purchase minimum! You can then enjoy a 100-night sleep trial. If you then decide the mattress isn't right for you, you can easily return it at no cost. This allows for a hassle-free process and ensures you get the right mattress to suit your sleep needs.
Link to Us!
If you found this article useful and shareable, please copy and paste the following into the html code of your website or blog:
Learn More About Going Green at the <a href="https://www.plushbeds.com/blogs/green-sleep/how-to-ship-your-mattress-safely">PlushBeds Green Sleep Blog</a>.
*Please note that we DO NOT accept guest blog posts. Any inquiries into this will be respectfully left unanswered.
Related Posts:
The post How to Ship Your Mattress Safely appeared first on PlushBeds Green Sleep Blog.