What are Microfiber Sheets and How Do I Choose the Best Ones?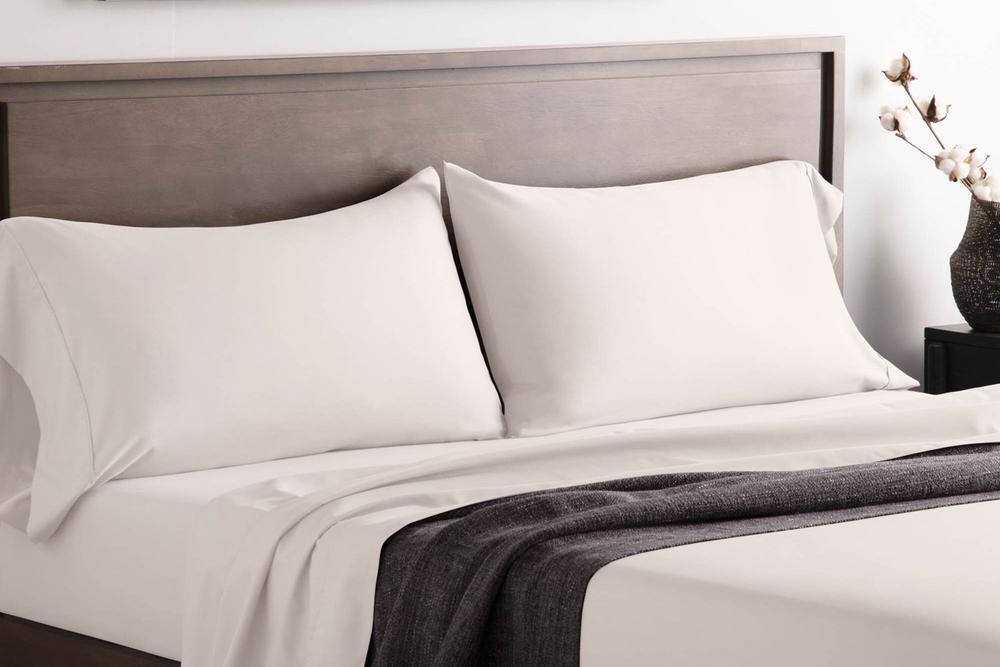 Microfiber offers extraordinary smoothness and comfort that many people love. Extra soft and gentle on the skin, microfiber bedding sheets are lightweight, breathable, and easy to care for. Microfiber bedding can also give your bedroom a makeover and bring a renewed sense of comfort to your sleep routine, no matter if you have a king-size or twin bed.
You may wonder how microfiber bedding differs from other types of bedding textiles, such as Egyptian or upland cotton or linen sheets. Since there are a number of materials and sheet weaves, it's completely reasonable not to know all the differences.
To make things a bit more clear, this article will explain what microfiber sheets are and provide some factors you may want to consider before purchasing microfiber bedding for your home.
What Are Microfiber Sheets?
You're likely already familiar with microfiber. Because it's incredibly versatile and durable, microfiber is often used in a number of items, such as bath linens, clothing, area rugs, duvet covers, and, of course, microfiber sheet sets.
Microfiber is a low-maintenance, synthetic material woven with ultra-thin fibers that make it extremely durable. This means it can withstand wrinkling and shrinking better than natural fibers, like organic cotton.
Microfiber sheets are commonly made from polyester but may also contain nylon or wood pulp. Its extra soft, smooth texture feels like a T-shirt and is an affordable option for many.
How Can You Tell the Quality of Microfiber Sheets?
Like any textile, microfiber can vary in quality. So, how can you know whether microfiber sheets are of good quality? There are a couple of things you can look for while shopping.
You've likely heard about high thread count and how it applies to the quality of bed sheets. Thread count calculates the threads per square inch and applies to all cotton sheets, such as percale or sateen — but not microfiber. Instead, microfiber is rated by its grams per square meter (GSM). The GSM is the density measurement of the microfiber sheets and directly affects the level of quality.
A higher GSM of 100 or more means a higher density or thicker pile and an overall more durable sheet set. These quality microfiber sheets feel heavier and are generally longer lasting — however, they can also trap more heat. On the other hand, a lower GSM with a loose weave can provide more breathability but may start to pill, rip, or tear sooner.
As you can expect, a higher GSM often comes at a higher price tag but can prove well worth the money in the long run. Ultimately, it's good to think of your bed sheets as an investment toward years of comfort. To get the most out of your bedding, consider purchasing the best sheets you can afford so you can get the most use out of them.
Pros and Cons of Microfiber Sheets
Microfiber sheets offer several advantages but have some shortcomings, too. Some things that are great about these types of sheets include:
Soft and silky
Durable
Wrinkle-free
Machine washable
Affordable price point
Repels moisture
Resistant to staining
Some disadvantages to consider before purchasing microfiber sheets include:
Thin material
Prone to pilling and shrinking, depending on the thinness of the material
Attracts static and lint
Less ideal for sensitive skin
Some things may not pose a problem for you, while other factors might be non-negotiable. It's important to consider the advantages and disadvantages of microfiber sheets so you can determine if it's the right type of bedding for you.
Factors to Consider When Choosing Microfiber Sheets
Choosing new bed sheets can be exciting but also a bit overwhelming with all the choices available. If you're shopping around for a microfiber sheet set for the first time, you may not know what to consider.
The following sections introduce some key factors to consider when choosing microfiber bedding, including the feel and look, temperature regulation, ease of cleaning, and durability.
The Feel of Microfiber
With its slight slippery feel, you can compare microfiber's softness to silk or satin. Some microfiber sheets are also brushed, creating an extra layer of softness like what you can get from flannel sheets.
When microfiber is brushed, metal brush bristles gently rub the fabric. Much like teasing the hair on your head, this back-and-forth friction raises the uppermost layer of the fabric, creating ultra-soft, supple fullness and texture. Depending on your preference, you can find single or double-sided brushed microfiber top sheets for the ultimate in comfort.
The Look of Microfiber
The look of microfiber is unmistakably soft and smooth. Its appearance alone can make you want to reach out and touch it.
This is a much different response than one expects from supima or percale cotton sheets. Although high-quality thread count sheets, these types of sheets differ from the luxe, smooth texture of microfiber. Tightly woven cotton sheets offer a crisp, fitted look for the bed, while microfiber appears supple, silkier, and more relaxed.
Temperature Regulation of Microfiber Sheets
Microfiber is a breathable material but is typically warmer than cotton due to its tightly woven strands. This means it's best suited for colder climates or those who tend to get cold at night. Hot sleepers might want to stick with cotton instead.
Additionally, microfiber has moisture-wicking properties that can keep you dry and comfortable while sleeping.
Ease of Cleaning Microfiber
Microfiber is easy to care for and requires little to no special handling. Simply toss your sheets into the washing machine and tumble dry. Air drying is also a great option and an eco-friendly way to cut back on energy consumption. While microfiber is wrinkle-resistant, letting the sheets air dry or sit in the dryer after cycle completion may affect the smoothness of the fabric. A warm iron or quick wrinkle cycle in the dryer can help smooth them out.
Although easy to care for, check the care label when first purchasing new sheets. Many times, it's recommended that you launder microfiber sheets in a cool water setting to avoid shrinking. To avoid damaging the fabric, read the label and follow the recommendations for care. As always, check if chlorine or color-safe bleach are appropriate options for stain removal.
Machine-washable fabrics offer convenience, and microfiber can certainly help simplify the job of cleaning. For PlushBeds microfiber sheets, we offer easy care instructions. Just wash on a gentle cycle with a non-chlorine bleach detergent, tumble dry, and remove promptly to keep the smooth appearance.
The Durability of Microfiber
Microfiber is incredibly durable and long-lasting, so it takes a good amount of time before microfiber bed sheets show signs of wear. You can wash microfiber over and over without it wearing down, giving you a cozy night's sleep for a longer time. And with flat-weave microfiber, you get less pilling — that thing that happens when surface fibers clump together and take away from the appearance of the material.
You may increase the lifetime of your bed sheets by choosing high-quality, high GSM microfiber. Much like a higher thread count with cotton sheets, a higher GSM is heavier and offers more plushness than microfiber sheets with a lower GSM.
Shop Microfiber Bedding From PlushBeds
You deserve a good night's sleep and it all starts with the right bedding. If you're interested in microfiber sheets, check out PlushBeds Brushed Microfiber Sheet Set, which includes a fitted sheet with extra-deep pockets — ensuring that it won't slip off the mattress corners — a flat sheet, and an oversized pillowcase set. Twin and Twin XL sets contain a single pillowcase.
Our microfiber sheets come with a three-year warranty, so you can be confident in your purchase. Check out new arrivals for the season and bring extra-soft comfort into the bedroom with bedding sets from PlushBeds.
Link to Us!
If you found this article useful and shareable, please copy and paste the following into the html code of your website or blog:
Learn More About Going Green at the <a href="https://www.plushbeds.com/blogs/green-sleep/what-are-microfiber-sheets-and-how-do-i-choose-the-best-ones">PlushBeds Green Sleep Blog</a>.
*Please note that we DO NOT accept guest blog posts. Any inquiries into this will be respectfully left unanswered.
The post What are Microfiber Sheets and How Do I Choose the Best Ones? appeared first on PlushBeds Green Sleep Blog.