PlushBeds Handcrafts Organic Mattresses For Eaton Hotel DC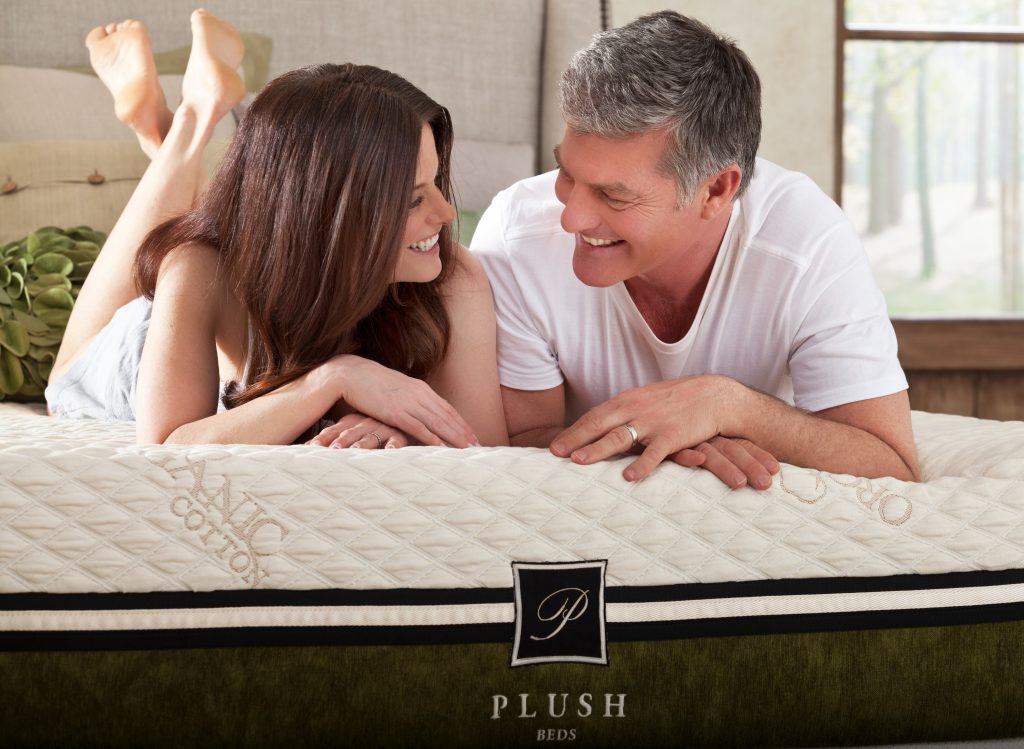 Eaton Hotel in Washington, DC is a beautiful new hotel that merges hospitality with positive social change. The hotel itself, which opened this week, inspires creativity and innovation among its guests, whether they are visiting entrepreneurs, artists, thought leaders, innovators, lawmakers or more.
Eaton Hotel DC currently features 209 hotel rooms, wellness center, radio station, meeting room, banquet room, coffee shop, juice bar, cinema, co-working space, rotating art exhibits, event space, restaurant and rooftop bar.
Eaton Hotel DC focuses on the following areas:
Sustainability
Environmental Responsibility
Social Responsibility
Organic and Healthy Living
Driving Positive Change
In addition to the luxurious comforts throughout the hotel, the hotel is LEED Gold Certified for excellence in air quality and energy use.
PlushBeds and Eaton Hotel Shared Commitments
PlushBeds and Eaton Hotel are both committed to the highest level of social and environmental responsibility. Additionally, both brands share a passion for delivering exceptional products and experiences, that are environmentally conscious, ethical, sustainable and healthy, with the purpose of driving positive change.
One way Eaton Hotel achieves this is by furnishing all of their guest rooms with organic mattresses from PlushBeds. Guests will experience luxurious sleep on handcrafted, certified organic latex and organic cotton, plush mattresses.
PlushBeds CEO, Michael Hughes, had this to say, "We are truly honored to have been selected to handcraft organic mattresses for Eaton Hotel in Washington, DC."
"The PlushBeds commitment extends to handcrafting luxuriously comfortable organic mattresses, that deliver a superior quality of sleep, night after night. That is exactly what we've done with the creation of our Luxury Bliss Hybrid Latex Mattresses. This is the same line that will be featured at Eaton Hotel in Washington, DC," Hughes said.
How do guests know they're getting premium quality with PlushBeds organic mattresses in their rooms? PlushBeds certifications alone tell the tale. They include prestigious certifications from independent third party organizations such as:
Global Organic Latex Standard (GOLS)
Global Organic Textiles Standard (GOTS)
United States Department of Agriculture (USDA)
Oeko-Tex Standard 100
GreenGuard Gold
In a manner that matches the sustainability commitment of Eaton Hotel DC, PlushBeds organic latex mattresses are carefully harvested through an environmentally conscious process. The organic latex is derived from Hevea Brasiliensis trees, that grow abundantly on a pure, organic plantation.
PlushBeds organic latex mattresses are handcrafted using the finest quality organic latex – no synthetic blends, no fillers, no dyes, no carcinogenic adhesives, no chemicals and no pesticides. They are pure organic mattresses – the healthiest mattress you can sleep on.
PlushBeds has earned certifications from Sustainable Furnishings Council, Rainforest Alliance, Forest Stewardship Council, Green America and Green Business Network for their environmentally conscious practices.
Eaton Hotel DC also provides other amenities in line with their vision, including:
Bathrooms With Mosaic-Tiled Walk-In Shower and Grown Alchemist 100% Natural Products
Purifying Himalayan Salt Lamps
Healthy Snacks and Holistic Treats In The Mini Bar
Wellness Center With Yoga
Sauna and Steam Room
Fitness Center
Coffee Shop With Cold Wave Coffee
Juice Bar With Cold-Pressed, Green Juices and Ayurvedic Beverages
Travelers seeking new experiences in luxury, without sacrificing their commitments to the earth, have a new option to consider with Eaton Hotel DC. They can also bring the same comfortable sleep home, when they order an organic mattress of their own, from PlushBeds.
About Eaton Hotel in Washington, D.C.
Located at 1201 K Street NW in Washington, DC, Eaton Hotel is committed to showing its guests that you don't have to skimp on luxury when creating an environmentally and socially responsible hotel experience for guests.
Eaton Hotel is part of Eaton Workshop, which consists of several distinct, socially conscious components – Hotel, House, Media, Wellness and Impact.
Guests interested in booking their stay at Eaton Hotel DC can call 202-289-7600 or book their stay at Eaton Hotel DC online. Individuals and companies interested in booking an event at Eaton Hotel DC can call 202-900-8414 or email [email protected].
About PlushBeds
PlushBeds is a leading luxury mattress manufacturer and retailer, specializing in organic and natural latex mattresses. PlushBeds is headquartered in Camarillo, CA, with Corporate Offices in Wilmington, DE.
It is PlushBeds' commitment to excellence in craftsmanship and superior quality materials, that has driven them to become America's largest online distributor of organic and natural latex mattresses.
PlushBeds is proud to offer organic latex mattresses because of their luxurious comfort, cushioned support, soothing pressure relief and because they are carefully harvested and manufactured through environmentally conscious processes.
PlushBeds mattresses are endorsed by multiple third party organizations, received multiple certifications and an abundant amount of 5-star reviews. To learn more call 1-888-PLUSH-BEDS, visit www.PlushBeds.com, or complete the online form.
See PlushBeds' Labor Day Sale for up to 60% off all organic latex mattresses plus free organic sheets, organic pillows and organic mattress protector with your purchase. Indulge in the same luxuriously comfortable and healthy sleep, right in your own home.
Link to Us!
If you found this article useful and shareable, please copy and paste the following into the html code of your website or blog:
Learn More About Going Green at the <a href="https://www.plushbeds.com/blogs/green-sleep/plushbeds-honored-to-handcraft-organic-mattresses-for-eaton-hotel-dc">PlushBeds Green Sleep Blog</a>.
*Please note that we DO NOT accept guest blog posts. Any inquiries into this will be respectfully left unanswered.
Related Posts:
The post PlushBeds Handcrafts Organic Mattresses For Eaton Hotel DC appeared first on PlushBeds Green Sleep Blog.