PlushBeds Awarded Best Luxury Latex Mattress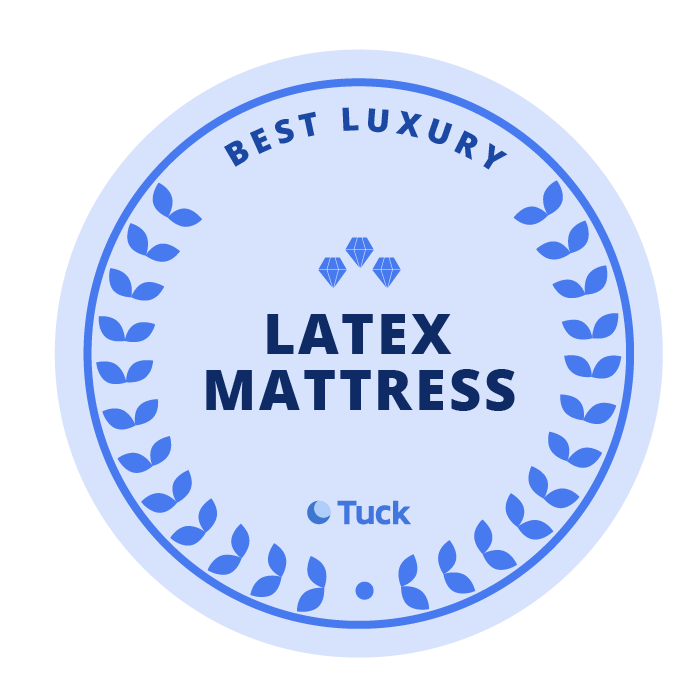 At PlushBeds, we handcraft luxurious organic and natural latex mattresses, that promote good health and facilitate quality sleep. We achieve this by focusing on three things: high quality, non-toxic materials; luxurious comfort and relentless innovation.
It is an honor to have that hard work and dedication recognized by Tuck Sleep, a company devoted to improving sleep hygiene, health, and wellness. After their extensive testing and review process, Tuck Sleep awarded the Botanical Bliss Organic Latex Mattress, from PlushBeds, the Best Luxury Latex Mattress.
About Tuck Sleep
Tuck Sleep is a company well known for its commitment to improving sleep quality for all. They provide an impressive database of information about mattresses, sleep disorders, sleep medicine, sleep health and education about sleep.
Tuck's goal is to educate people about the changes you can make to improve your sleep quality. Tuck offers reviews for a wide range of sleep-related products. They conduct extensive research to obtain their product ratings. They include this research on their website, along with the following:
Forums
Discussion boards
Verified customer experiences
Product review website
Retail product pages
Publicly available information
In-house testing
To obtain a rating, Tuck requires 60 verified customer experiences from a minimum of four unique sources. In addition to offering comprehensive mattress reviews to help consumers make informed decisions about their own mattress purchases, Tuck also offers insights into a variety of other products that promote a better night's sleep, including:
Alarm clocks
Anti-snoring mouthpieces
Earplugs for sleeping
Headphones for sleeping
Sleep masks
Anti-grinding mouthguards
Travel pillows
Weighted blankets
White noise generators
Pillows
Mattress toppers
As you can see, the sleep products coverage offered by Tuck is extensive, and that is just the beginning. You will find a treasure trove of information and explanations on a variety of sleep related topics, such as:
Restless leg syndrome (RLS)
Shift work sleep disorder
Obstructive sleep apnea (OSA)
Narcolepsy
Jet lag
Circadian rhythms
Sleep deprivation
Healthy sleep
Sleep hygiene
Napping benefits
Medicine for sleep
Non-drug treatments for sleep disorders
Tuck has gone a long way toward accomplishing their goals of providing a comprehensive resource on the world wide web for advancing better sleep.
How Tuck Chose PlushBeds For Best Luxury Latex Mattress
Tuck prides itself in offering unbiased reviews of mattresses. To do this, Tuck relied on more than 80 hours of independent testing in their own laboratories, in addition to sifting through more than 1,450 verified customer experiences from 12 different and unique sources.
Tuck reviewed three lines of latex mattresses from the PlushBeds brand:
Botanical Bliss Collection
Natural Bliss Collection
Luxury Bliss Mattress
Each of these mattresses is made with the finest quality, GOLS certified organic latex and GOTS certified organic cotton covers, with no added fillers, chemicals, or dyes. They are also Oeko-Tex Standard 100 and GreenGuard Gold certified as well. In addition to providing extensive testing, and going through an astonishing variety of reviews to learn about the mattresses, Tuck educates its own readers on the highlights of these superior quality PlushBeds Mattresses.
Tuck points out a variety of features, to support its decision to award this honor to the Botanical Bliss Mattress, including:
Handcrafted with superior quality, organic materials
Multiple levels of firmness and thickness
Customization
Outstanding motion isolation
Superior support
Soothing pressure relief
Sleeps Cool
25-year warranty
100-night sleep trial
GOLS, GOTS, USDA, Oeko-Tex Standard 100 and GreenGuard Gold certifications
Long-life expectations of the mattress
Tuck goes on to suggest that the Botanical Bliss Organic Latex Mattress is a good choice for side sleepers, back sleepers, stomach sleepers and those who suffer from back pain, giving it credit as a solid choice for people of all body types, with all sleeping patterns.
Tuck also reminds buyers that the firmness and thickness of PlushBeds Botanical Bliss Mattress is completely customizable and that customers may adjust their comfort at any time.
Furthermore, nine out of ten owner experiences reveal customers have had a positive experience with PlushBeds.
For all of these reasons and more, Tuck chose PlushBeds for Best Luxury Latex Mattress.
About PlushBeds Latex Mattresses
PlushBeds offers an attractive lineup of organic and natural latex mattresses. The Botanical Bliss Mattress, the most popular of these options, is an organic latex mattress. It provides sleepers with the ultimate luxury sleep experience, thanks to its superior quality organic materials and personalized customization, with comfort layers that can be added or removed, to increase comfort or firmness at any time. Because your Botanical Bliss mattress is made to order, you can even opt to have one side of the bed firmer than the other, to accommodate partners with diverse sleep needs.
The Botanical Bliss Mattress is available in thicknesses of 9, 10, or 12 inches and comes in a variety of sizes. This mattress is handcrafted using the finest quality organic latex that is Global Organic Latex Standard (GOLS) certified. This means that it meets the highest standards to qualify as an organic product, and is made without synthetic materials, petrochemicals, fertilizers, or pesticides, so you can rest easy knowing you're not bringing harmful vocs into your home or to your family.
The same holds true of all natural latex mattresses from the PlushBeds family, including the newest jewel for the brand, the 12-inch Luxury Bliss Hybrid Latex Mattress with GOLS certified organic latex and an individually-wrapped, coil core. Enjoy cool comfort and restorative sleep with the same exacting standards the PlushBeds brand is famous for.
Don't forget the 100% natural latex, vegan, wool-free Natural Bliss Vegan Mattress, either. Made with the PlushBeds revolutionary Eco Fire Barrier, this mattress offers outstanding support, unrivaled comfort and a warranty sweet dreams are made of, without any ingredients, fillers, etc. to cause you to miss a single wink of sleep.
Get More Acquainted with PlushBeds
Learn more about PlushBeds commitment to good sleep, good health and a healthy planet and see these luxurious organic and natural latex mattresses today! Currently, Tuck is offering a $50 discount off a PlushBeds Botanical Bliss Mattress with the code TUCK50.
Link to Us!
If you found this article useful and shareable, please copy and paste the following into the html code of your website or blog:
Learn More About Going Green at the <a href="https://www.plushbeds.com/blogs/green-sleep/plushbeds-awarded-best-luxury-latex-mattress">PlushBeds Green Sleep Blog</a>.
*Please note that we DO NOT accept guest blog posts. Any inquiries into this will be respectfully left unanswered.
Related Posts:
The post PlushBeds Awarded Best Luxury Latex Mattress appeared first on PlushBeds Green Sleep Blog.