What Does it Mean to Be an Eco-INSTITUT Tested Product?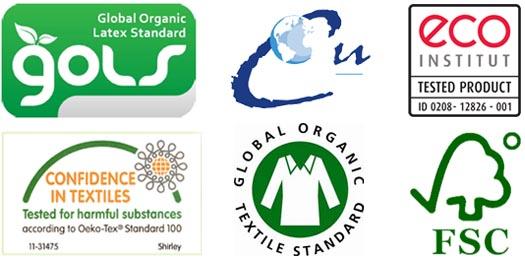 The Eco Institute, located in Cologne, Germany is a highly respected organization responsible for testing products to determine their pollutants and emissions. The institute has more than 25 years of experience testing products for trace amounts and even residues of hazardous chemicals as well as the testing of emissions or outgassing created by the products.
The institute tests a wide range of products including the following:
Flooring
Bedding
Furniture
Textiles
Leather Goods
Toys
Sports Equipment
Automotive Interiors
Cell Phones
Consumer Electronics
What does the Eco-INSTITUT Certification mean to Consumers?
Products bearing the Eco-INSTITUT certification are products you can use in your home with confidence that they do not contain even trace amounts of hazardous chemicals and will not produce foul, unhealthy off gassing in your home. These are important considerations for many families and can make a world of difference to your pleasure in your new purchase.
As a consumer, you don't want to invest in products that could harm your family. Unfortunately, with many products, labeling makes it difficult to know whether you're really getting what you think you are when you purchase a product.
Certifications like the Eco-INSTITUT certification help bridge the gap. Since Eco-INSTITUT certification is offered by an independent certification agency and has no vested interests in the products they certify, you can count on their certifications to indicate products that are safe for families.
What is the Approval Process Like?
The Eco-INSTITUT certification tests to ensure that that certain thresholds for emissions are met. The process goes something like this.
Companies requesting certification send product samples along with a list of materials to see if products qualify for approval.
Tests are conducted by independent third parties.
Once passed, the Eco Institute conducts their own tests inside their laboratories.
Products that pass are issued labels for certification. Other products are sent back for changes and advice prior to being tested again.
Tests are conducted in order to rule out the presence of many hazardous and potentially harmful materials including volatile organic compounds (VOCs), persistent organic pollutants, heavy metals, pesticides, phthalates, and the presence of formaldehyde – among other things.
The impressive thing about Eco-INSTITUT certification is that it isn't looking for products that meet minimal safety requirements, but for those that go above and beyond to meet higher standards in materials and manufacturing.
That's why we're so pleased that our PlushBeds Botanical Bliss organic latex mattress has met and surpassed these standards of excellence and safety. We're sure you'll find them to be a perfect and perfectly safe addition to use inside your home and around your family.
Link to Us!
If you found this article useful and shareable, please copy and paste the following into the html code of your website or blog:
Learn More About Going Green at the <a href="https://www.plushbeds.com/blogs/green-sleep/what-does-it-mean-to-be-an-eco-institut-tested-product">PlushBeds Green Sleep Blog</a>.
*Please note that we DO NOT accept guest blog posts. Any inquiries into this will be respectfully left unanswered.
Related Posts:
The post What Does it Mean to Be an Eco-INSTITUT Tested Product? appeared first on PlushBeds Green Sleep Blog.