What is a Plush Mattress?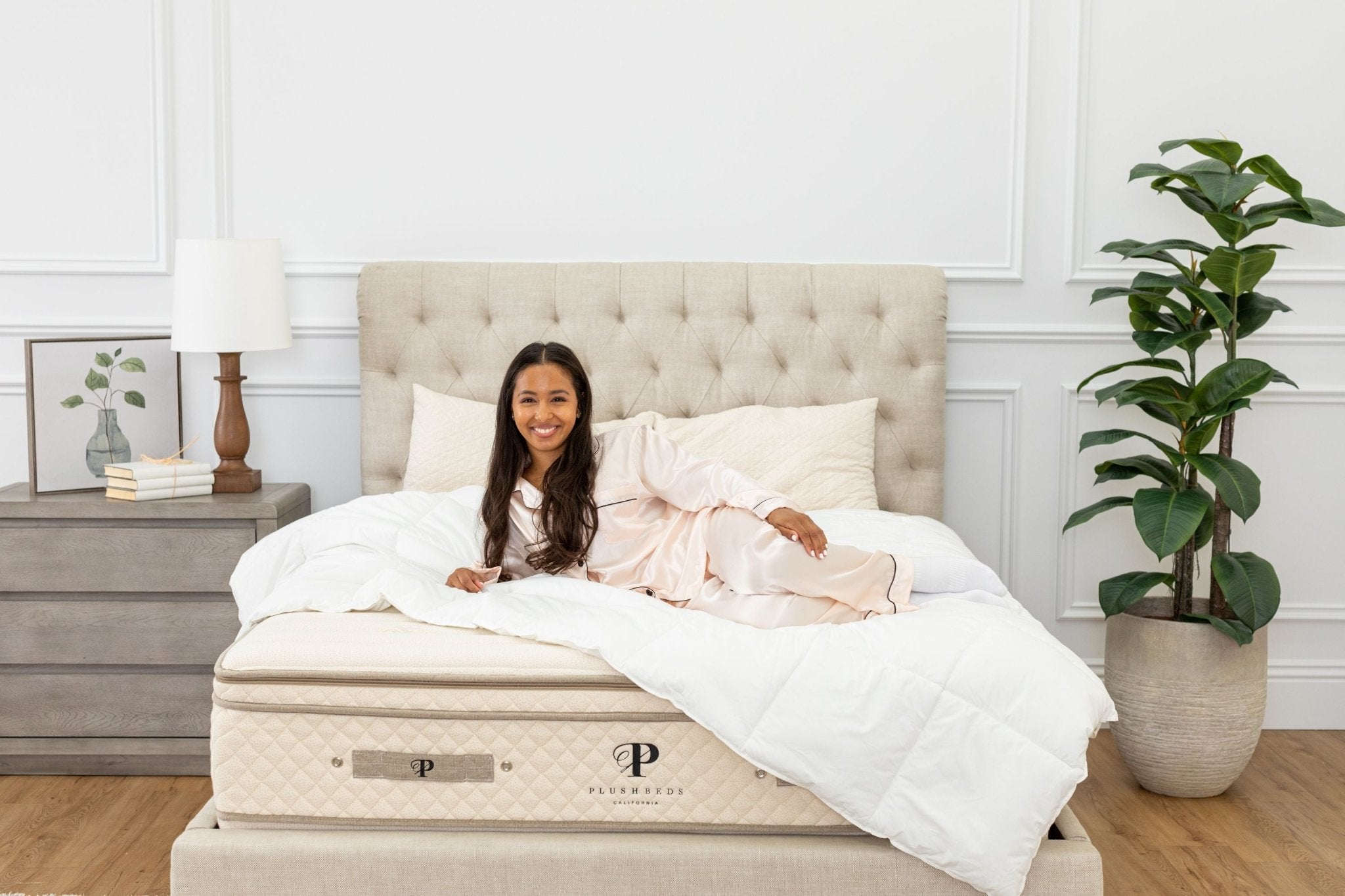 It's essential to consider the firmness of a mattress when buying a new comfortable mattress. Usually, mattress companies use firm, medium-firm, medium, or soft to describe how a mattress feels. However, given that mattresses differ in materials and designs, it's often difficult to choose a befitting mattress based on these descriptions.
Other mattress companies call their mattresses plush — a sometimes misunderstood, yet widely used description. But, since this word has everything to do with firmness and comfort, here's what you need to know about it.
What does Plush Mean in a Mattress?
Plush originally described soft, rich, and lavish fabrics, such as mink fur and silk. Nowadays, the word appears in various contexts, and usually describes extravagant and expensive items or lifestyles. But, when it comes to mattresses, plush has a whole different meaning.
A plush mattress is a soft, gently cradling mattress that provides adequate support and comfort to a sleeper. This plushness results from layers of pressure-relieving materials added onto the support core of the mattress. The layers also come in different densities and thicknesses, varying from one mattress manufacturer to the other.
Plush vs. Firm
Many mattress manufacturers use a scale of between 1-10 to describe the firmness of their mattresses. Softer mattresses fall on the lower side of the scale, while firmer ones are on the higher end. However, this scale isn't an industry-standard scale for describing firmness levels.
For this reason, the actual firmness level of mattresses varies across different manufacturers.
Given that the best plush mattresses are soft and cuddly, they tend to fall within the lower side of this scale. Yet, some soft beds don't provide sleepers with the needed support and comfort. As a result, such mattresses don't fit the description of ideal plush mattresses.
To find your perfect plush mattress, you must understand how different mattresses on the firmness scale feel. Here's what to expect.
Extra-Soft Mattress
Extra-soft mattresses are extremely rare in the market because they usually lack enough support for sleepers. These mattresses range between 1 and 2 on the mattress firmness level scale.
Soft Mattress
A soft mattress falls between 3 and 4 on the firmness scale. It cradles a sleeper's body, and provides them with adequate support. However, heavier sleepers may not feel adequately supported when using this mattress. Because of their weight, heavier sleepers sink too deep into the bed, causing spinal misalignment that aggravates their pain.
Medium to Medium-Firm Mattresses
As the names suggest, these mattresses balance softness and support equally. They don't let a sleeper sink too deep in the bed, or feel too much pressure on their pressure points while sleeping. These mattresses range between 5 and 7 on the firmness scale, and are ideal for most sleepers.
Some manufacturers refer to a mattress within this category as a plush firm mattress. Although the plush firm mattress is firm, it still provides a soothing cradling effect to the sleeper.
Firm Mattress
Firm mattresses usually have thinner layers of pressure-relieving materials, making them less cuddly. They range between 8 and 9 on the scale, and are best for heavier sleepers, due to the extra support they provide.
Extra-Firm Mattress
Extra-firm mattresses belong to the furthest end of the firmness scale. These mattresses are nowhere near plushness, and are often uncomfortable for many sleepers. Usually, sleepers who choose extra-firm mattresses do so out of preference rather than comfort.
What are the Types of Plush Mattresses?
The typical mattresses materials used in making plush mattresses include latex, memory foam, cotton, and wool. Crafty mattress manufacturers use such mattress materials to add extra padding and cushioning to their mattresses, without compromising their support.
These materials also determine the plushness of a mattress because of their differences in quality. Here's how common mattress types differ in plushness.
Plush Innerspring Mattress
Plush Innerspring mattresses contain systems of metallic coils in the support core. Besides support and breathability, the springs make mattresses bouncy. As a result, they tend to cradle a sleeper's pressure points, while supporting their spine. Plush innerspring mattresses usually range between soft and medium-firm levels on the firmness scale.
Plush Latex Mattress
Latex mattresses are soft, thanks to the buoyant nature of natural latex. In addition, plush latex mattresses are responsive to weight and pressure from a sleeper. They gently cradle the sleeper, without letting them sink too deeply into the bed. As a result, these mattresses keep the sleeper's spine in its rightful position to avoid causing them pain.
Plush Hybrid Mattress
Plush hybrid mattresses combine the traditional spring coils and layers of varying materials, such as latex and memory foams. The spring coils provide support, while the foam layers provide cushioning to a sleeper.
Plush hybrid mattresses are available in different versions, depending on the materials contained in the foam layers. They also suit most sleepers and different sleep positions.
Plush Memory Foam Mattress
Generally, memory foams make soft mattresses that provide exceptional pressure relief to a sleeper. However, these foams also make firmer mattresses, depending on the density of the memory foams used in manufacturing the mattresses.
Plush with Pillow Top Mattresses
A pillow top mattress has an additional layer of malleable cushioning sewn on top of the soft padding layer of a mattress. This extra layer makes the mattress more comfortable and luxurious, without altering its support.
Ultra Plush Mattresses
An ultra-plush mattress is a very soft mattress that conforms to the shape of a sleeper's body. These mattresses usually fall between 1 and 2 on the mattress firmness scale. However, it's rare to find ultra-plush mattresses on the market, because most of them lack sufficient support for a sleeper.
Plush vs. Support
The firmness and support of a mattress go hand in hand. However, these are two different characteristics of a mattress. Here are their main differences:
Mattress firmness refers to how the surface of a mattress feels. On the other hand, mattress support refers to how well a mattress upholds a sleeper's spine.
Mattress manufacturers use the Impression Load Deflection (ILD) to calculate the firmness of a mattress. ILD is calculated by pressing a 12-inch disk on 4 inches of mattress foam until it compresses by 25%. Support, on the contrary, entirely depends on the structure and layers of the mattress.
The comfort layers determine the firmness level of a mattress, while the core system determines its support.
Not all firm mattresses provide sufficient support to a sleeper. Similarly, not all supportive mattresses have a firm surface. There are numerous plush and firm mattresses on the market today.
Plush vs. Mattress Thickness
The thickness of a mattress depends on the number of layers it contains. However, a thick mattress isn't always plush.
Most mattresses range between 8 and 14 inches in thickness across the firmness scale. For example, some 9-inch mattresses have firm surfaces. However, the additional comfort layers of most plush mattresses make them appear thicker than ordinary mattresses.
Who is a Plush Mattress Best For?
Plush mattresses aren't best for every sleeper, despite their high comfort level. However, you may prefer a plush bed if you're one of the following groups of sleepers:
Side Sleepers
Side sleepers tend to be more comfortable on a softer mattress that cushions their shoulders and hips. Plush mattresses are ideal for these sleepers, because they also offer enough support to align their spine correctly.
Lightweight Sleepers
Light sleepers don't exert too much pressure on their beds. As a result, they barely sink deeply into plush mattresses.
Petite sleepers weighing 130 pounds or less feel comfortable on soft to medium plush mattresses. Those weighing between 130 and 230 pounds feel comfortable on medium-soft to medium-firm plush mattresses. Heavier sleepers over 230 pounds tend to sink too deeply into this range of plush mattresses. Instead, they are often more comfortable sleeping on medium to firm mattresses.
Sleepers with Shoulder Pain
If you're suffering from hip and shoulder pain, a plush mattress is an ideal choice. A plush mattress's soothing pressure relief layer cushions these pressure points, enabling you to sleep better at night.
Couples who Share a Bed
Plush mattresses made of memory foam materials reduce motion transfer and sleep distractions caused by movement. As a result, plush memory foam mattresses are ideal for couples, especially those with different bedtime schedules. Additionally, intimate couples tend to be more comfortable on these mattresses, because of the soft padding.
Who Shouldn't Use a Plush Mattress?
Plush mattresses may cause discomfort to the following types of sleepers:
Stomach Sleepers
Plush mattresses may feel too soft for most stomach sleepers, given they sink deeply into the mattress. When that happens, their spine curves inwards, falling out of its natural S-shaped curve. As a result, stomach sleepers develop pain and discomfort in their lower back.
Heavier Sleepers
Heavier sleepers weighing over 230 pounds may feel stuck in a plush mattress. Such sleepers need firmer mattresses to support their weights, and keep the spine in proper alignment. Alternatively, heavier sleepers may use a zoned plush mattress, containing extra layers of support for different body parts.
Sleepers with Back Pain
If you suffer from back pain, you're less likely to sleep comfortably on a plush mattress. The mattress may feel too soft, and lack the support your spine needs for proper alignment.
Restless Sleepers
Sleepers who often toss and turn in bed need a mattress with little motion transfer to reduce sleep distractions.
Plush Mattresses FAQs
We've answered some of the common questions about plush mattresses below:
What's the Difference Between a Plush Top and a Pillow Top?
A plush top is a layer of soft cushioning embedded on the surface of a mattress to add comfort, and provide pressure relief to a sleeper. On the other hand, a pillow top is a layer of malleable material directly sewn onto the plush layer of a mattress. The pillow top makes the surface of the mattress ultra-soft.
Is There a Way to Make a Plush Mattress Firmer?
You may add a firmer latex mattress topper onto your plush mattress to change how the surface feels. Mattress toppers are available in different thicknesses and firmness levels for your preference.
Alternatively, you may decide to request a return during the mattress trial period if you don't like how the surface of your mattress feels. Your mattress vendor may exchange your mattress for a better one to suit your preferences. However, this option depends on the return policy of your mattress vendor.
How Long do Plush Mattresses Last?
A typical plush mattress lasts between 7 and 10 years. However, the firmness of a mattress doesn't determine its longevity. You may want to consider the mattress's materials, as some materials are more durable than others. For example, latex mattresses generally have a longer life span than traditional innerspring mattresses.  In addition, the lifespan of your mattress will also depend on how you use and care for the mattress.
PlushBeds Plush Mattresses
At PlushBeds, you'll find a wide range of plush mattresses of different premium quality materials. These mattresses have unique designs to suit many sleepers, and come in varying mattress firmness levels.
Here are PlushBeds' highly-recommended and highly-rated plush mattresses:
This is a 100% natural and organic latex mattress that is designed to provide exceptional comfort and support. It features a supportive base layer made from organic latex foam, a middle layer of transitional latex foam, and a top layer of plush, organic latex foam for added softness and pressure relief.
The mattress cover is made from a blend of organic cotton and organic wool, which wicks away moisture and helps regulate body temperature for a cool and comfortable sleep experience.
The Organic Mattress is hypoallergenic, dust mite resistant, and free from harmful chemicals and synthetic materials, making it a safe and healthy choice for those with allergies or sensitivities. It comes in a variety of firmness options to suit different sleeping preferences, and is backed by a 25-year warranty.
The PlushBeds Pillow Top Mattress is a luxurious and comfortable hybrid mattress that features a pillow top layer of 3 inches of organic latex for added softness and cushioning. Below the high-density latex foam is a 5-zoned fabric-encased coil system core, which working together provide optimal support and pressure relief, as well as superb motion isolation. 
If you're looking for an orthopedic or chiropractic mattress, this is your perfect choice. The Botanical Bliss Organic Latex Mattress has a luxurious, custom-made comfort layer that provides you with unmatched pressure relief.
Its comfort layer is specially handcrafted, using organic wool and the finest cotton for soothing mattress comfort. The mattress also contains layers of organic latex foams best known for responsive support and breathability.
The Botanic Bliss is available in two firmness levels. The medium option is ideal for side and petite sleepers, while the medium-firm option best serves stomach and back sleepers.
The Luxury Bliss Organic Hybrid Latex Mattress has the best balance between support and comfort, thanks to its unique structure. This plush hybrid mattress contains a comfort layer made of luxurious and responsive organic latex that gently cradles your body. In addition, the support core comprises fabric-encased coils for maximum support.
The additional layer of organic wool and stretchy organic cotton cover gives the mattress a luxurious and soothing finish. The mattress also comes in medium and medium-firm firmness levels to suit most sleepers.
The Cool Bliss Luxury Cool Gel Memory Foam Mattress is one of a kind. This plush memory foam mattress guarantees a refreshing and energizing sleep experience every night with its five plush comfort layers.
The high-density supportive core of the mattress ensures that your spine remains in proper alignment while you sleep. In addition, it prevents the mattress from sagging, and evenly distributes your weight on the bed.
The layer of organic latex provides you with responsive support, and naturally conforms to the shape of your body. On top of this layer is the Cool Bliss Gel Memory Foam layer that dispatches heat from your body. This layer improves breathability, enabling you to remain cool all night. The mattress also has a layer of internal ventilation that maximizes airflow.
Lastly, the top layer of this mattress is made using a cooling organic cotton cover for the final soothing comfort. This mattress is ideal for all types of sleepers, and is available in a medium-firm level of firmness.
Link to Us!
If you found this article useful and shareable, please copy and paste the following into the html code of your website or blog:
Learn More About Going Green at the <a href="https://www.plushbeds.com/blogs/green-sleep/what-is-a-plush-mattress">PlushBeds Green Sleep Blog</a>.
*Please note that we DO NOT accept guest blog posts. Any inquiries into this will be respectfully left unanswered.
Related Posts:
The post What is a Plush Mattress? appeared first on PlushBeds Green Sleep Blog.