What is the Healthiest Type of Mattress?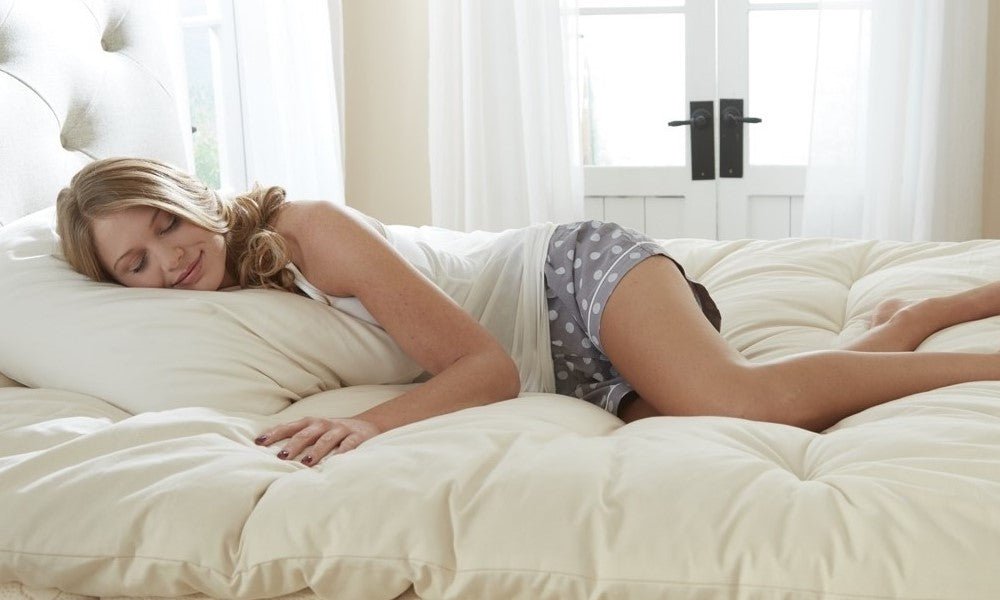 Nearly half of the adult population report consuming a daily multivitamin to boost immunity, add nutritious value, and protect their overall health, while many fall short in protecting themselves from the mattress they sleep on each night. In recent years, more and more mattress brands have taken the initiative to create more sustainable, eco-friendly mattresses. What was once a choice of few mattress materials has grown exponentially, leading to more confusion for customers as to which type of mattress truly is the best.
Why is Sleep Important?
Despite our inactive, slow-to-react state while sleeping, the brain remains extremely active to ensure several body processes are completed. Sleep helps to restore the mind and body, aids in immunity-boosting cells, helps the body to fight diseases, boosts metabolism, emotional regulation, and much more.
Sleep experts recommend the average adult get between 7 to 9 hours of sleep per night; however, nearly 70 percent of the population report feeling sleep deprived, due to a lack of sleep, or insufficient sleep.
How can a Mattress Affect Sleep?
The average traditional innerspring mattress has a life expectancy of 7 to 10 years. An old or worn-down mattress can create back pain, neck pain, and other discomfort, making it more difficult to get a good night's sleep. Many conventional mattresses are made with memory foam, some innerspring coil mattresses, and others are cheap options made using harsh chemicals that have been linked to negative health effects, including cancer. Sleep and health are like a double-edged sword. Inadequate sleep leads to poor health, while poor health leads to inadequate sleep.
The Importance of Choosing a Non-Toxic Mattress
Consumers often feel labels like "organic wool" or "natural mattresses" are slapped onto a label to increase revenue. After all, a mattress cannot be that unhealthy, right? Mattresses that are not backed by strict purity standard certifications are manufactured using higher, or unknown, levels of toxic chemicals, like petroleum-based foam, chemical flame retardants, formaldehyde-producing adhesives, and polyester vinyl. The harsh chemicals have been linked to cognitive impairment, decreased brain function, fertility or reproductive disorders, and cancers.
Memory foam mattresses, latex mattresses, and other types of mattress material labeled non-toxic, organic, or chemical-free offer a safe, healthier sleep environment for you and those you care most about. Unregulated toxic chemicals emit high concentrations of fumes that over time will negatively impact your life.
Non-Toxic Mattress Materials to Look For
With the growing movements to become a more sustainable, eco-friendly planet, there are more and more organic, all-natural mattresses becoming readily available. Conventional mattresses were once thought to be the only affordable mattress, though there are now organic mattresses to fit any price range. Whether you prefer pure foam, innerspring mattresses, or natural latex, there is something for you.
Latex
Latex, a popular material used to make mattresses, is sourced from the sap of rubber trees. Some mattress brands incorporate synthetic materials, while others create all-natural latex mattresses, with no harsh additives. Commonly found types of latex includes:
Natural Latex
Natural latex mattresses use only raw latex harvested sustainably, processed naturally, and contain no added chemicals. They offer minimal off-gassing, resistance to dust mites, and exceptional support, and come backed by strict quality standards when appropriate.
Synthetic Latex
Synthetic latex utilizes a variety of materials, commonly styrene-butadiene rubber, but feels similar to natural latex. The key differences between natural latex and synthetic latex are the decreased lifespan, lower durability, and decreased bounce with synthetic latex.
Dunlop Latex
Dunlop latex is a type of latex mattress that is poured into a mold in one full pour, without stopping or allowing drying time for lower layers. This manufacturing method allows the foam layers to settle for a more dense foam on the bottom, and lighter foam on top.
Talalay Latex
Talalay latex is poured to fill a mold partially. Once at the desired level, the air is vacuumed into the mattress to expand the layers, making it more consistent from top to bottom.
Natural latex is a popular alternative to memory foam, as it is a very supportive mattress, while offering temperature-regulating properties.
Cotton
All mattresses are encased in a comfortable mattress cover, but any legitimate organic or green mattress is covered with certified organic cotton, or another natural material rather than a harsh polyester blend. It is important to know what you are looking for when choosing cotton, as regular cotton material is not organic. The most commonly found purity certification associated with organic cotton is the GOTS (Global Organic Textile Standard) organic cotton certificate.
Wool
All mattresses must contain flame retardants to help protect sleepers in the event of a fire; however, many use harmful chemicals, rather than natural materials. Organic wool can be found in many organic mattresses, as it has flame retardant properties. The natural wool is not easily ignited under flame, and meets the federally-mandated flammability standards.
Mattress Types to Consider
Memory Foam
Memory foam is a popular mattress type that is treated with chemicals, and uses synthetic materials like polyurethane, formaldehyde, and benzene. Though memory foam does not meet the standards set for organic mattresses, it offers pressure relief, support, and motion isolation that no other mattress type can. Memory foam is an affordable mattress option to meet the budget of any price range, and can be found with cooling properties for hot sleepers.
Latex Mattress
A latex mattress can be found with many different materials like organic cotton, organic latex, or synthetic materials blended to make a hybrid mattress. Whether you are looking for a soft mattress, medium firmness, or firm mattress, a latex mattress may be the best mattress option for you. These mattresses can be found with innerspring coils, or foam layers, are encased in a breathable organic cotton cover, and are hypoallergenic to protect against dust mites and mold. They excel in pressure relief, and don't sleep hot like some other types of mattresses do.
Hybrid Mattress
A hybrid mattress is a blend of two mattress styles, whether it be a combination of a latex mattress and organic cotton, a latex mattress and innerspring mattress, or another variety. Hybrid mattresses combined with innerspring coils offers better comfort than an innerspring mattresses alone, as they have properties of other organic materials like organic latex. Hybrid mattresses often offer dual layers, as one side of the mattress may be softer, while the other offers a medium firmness. Sleepers on a hybrid mattress get a dual benefit of pressure relief, and sturdy feel. A hybrid mattress can be a good introduction into the latex mattress bedding arena.
Innerspring Mattresses
An innerspring mattress uses a variety of metal or steel coil support systems to provide sleepers with support and comfort with a more breathable mattress. Metal coils come in many different shapes, sizes, and structures, depending on the mattress company and type.
Purity Certifications in the Mattress Industry
With so many mattress brands claiming to be all-natural or organic, how can you be sure which truly is? Certifications of authenticity are granted to allow consumers to quickly determine which mattresses are toxic, and which are not. They also help you determine whether you are getting certified organic cotton in your bedding materials.
The following certifications ensure purity standards are upheld from farming to harvesting and manufacturing, up until the price tag is placed for purchase.
Global Organic Textile Standard (GOTS)
The Global Organic Textile Standard certification is an internationally recognized certificate of authenticity for textiles, including yarns, home textiles, clothing items, and mattress materials, like cotton and wool. To receive a GOTS certification, sustainability must begin with farming. Farmers must be internationally certified according to organic farming standards. Materials are required to contain at least 70 percent organic fibers in order to receive a GOTS certified organic cotton designation, and only a select few meet the stringent requirements set forth by certifiers.
Global Organic Latex Standard
Global Organic Latex Standard (GOLS) certifications are designed to monitor the purity of natural rubber materials found in organic latex and finished latex foam layers. From harvesting sap sustainably from rubber trees, to carrying out production at the manufacturing plant, to the final product being shipped to your door, the Global Organic Latex Standard certification ensures your product remains in compliance, containing at least 95 percent raw organic materials.
Oeko-Tex Standard 100
Oeko-Tex Standard 100 is a certification that was developed in the 1990s by the international Oeko-Tex Association. It is globally known and trusted to ensure purity and quality standards remain for products by monitoring and testing for more than 100 harmful chemicals. While this certification does not ensure a product is environmentally safe, it does help to give customers peace of mind in knowing products being brought into the home are safe.
MADE SAFE
The MADE SAFE certification is just as it sounds. It assures customers that products are not made with harmful chemicals or other irritants known to cause harm to one's health, harm to the environment, or harm to animals living in and near farming areas. MADE SAFE screens products for several known carcinogens, behavioral and developmental toxins, reproductive toxins, endocrine disruptors, harsh solvents, and other harmful volatile organic compounds. Only a select few brands hold this certification and level of quality.
GreenGuard Gold
Many products like memory foam mattresses are known for off-gassing, meaning they emit odors upon unboxing, or unpackaging the product. Though these odors dissipate within a few days to one week, if the product is made with toxic chemicals, you could be breathing in disease-causing agents. The GreenGuard Gold certification monitors air quality surrounding indoor products like furniture, mattresses, and clothing items to ensure they meet the strict chemical emissions limits put forth. GreenGuard Gold is one of many certifications that take note of the effect chemicals have on children, the elderly, and others with sensitive immune systems.
eco-INSTITUT
Based in Germany, this independent agency tests products for emissions and pollutants, such as formaldehyde, volatile organic compounds, pesticides, heavy metals, and other harmful chemicals. Eco-INSTITUT holds some of the strictest quality and purity standards, and is widely recognized and trusted.
CertiPUR-US
Traditional foam mattresses, like memory foam, use polyurethane foam to create a cushioning, cradling sleep experience night after night. The CertiPUR-US certificate ensures that the poly foam layers they are sleeping on contain minimal amounts of VOCs, and are free of some of the harshest flame retardants, ozone depleters, formaldehyde, mercury, lead, and other heavy metals. It is important to understand that some chemical flame retardants may be used in products holding this certification, but they are less toxic than others.
How to Choose the Perfect Mattress for You
Choosing a new mattress can be difficult, especially considering the endless features and possibilities - memory foam, organic latex, gel memory foam, as well as mattress firmness. There are several things to take into consideration when looking for a new mattress:
Sleeping Position
The number one thing to consider when choosing the best mattress for you is the main position in which you sleep at night, as not every mattress will accommodate your moving body.
Back Sleepers and Stomach Sleepers
Sleep experts report the two most common sleep positions are back sleepers, and stomach sleepers. If you find yourself sleeping in one of these two sleep positions, consider sleeping on a medium firm or firm mattress for optimal pressure relief. Though a soft mattress feels like the best mattress when testing them out in stores, a firm mattress offers better pressure relief, and helps to hold proper spinal alignment throughout the night, while a softer mattress will leave back sleepers and stomach sleepers with worsening back pain.
Side Sleepers
Unlike back and stomach sleepers, side sleepers looking for a new mattress should consider soft mattresses, like a memory foam mattress, or a hybrid mattress that will provide individualized contouring to the body. A soft mattress, like a memory foam mattress, provides adequate pressure relief to alleviate the added pressure to areas like the shoulder and lower back, due to the unnatural positioning of side sleepers. If you are among the many hot sleepers, gel memory foam will help you sleep cooler throughout the night.
Do you Suffer from Back Pain?
Millions of Americans suffer from back pain each year; however, not all of these individuals are sleeping on the best mattress for them. Regardless of your price range, there is a mattress available for stomach sleepers, back sleepers, and side sleepers alike to provide the necessary pressure relief. Memory foam or a latex mattress are excellent choices when considering a new mattress, due to increased back pain, as these two provide unmatched pressure relief, support, and body contouring. A latex mattress is often compared to memory foam in support, but it is unmatched in providing comfortable sleep night after night.
Lighter Sleepers
Do you sleep with a partner that keeps you up at night from constant moving? Though you may be drawn to a latex mattress for cooling properties, memory foam is the best mattress for lightweight sleepers, as these mattresses provide motion isolation that no other mattress type can offer.
Takeaway
Choosing the healthiest mattress made with organic materials can be difficult, but knowing what certifications and materials to look for can ease the burden. At PlushBeds, we have handcrafted sustainable, long-lasting mattresses, toppers, and pillows to make sleep better for everyone.
Our company is one of the select few dually-certified organic factory companies in the United States, with unmatched purity and sustainability standards. As only one of six US manufacturers to hold the Global Organic Latex Standard and Global Organic Textile Standard certifications, you can rest assured purity begins at farming with our materials.
Whether you are looking for adjustable beds, certified organic cotton, organic wool, all-natural latex, or GreenGuard Gold certified memory foam, PlushBeds has a mattress for you. Our products are backed by some of the industry's most recognized certifications, including:
Global Organic Latex Standard
Global Organic Textile Standard
GOTS Certified organic cotton and wool
GreenGuard Gold
Eco-Institut
Rainforest Alliance
We pride ourselves not only on our ability to maintain the highest standards in organic mattress materials, but also on our ability to continually give back to those where it matters most. Since 2008, PlushBeds has given back to dozens of students through green college scholarships for individuals looking to make an environmental impact to make the world safer and healthier for those around them.
Sleep is one the most important things we can give our body, so why wait to invest in it?
Link to Us!
If you found this article useful and shareable, please copy and paste the following into the html code of your website or blog:
Learn More About Going Green at the <a href="https://www.plushbeds.com/blogs/green-sleep/what-is-the-healthiest-type-of-mattress">PlushBeds Green Sleep Blog</a>.
*Please note that we DO NOT accept guest blog posts. Any inquiries into this will be respectfully left unanswered.
Related Posts:
The post What is the Healthiest Type of Mattress? appeared first on PlushBeds Green Sleep Blog.