Which is Cooler – A Natural Latex or Memory Foam Mattress?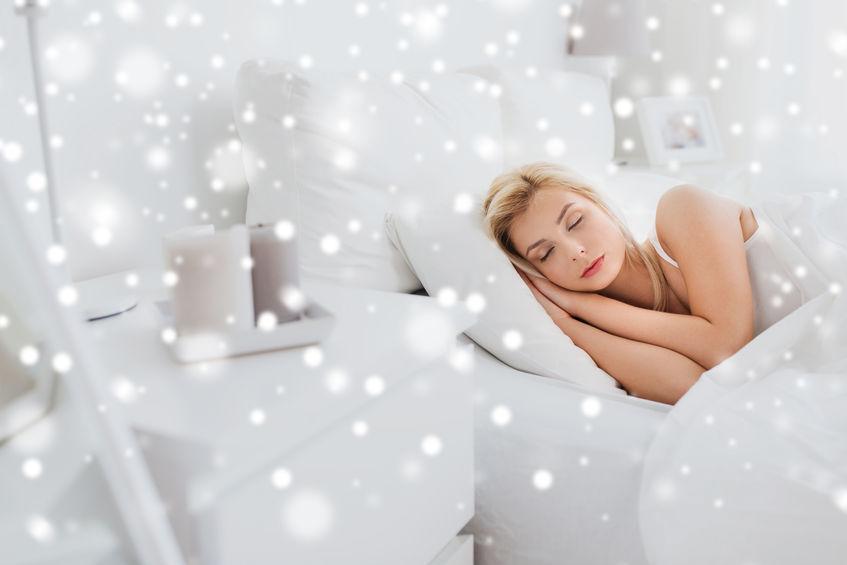 A good night's sleep is a precious commodity these days. When you're uncomfortably hot throughout the night, it is difficult to get that long, restful, undisturbed type of sleep you need in order to remain refreshed and energized.
If you tend to sleep hot, one of your goals, when shopping for a new mattress, is to find one that sleeps cool all night long – in every season. But, is that mattress one that's made of natural latex or memory foam?
Natural Latex Mattresses
Natural latex is an excellent choice for a mattress if you're looking for a mattress that sleeps cooler than the average mattress. The cellular structure of latex foam is open and air is infused into the latex compound to create latex foam's open cell structure that provides a cooler sleep surface.
This unique design among mattresses means that cool air is able to flow through the mattress while you sleep, and that the heat your body puts off while sleeping has somewhere to escape, rather than being trapped next to your body throughout the night. The flow of air also helps to wick moisture away. Combine these benefits with the natural resistance of latex to mold, mildew and dust mites and you have the perfect healthy sleeping surface.
Some people purchase latex mattresses made with synthetic latex or latex blends. These mattresses have a tendency to sleep hotter than 100% natural latex mattresses. Another possibility, for people who have had experiences sleeping hotter on latex mattress involve the mattress covers and protectors used on their mattresses.
PlushBeds mattresses have 100% organic cotton covers and our Botanical Bliss Mattress have 100% organic cotton covers and 100% natural wool, quilted together, not glued or laminated as many competitors offer, resulting in a softer, more breathable mattress surface designed for optimal pressure relief.
When used in the right proportions within a mattress cover, 100% natural wool creates a micro climate which assists in regulating body temperature and humidity. Our 100% natural wool breathes more naturally than synthetic counterparts, and it also helps to wick moisture away from the skin, allowing your body to get to a comfortable sleeping temperature quicker and maintain it through the night. 100% natural wool also serves as a natural, chemical free, fire retardant. It's high keratin protein and moisture content make it naturally resistant to burning. The bottom line is a 100% natural latex mattress is likely to sleep cooler than a traditional mattress – especially a standard memory foam mattress.
Memory Foam Mattresses
Memory foam mattresses sleep hotter than natural latex mattresses. There is a silver lining to this fact for some individuals, however. Its heat-retaining properties may help some pain sufferers who find the added warmth helps to decrease the pain.
The first thing to remember when it comes to memory foam is that the heat from your body actually triggers a chemical reaction with the memory foam itself. This causes the foam to hold the heat your body puts off at night, close to your body the entire time you're in the bed. This heat retention not only makes it more difficult for you to fall asleep at night, but it can also make it more difficult for you to remain sleeping throughout the night.
Fortunately for you, memory foam companies have heard the cries of consumers who can't get a good night's sleep, and they are beginning to address the problem of heat retention in their memory foam mattresses with the introduction of gel memory foam mattresses.
PlushBeds takes things even further offering a wide selection of cooling gel memory foam mattresses and cooling gel memory foam mattress toppers– each with GreenGuard Gold certification against harmful chemicals used in the making of the mattresses.
Among the luxury cooling gel memory foam mattresses available from the PlushBeds family is the 12" Cool Bliss Luxury Memory Foam Mattress. This mattress offers plush, optimal cooling comfort. It gives you all of the benefits of sleeping on memory foam, without the heat and chemicals which are commonly associated with memory foam mattresses. You'll also get the benefit of a 100 % natural latex support layer, for unrivaled support underneath the memory foam, helping you enjoy the floating sensation memory foam is famous for without the sinking feeling many people experience at the same time.
PlushBeds 10″ Pacific Breeze Gel Memory Foam Mattress allows you to sleep 30 % cooler and drier than other memory foam brands on the market today. It is made with the most advanced cooling gel technology combined with innovative airflow design for dry, exquisite comfort. Enjoy cool pressure relieving sleep through the night without sacrificing support. You'll never need to worry about sleeping hot again as the patented GEL memory foam effectively dissipates heat at a rate up to three times faster than gel memory foam many competitors use.
Then there is the PlushBeds 9" Ocean Mist GEL Memory Foam Mattress that offers the same outstanding pressure relief, and cool sleep experience. Deep, refreshing sleep is no longer just a dream. The extraordinary cool gel technology alleviates both moisture and heat for exceptional coolness, comfort, and luxury at an affordable price.
Mattress Topper, Mattress Pad or Mattress Protector and Sleeping Cool
Keep in mind that using a mattress topper, mattress pad or mattress protector, may play a larger role in the coolness and comfort of your mattress than you may realize. It doesn't matter what lengths you go to in order to find the perfect cooling mattress. If you use a mattress topper, mattress pad or mattress protector, which negates the cooling effect of the mattress, it will affect your sleeping experience.
Consider asking the manufacturer of your mattress if they have a mattress topper, mattress pad or mattress protector, that will offer the protective benefits you seek, without sacrificing the cooling capabilities of the mattress in the process of doing so.
Look for mattress toppers, mattress pads or mattress protectors that have less material. The less material involved in making them, the less material available to interfere with the flow of air. The best mattress toppers, mattress pads or mattress protectors offer ample airflow so that you don't have to worry about trapping heat close to your body while you sleep.
Other options are to use cooling fabrics in your mattress toppers, mattress pads or mattress protectors, as well as for your bed linens and pillows.
Check out the 100-night trial by PlushBeds today. It allows you plenty of time to see how well your new mattress is meeting your needs. This way you can buy with confidence that you'll be able to get the cool, comfortable night's sleep you not only need, but also deserve.
We're confident that you'll find the PlushBeds sleeping experience far superior than anything you've ever experienced.
Link to Us!
If you found this article useful and shareable, please copy and paste the following into the html code of your website or blog:
Learn More About Going Green at the <a href="https://www.plushbeds.com/blogs/green-sleep/which-sleeps-cooler-a-natural-latex-or-memory-foam-mattress">PlushBeds Green Sleep Blog</a>.
*Please note that we DO NOT accept guest blog posts. Any inquiries into this will be respectfully left unanswered.
Related Posts:
The post Which is Cooler – A Natural Latex or Memory Foam Mattress? appeared first on PlushBeds Green Sleep Blog.