Benefits of a Mattress Protector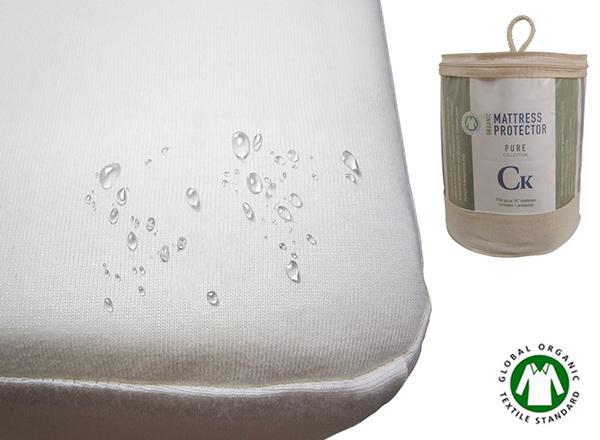 If you have been shopping for a new mattress, like PlushBed's high quality American made luxury mattresses, and looking at accessories that you can purchase along with your new mattress, you've likely come across mattress protectors.
While it is not essential that everyone has a mattress protector, an organic mattress cover, or latex mattress zippered cover, they are incredibly useful. Not only will they help to protect your mattress investment, but they can help you  be healthier and  have better sleep overall.
Here are some benefits to keep in mind with mattress protectors.
Reducing Stains
The first benefit, and one of the main reasons people purchase mattress protectors, is to protect their mattress from stains. With the mattress protector on, you protect your mattress from spills and potential mold growth from spilling water on it that has soaked deep into the mattress.
If you do happen to spill anything on your mattress protector, you can simply remove it and wash it, since most of them can be put in a regular washing machine.
If you like to have your morning cup of coffee in bed while watching the news (and who doesn't right?), you will want this extra protection against stains.
Preventing Allergies
If you or your family members struggle with allergies, you will definitely want to get a mattress protector. The cover keeps you healthier by avoiding contact between dust mites, animal dander, and various other allergens with the mattress itself. If these allergens end up on the cover, the cover can be removed and washed. Of course, ridding the mattress of allergens is more difficult. You will have a healthier, better sleep overall with the mattress protector.
Protect Against Bed Bugs
Not only are you protecting yourself from allergens, but from certain insects as well when you choose to use a mattress protector. A big problem in the U.S. (and abroad) is bed bugs. Even if you keep a clean house, you could get bed bugs if you stay somewhere, like a hotel, that has them. Bed bugs are often hard to find on mattresses and even harder to get rid of. Since they burrow deep into the crevices of mattresses, they can be prevented by having a washable cover over the bed.
Providing Additional Comfort
Some latex mattress covers also provide additional comfort as well. Not that you need additional comfort when you sleep on a latex mattress or memory foam mattress, as they offer such comfortable sleep by themselves.
But organic mattress covers are constructed with distinctive loop patterns that allow stretching in all directions that allow the mattress cover to stretch nicely. It has a soft material that is soothing to the touch.
If you are thinking about buying a natural latex mattress or memory foam mattress, be sure to protect your investment with a really good quality mattress protector. You will sleep better, be healthier, avoid pesky bed bugs, and help keep your mattress clean and stain-free. Remember to look for one that is machine washable.
Link to Us!
If you found this article useful and shareable, please copy and paste the following into the html code of your website or blog:
Learn More About Going Green at the <a href="https://www.plushbeds.com/blogs/green-sleep/benefits-of-a-mattress-protector">PlushBeds Green Sleep Blog</a>.
*Please note that we DO NOT accept guest blog posts. Any inquiries into this will be respectfully left unanswered.
Related Posts:
The post Benefits of a Mattress Protector appeared first on PlushBeds Green Sleep Blog.