Exchanging the Comfort Layer on Your Latex Mattress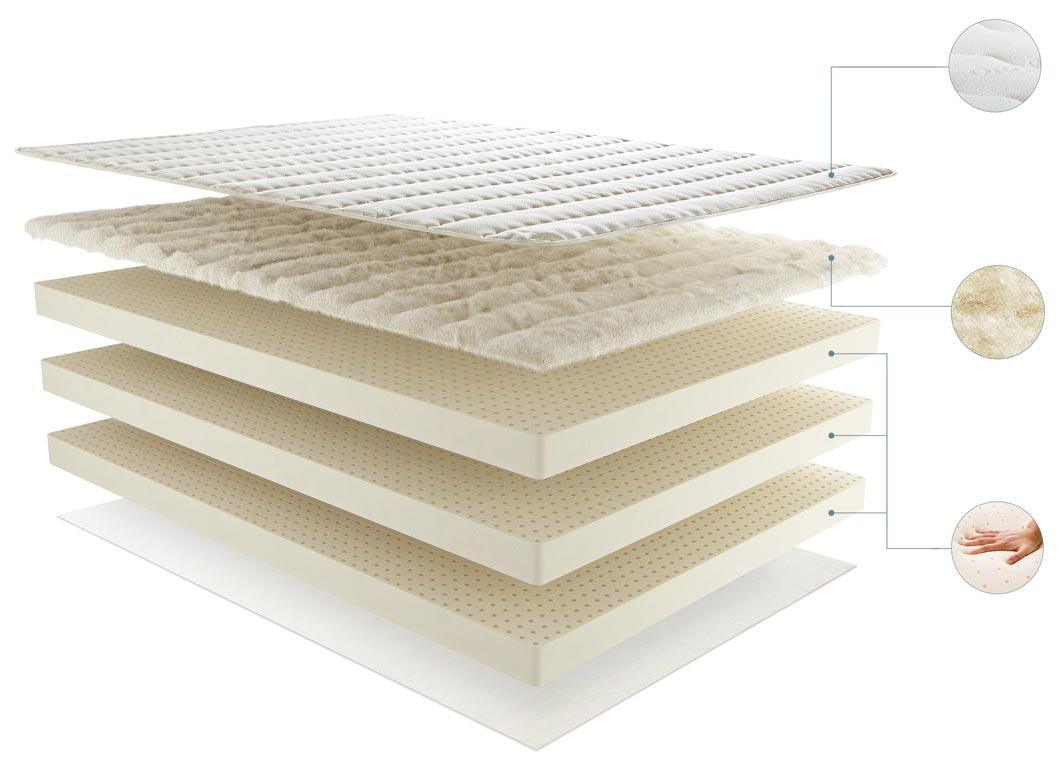 One thing that many people don't fully understand when they purchase a PlushBeds mattress is that the term fully customizable doesn't end once the mattress is created. As the manufacturer of PlushBeds mattresses, we want you to have the best possible sleeping experience on our mattresses. That's why we've gone out of our way to make changing and exchanging the comfort layer on your mattress as painless as possible.
The 100 Night Free Comfort Exchange Program
The hope is that you'll always select the proper firmness the first time around. However, some people find that their mattress is a little too firm or too soft once it arrives.
Sometimes, it takes a while to discover how you really feel about the new mattress, too. If the firmness isn't quite meeting your needs with your PlushBeds mattress, you don't have to go through the cumbersome process of sending the entire mattress back to us.
As part of the 100 night free comfort exchange program (see in the FAQ section of this page), during the first 100 days you own the mattress, you can change the firmness of your mattress. Simply contact us, tell us whether you'd like to try a new firm or soft layer of latex, leave a $99 deposit, and we'll send you out a new firmness layer of latex. When you receive it, unzip your mattress cover, swap out the top layer of latex, ship the old layer back to us in the same box, and your $99 deposit will be refunded once its received. This almost always solves the problem without the need to return the entire mattress.
How Simple Is the Exchange?
With an ordinary mattress, exchanging a mattress layer would be nearly impossible. Some latex mattress manufacturers even glue the latex mattress layers together. That's an unnecessary step that only serves to limit the option of buyers. You won't see glued layers in PlushBeds' latex mattresses.
If you need to adjust the firmness of your PlushBeds mattress, all you need to do is unzip the latex mattress zippered cover, and exchange your new top layer that we send out to you for the existing one. It's no more difficult, and not dissimilar to adding a latex mattress topper to a traditional mattress. Once you're done, put the old latex layer in the box the new one arrived in, attach the UPS label you received and send it back. Voila!
Returns
If you decide that the PlushBeds mattress is not for you, then you can make a simple phone call and we'll come pick up the mattress, and you'll receive a refund minus a $149 transportation fee.
There are no surprises, no restocking fees, etc. to get them to come to your home to pick up your bed and take it back. PlushBeds will even come pick it up from your curb. 
Adjusting to a new mattress does take a little bit of time. That's why it's important to assess your sleep situation thoroughly as you approach the ninety-day mark. You need to see how things stand and whether you're getting the quality sleep results you deserve and expect from your mattress. If not, perhaps a simple change in the comfort layer will be the right choice to get the most out of your mattress.
Link to Us!
If you found this article useful and shareable, please copy and paste the following into the html code of your website or blog:
Learn More About Going Green at the <a href="https://www.plushbeds.com/blogs/green-sleep/exchanging-the-comfort-layer-on-your-latex-mattress">PlushBeds Green Sleep Blog</a>.
*Please note that we DO NOT accept guest blog posts. Any inquiries into this will be respectfully left unanswered.
Related Posts:
The post Exchanging the Comfort Layer on Your Latex Mattress appeared first on PlushBeds Green Sleep Blog.