How to Kick the Kids Out of Your Bed…Gently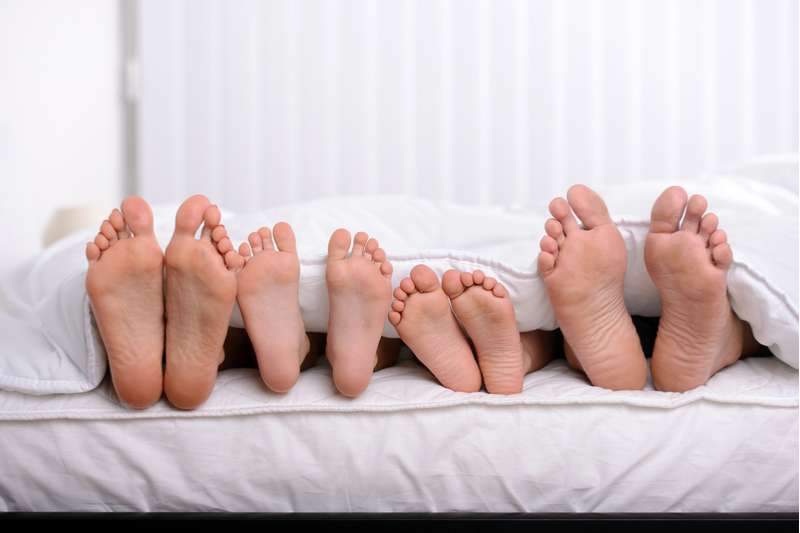 So your kids are finally past the stage of diapers and drooling and it seems that your life might finally settle down for just enough time so that you can get a full night of sleep. You hit that wonderfully comfortable botanical mattress and just as your eyes start to close, you feel this tiny tap on your shoulder…your toddler has wandered into your room and is now looking to take up residency in your bed. While you and your significant other may not be pleased, exhaustion has won in the battle against reason and you shimmy over to make room for the intruder in footy pajamas. While most parents shake their heads, giving into the lack of sleep, calling their bed hijacking a "phase," there are ways to avoid having your child sleep in your bed, which in the end will mean a better night of sleep for you and them.
According to Parenting magazine, your child's bed time begins way before you or they go to sleep. They should have a set pre-bed time routine that will allow them to feel comfortable with the same pattern each night. Start by building up the new bed time expectations throughout the day. Slip in casual "subtle advertising," i.e.: "Mommies and daddies sleep in their beds, and kids sleep in their own beds," or try reverse psychology: "Big and brave kids sleep in their own beds."
Another fun way to change the sleeping situation in your home is to celebrate it. Many mommy blogs suggest making a story time book together for you to read to your child at night. If the reason your child has started sleeping in your bed has to do with some change in their life, try to write this in the book and discuss how the protagonist in the book got used to their new house (or whatever is ailing your child) and by the end of the book, they were sleeping in their own bed. This can help your child understand the problem and figure out the solution in a very concrete way.
After story time comes the most difficult part for any parent: saying no. Just like when your children were infants crying in the crib, it can be impossible not to coddle; you must learn to say no to the child giving you puppy dog eyes at your bed side. The phrase "just five more minutes" can be the most detrimental one when it comes to teaching kids how to sleep in their own bed. If your child just isn't responding to the "no," you might have to take more drastic measures. Parenting suggests sleeping in their room for a few nights until you can wean them off being near you. It will give them the knowledge that you're close by and still allow them to know the boundaries.
Hopefully, these tips can help you overcome a problem that's been plaguing tired parents for decades. Just remember, be strong and try to stand your ground. (It will benefit both you and your child in the morning).
Link to Us!
If you found this article useful and shareable, please copy and paste the following into the html code of your website or blog:
Learn More About Going Green at the <a href="https://www.plushbeds.com/blogs/green-sleep/how-to-kick-the-kids-out-of-your-bed-gently">PlushBeds Green Sleep Blog</a>.
*Please note that we DO NOT accept guest blog posts. Any inquiries into this will be respectfully left unanswered.
Related Posts:
The post How to Kick the Kids Out of Your Bed…Gently appeared first on PlushBeds Green Sleep Blog.