Mattress Shopping: In-Store vs. Online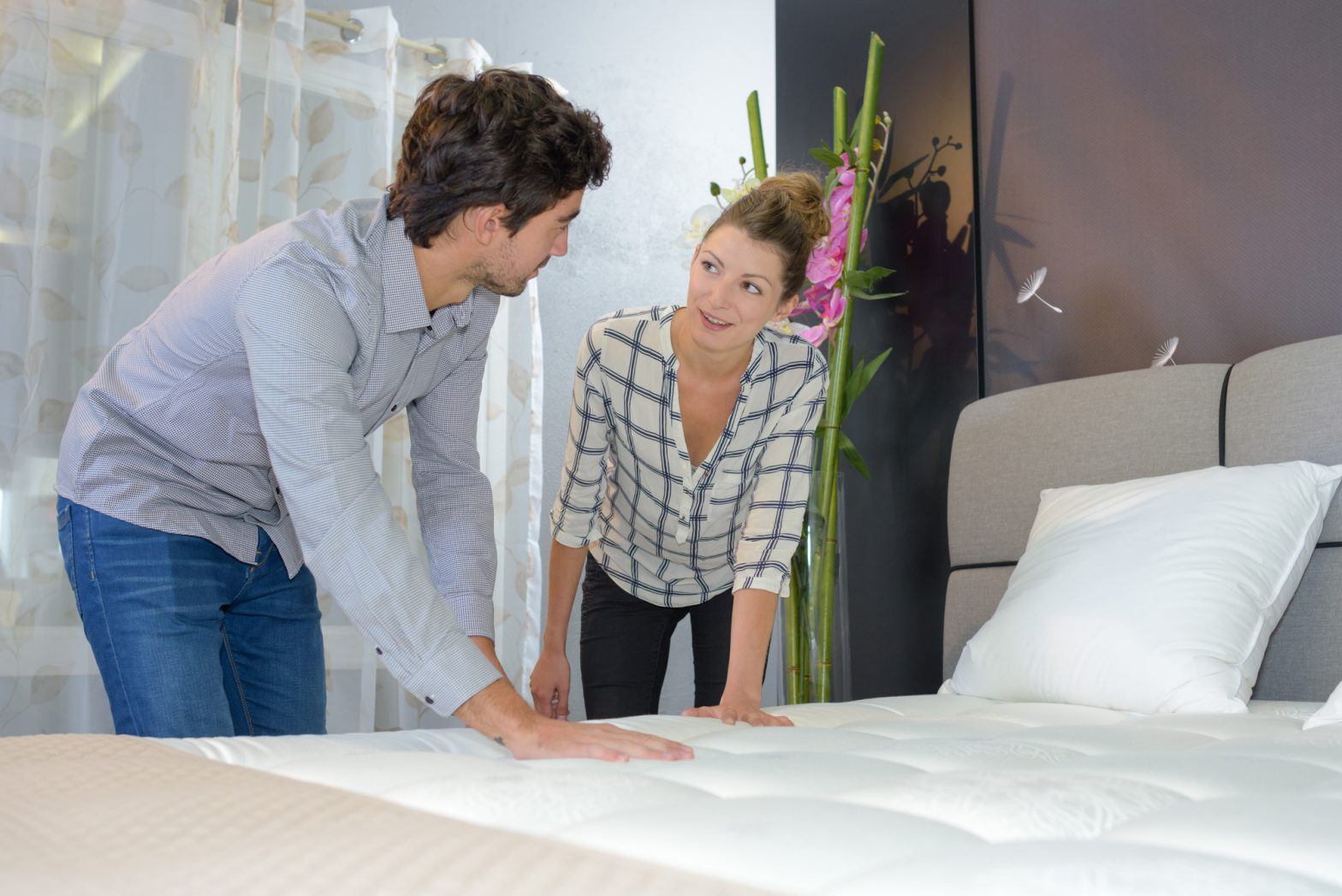 The world of shopping for mattresses has evolved over the years. Once upon a time, you drove to a mattress store, and tried out a few mattresses to find one that fit your needs. While in the mattress store, you may have been approached by several commissioned employees, who were focused on selling you the mattress that netted them the highest commission. While you may have the ability to test out a variety of mattress brands, mattress shopping in-store is exhausting.
Mattress shopping online offers a new and different experience, that is far less, "in your face," not to mention your personal space. When you shop online for a mattress, you'll find there are many benefits to consider. Some people, though, have difficulty with the fact they cannot try the mattress out first. That is why you work with a company like PlushBeds, that offers you a 100 night money back guarantee that promises a full refund if you aren't completely in love with it.
But, that's not the only difference between the online and in-store buying experience. These are a few key details you'll want to consider before trekking out into the cold, snow, wind, rain, or summer heat to buy your next mattress.
Cost Comparison Between the Two
The first comparison of note involves the cost of mattresses in-store vs. online. Even here, you must be careful. While PlushBeds makes all of their own mattresses, that isn't the case with all online mattress stores. For those like PlushBeds that make the mattresses themselves, they cut out the middlemen, and pass along the discount to you. Mattress companies that do not make their own mattresses, and who are actually the middlemen, tend to price their mattresses higher.
Additionally, online stores don't require commissioned sales staff, buildings, staging, and countless "test" mattresses that will bring in no revenue. This helps bring the costs down tremendously when shopping online. This allows you to purchase a much higher quality mattress online for less.
Customization Possibilities
When you purchase a mattress in a store, what you see on the showroom floor is pretty much what you get. That isn't necessarily the case with online mattress companies. PlushBeds mattresses are made-to-order, offering you many opportunities to customize your mattress to meet your specific needs – even if you and your partner have different needs.
What's even better with PlushBeds mattresses is that you can customize them even more once you've tried them out for yourself. If you need the mattress to be a little firmer, a little softer, or even if you need additional firmness or plushness on one half of the mattress, PlushBeds mattresses offer you a completely customized sleep experience.
Ease of Mattress Shopping Experience
Shopping online is easy. You don't have to leave your home. You can even do it in your pajamas from your existing lumpy, bumpy, and perhaps even sagging mattress. This is one area where an in-store mattress buying experience can never compete with the ease of buying a mattress online.
Once upon a time, people complained that there was no personal assistance when shopping online. However, with new technologies that allow for instant chat, phone services, and more, the customer service experience when shopping online has improved by leaps and bounds. PlushBeds, for instance, has mattress specialists ready to help through chat and over the phone, 7 days a week. They are available to help you with information about mattresses, answers to your questions, and to resolve any issues or concerns you may have.
Mattress Delivery
Most online mattress companies deliver your mattress to your front door free of charge and it may take a week to arrive. Some may even offer white glove delivery and setup of your new mattress, and even arrange for the removal of your existing mattress – for a fee.  Most mattress stores, on the other hand, have full-time delivery staff. In most cases, if the mattress you ordered is in stock at the store, you can expect the next day, if not same-day delivery. You can set-up the new mattress, and remove the old mattress.
Mattress Removal
Another area where in-store mattress buying options surpass most online experiences is when it comes to old mattress removal. Many states have passed laws requiring mattress stores to provide removal and recycling services for mattresses. That isn't the case with online retailers. However, many offer customers information about services in their areas that will help them find local resources to recycle mattresses, and remove them from buyer's homes, upon request.
Let's Talk Transparency
The problem with many in-store mattress purchases is that even the sales staff has little information on where the mattresses came from, how they are made, and what kinds of materials are used in them. While this isn't always the case, it is, more often than not, when shopping with major mattress warehouses that carry many brands of mattresses. With online sites, the inventory is usually small and focused to mattresses from one company or brand. Many of them offer transparency through certifications and tests to help put your mind at ease that their mattresses are made of the materials claimed, and pose no danger to your family.
PlushBeds believes the online shopping experience when you shop with us beats retail stores hands-down. Begin your shopping experience today with a premium organic latex mattress, and see how easy it is for you to get the mattress sweet dreams are made of.
Link to Us!
If you found this article useful and shareable, please copy and paste the following into the html code of your website or blog:
Learn More About Going Green at the <a href="https://www.plushbeds.com/blogs/green-sleep/mattress-shopping-in-store-vs-online">PlushBeds Green Sleep Blog</a>.
*Please note that we DO NOT accept guest blog posts. Any inquiries into this will be respectfully left unanswered.
Related Posts:
The post Mattress Shopping: In-Store vs. Online appeared first on PlushBeds Green Sleep Blog.