Mattress Sizes and Bed Dimension Guide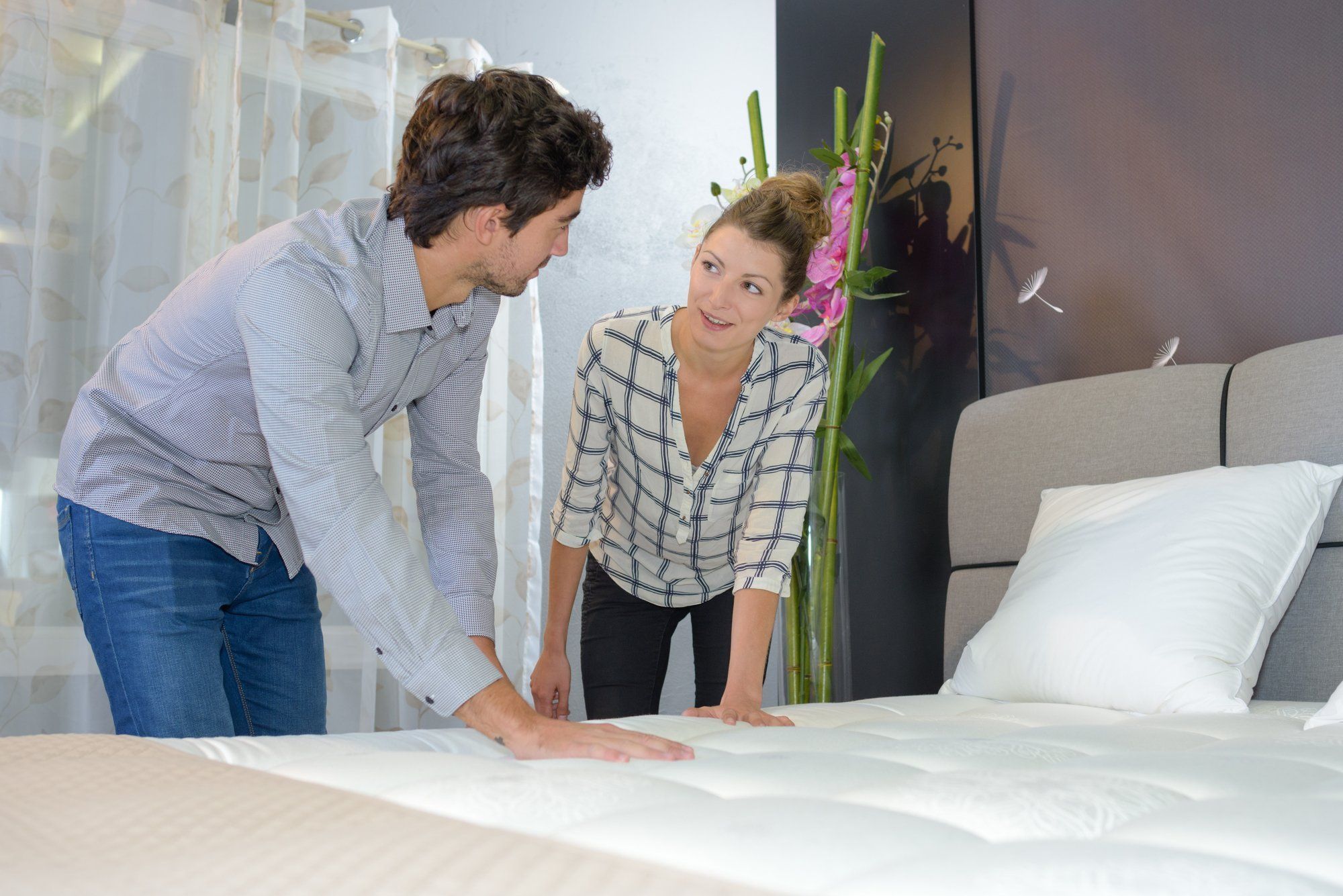 Mattress Dimensions
| | |
| --- | --- |
| Twin - 38 inches x 75 inches | Twin XL - 38 inches x 80 inches |
| Full - 54 inches x 75 inches | Full XL - 54 inches x 80 inches |
| Queen - 60 inches x 80 inches | King - 76 inches x 80 inches |
| California King - 72 inches by 84 inches | Split King - 76 inches x 80 inches (2 Twin XLs) |
| Split California King - 72 inches by 84 inches (Two 36 inches x 84 inches) |  Split Queen - 60 inches x 80 inches (Two 30 inches x 80 inches) |
Some people may find it difficult to believe, but mattress size matters. It matters a lot. According to The Sleep Council, you should "think big – larger beds are more comfortable. Being disturbed by a sleeping partner is one of the most common complaints. With a larger sized bed, you are less likely to disturb one another." This Mattress Size Guide will help you find the right mattress size to fit your needs.
Twin/Twin XL Mattress Dimensions - 
38 Inches x 75 Inches and 38 Inches x 80 Inches
Twin mattresses are 38 inches wide and generally 75 inches in length. They are the smallest standard mattresses on the market. Daybeds and bunk beds for children are excellent choices for twin mattresses.
College students living in dorms or first apartments need the additional length of a full six inches that twin XL mattresses provide. The width remains the same on these mattresses though they are 80 inches in length..
Full Mattress Dimensions - 54 Inches x 75 Inches
Full mattresses are sometimes referred to as double mattresses or standard mattresses. They are typically 54 inches wide and 75 inches long. These versatile mattresses make an excellent choice for teens, guest rooms, and first homes. However, they do not necessarily make a good choice to share with a partner. According to The Better Sleep Council, "Buying a too-small mattress is one of the biggest mistakes new bed-buyers can make." They go on to say that couples sleeping on a full mattress have the sleeping space a baby's crib provides.
Queen Mattress Dimensions - 60 Inches x 80 Inches
These mattresses are a much better fit for two adults. The queen mattress is the most widely used bed in the U.S. They are 60 inches wide and 80 inches long. The other benefit is that queen mattresses are common, so it's easy to find a wide range of bedding options. Guest rooms and small master bedrooms are perfectly suitable locations for queen mattresses.
King Mattress Dimensions - 76 inches x 80 inches
The typical King Mattress, also referred to as an Eastern King mattress, is 76 inches wide and 80 inches long. These mattresses are becoming increasingly popular – especially in light of recent revelations that bigger really is better for mattresses. The bed is roomy enough to sleep two large adults comfortably. However, the size of the mattress makes it difficult to easily move around – especially in homes with stairs or smaller sized rooms. These are better suited for larger master bedrooms.
California King Mattress Dimensions - 72 Inches x 84 Inches
These mattresses are sometimes called western king mattresses. Coming in at 72 inches, they are four inches smaller in width than eastern king mattresses, yet they are four inches longer in length (84 inches). In other words, these mattresses are perfectly suited for taller adults. Because they are slightly narrower than traditional king mattresses, they offer a little more flexibility to fit in master bedrooms that have additional length, but not enough width for a normal king bed.
Split King Mattress Dimensions - 76 Inches x 80 Inches (Two Twin XLs)
With their overall size of 76 x 80, split king mattresses are essentially two twin XL mattresses for one bed. If you have a second floor master bedroom or an upstairs apartment, this is the better choice, since it can be broken down into smaller pieces, so you can move them up and down stairs more easily.
Crib Mattress Dimensions: 28" x 52"
Crib mattresses are for your newborns. Measuring 28 inches wide x 52 inches tall, a crib mattress's dimensions are a sufficient size for a newborn while they're in their first 18 months. An important feature of crib mattresses are the added safety they offer.
An adequate size crib mattress should fit well inside the crib (or the framed structure), leaving no more than a couple finger widths of extra space between the crib wall and mattress. More than that could raise the suffocation risk. The firmer crib mattresses are, the better, since crib mattresses that are too soft could be harmful to your newborn's breathing when they roll over.
Next, you'll want to select the proper bedding after you've fitted the mattress into the crib frame. For the safest and best sleep, newborns shouldn't use any extra bedding or blankets for their first 12 months. The crib should only carry:
The newborn
The mattress
A well-secured fitted sheet
Antimicrobial and waterproof fitted sheets are good for protecting the mattress from messes like diaper drips. To ensure your newborn doesn't become too cold, you can dress them in an extra clothing layer. You can also keep a comfortable range of temperatures with a breathable mattress.
A crib mattress and toddler mattress is the same size and frequently come double-sided - a softer side for toddlers and a firm side for newborns. Certain cribs also have removable walls you can lower to form the toddler bed.
Toddler Mattress Dimensions: 28" x 52"
After your newborn graduates from their crib, you can give them their first bed. Toddler size mattress dimensions measure at 28 inches wide x 52 inches long, and are the exact same size as crib mattresses. Toddler mattresses are perfect for young kids and individual toddlers. A toddler mattress isn't surrounded by walls anymore, though you can install small railings if needed to keep your toddler from rolling and falling off their bed.
Toddler mattresses are typically a bit softer than firm crib mattresses, and provide slightly more comfort as your child grows. If your child is nearing their potty-training phase, a protective mattress pad can help. It will help keep their mattress in decent condition.
You'll know it's time to graduate your child to a toddler bed from their crib when they're able to escape the crib. This typically occurs at around the age of 18 months to two years old. Kids can typically continue sleeping on toddler mattresses until they turn four to five years old. A toddler mattress is small, which makes them ideal for bedrooms with other beds or smaller rooms. Because they're small, they're easier to move, too.
Certain parents might decide to move their child straight to a twin mattress, and forget a toddler mattress altogether. If you have space in the bedroom for this, then it could help you save money, since you won't need to purchase a new mattress when your child starts growing. If you're low on space, it's simple to fit a toddler mattress into any room, store it away, or move it from one place to the other.
Olympic Queen Mattress Dimensions: 66" x 80"
Olympic Queen size mattresses measure 66 inches x 80 inches, which makes them comfortable for partners. It provides 3 inches of extra sleep space for each partner when you compare it to a Queen mattress.
Olympic Queen size mattresses are 6 inches wider than Queen mattresses. It might seem like 6 inches isn't a huge difference, but when you share your bed, the extra 6 inches do help. You can sleep in comfort only when there's enough room for relaxing and stretching out, without taking away from the personal space of your partner.
When choosing between a regular Queen mattress and Olympic size, think about whether you're going to be sharing your bed, or sleeping alone. Other factors to consider are your room size, and compatible bedding accessories. These could also influence the choice you make.
There are a variety of different mattress types and sizes, and it can be challenging trying to figure out which mattress size is the best for your personal preferences. From hybrids to memory foam to spring coils, it's difficult enough determining which mattress is ideal, never mind trying to determine the best size mattress that will fit in your bedroom.  And with a good quality mattress, you'll have it for a very long time. Therefore, it's essential you find the right size mattress.
This size dimension guide should help you see mattress sizes and common technology used for different sizes of mattresses, all while you determine the best fit to match your lifestyle and bedroom.
Standard Mattress Sizes
Standard mattress sizes are Twin (smallest), Twin XL (two XLs = Split King), Full, Queen, King and California King (biggest), but not all mattress companies offer the same sizes.
Aside from the feel and texture, size is another essential component of your mattress influencing your purchase decision. Obtaining the proper size mattress is a critical determinant leading towards the ultimate goal of achieving a great night's sleep.
Which Mattress Sizes Are Ideal for Me?
When it comes to buying a mattress, there's no one-size-fits all, therefore, obtaining essential information is critical to allow you to make the right decision.
When you're searching for a new mattress, it can be hard to choose the right size with all the available options, particularly when you also have sub-categories in specific segments. Obtaining the proper fit yourself can be a tedious task with very little distinction in dimensions between specific sizes.
Both your budget and your bedroom size are important factors in the process of making your decision when you're searching for the right bed size. To choose the ideal size mattress for you, you first want to list down all your requirements. For example:
Will you be sleeping in it alone, or will you be sharing it with a partner?
What's your space requirement?
Do you prefer a cozy space, or are you the type of person who likes to roll around?
Do you have a budget you need to stay within?
For most people, however, a Queen size mattress is usually the most popular selection, but many individuals choose Full size mattresses, which are smaller than the Queen or the larger mattresses (California King), which are larger than the Kings.
One Mattress Size Doesn't Fit All
There are various mattress sizes and each dimensions will depend on things like your:
The most essential factor in selecting a bed size is what's ideal for you, because there isn't any "one-size-fits-all."  But, because this is a crucial decision, it's essential to use tape for marking out exactly where you'll fit the mattress in your bedroom prior to ordering it, just to ensure you're making the best decision. You'll want to determine what the bed sizes are in inches and feet, or by any measurement metric you're comfortable with.
Regardless, with a quality mattress, you can feel confident you'll be experiencing luxurious, deep sleep no matter:
The size of your mattress
The size of your bedroom
Your sleeping position style
Other Mattress Sizes Factors that Can Impact Your Decision
Purchasing a mattress is a long-term investment in your finances and your health, so there are numerous things you'll want to consider while you're shopping for the best mattress.  Most mattress types (latex, memory foam, hybrids and innerspring) come in standard sizes, but certain factors such as your bedroom size also need to be considered when you're trying to make a decision on the size of your mattress.
Some other factors to consider are:
Who Will Be Using the Mattress
This is one of the most important factors you should consider while selecting the ideal mattress size. If you sleep by yourself, and don't share your bed with a partner, you can likely cross the California King and King mattresses off your list. The most fitting would likely be the Full or Queen beds. If you would like some sprawl space, a Full and Queen are recommended, and if you need to save space - the Twin XL and Full are good options.
But, if you are going to share your bed with a partner, you'll want to go with a California King, King, or Queen. If you sleep with a partner and your children, you will want to think about a California King or King, as these would better accommodate you.
Also, consider the type of sleepers who will be sleeping in the bed. Do they like to sprawl out? Do they move around frequently during the night? If so, a larger mattress size is recommended.
Further, consider whether a pet is going to sleep with you, and the size of the pet.
The Location of the Bedroom
Maneuvering a California King or King mattress might be hard for certain people, therefore when purchasing a new bed, pay attention to the size. If your bedroom isn't on the first floor, consider the stairway width and the challenge it may be to get your mattress from the bottom floor to the top floor. One solution is the bed-in-a-box mattress, but certain beds can still be harder to maneuver.
The Size of the Room
Remember,  your bedroom is much more than just your bed. You have to leave some space for comfortable furniture and movement. The bedroom is where you're going to relax at the end of the day to get some rest, sleep, and refresh yourself. If the space is overcrowded, it could cause stress, making it more difficult to sleep. Therefore, a big bed in a cramped bedroom isn't ideal.
Your Budget
Another essential criterion is your budget, since it determines your available options. After you've gone through the other factors, it's time to set yourself a realistic budget. To make the best choice, look at a few things like:
Mattress brands
Materials
Mattress reviews
Warranties
Trial periods
The Room Layout
You don't want to end up with a mattress that leaves no room for your bedroom furniture, or very little walking space. If you have a cramped bedroom because your bed is too big, you may feel a bit claustrophobic when trying to go to sleep.
Therefore, we suggest the following bedroom sizes for the different size mattresses:
Small single and Twin: A minimum of 7 feet by 10 feet
Twin XL and Full: A minimum of 9.5 feet by 10 feet
Queen mattress, any variety: A minimum of 10 feet by 10 feet
Standard and California King: A minimum of 12 feet by 12 feet
The Sleeper's Height
If you're extremely tall, and are still looking for enough legroom, you'll get the longest length from a Cali King mattress. If you're under 6'5", a King or Queen size should give you sufficient length where you can sleep comfortably still.
Mattress Sizes FAQs
Here are some mattress FAQs to look at to help with your decision.
What is the ideal mattress size?
Keep in mind, there's really no "best mattress", since it's not a one-size-fits all situation when mattress dimensions are concerned. When you're trying to decide the mattress size you require, think about things like:
The size of your bedroom
The walking distance you prefer around your room
How you sleep at night (by yourself, with pets, with a partner, etc.)
If you prefer more or less furniture
You also want to think about the sleeping position style, if you're the type of person who likes rolling around, stretching out, or if you're a person who doesn't move during the night.
Also, consider how functional the mattress will be if it's for a guest room or child, and what will be better for your lifestyle. The most essential consideration for quality sleep during the night is being on the most plush, comfortable, and luxurious mattress possible that will support your body the most when you're sleeping.
What size mattress do partners usually have?
If their room space permits, most bed partners choose a California King or King mattress, since these mattresses offer them the most room per individual. The next best option would be the Queen size mattress because this still offers a good amount of  room for couples.
If you were to go with a mattress smaller than the Queen size for partners, you'll need to understand you'll have to sleep more closely together, and will likely be touching one another, at least at some point during the night. In this case, you might want to choose a luxury hybrid latex mattress, since it does a great job of reducing motion transfer for partners as a result of a unique layer system. Therefore, you'll obtain a great night's sleep no matter what size the mattress is that you choose.
What size mattress should I get for my bedroom?
It's essential you purchase a mattress that will best fit your bedroom, even if it's bigger or smaller than you think you'd prefer to sleep on.
How thick should your mattress be?
Although mattresses come in a variety of thicknesses depending on the material and quality, it's suggested you look for a mattress that's between 11 inches to 15 inches thick. Mattresses may use coils, foams, fabrics, and latex in a variety of ways that could contribute to the thickness of the final product. This thickness could also change how supportive and comfortable your mattress is. For instance, a 15 inches mattress would offer you the ultimate level of comfort and support. But, you'll also get high-quality, luxury in 12 inches thickness levels.
Is a full or double-sized mattress too small for partners?
Unless you are the type of couple that cuddles all night long, a double or full mattress will likely be too small to accommodate you both. A full size mattress is good for an individual and their pet or child, but not two adults who will be wanting more space during the night. If you are sleeping with a partner, and have a double mattress, you'll definitely feel your partner move around during the night.
What is the largest size of a mattress?
The California king, at the moment, is the biggest mattress readily available. It's 72 inches by 84 inches, which is 4 inches longer than a standard King size mattress. So, if you're asking "Is a California King bigger than a standard king mattress? — the answer is, technically, overall they are the same size, BUT, the California king is 4 inches longer than the standard king, while the standard king is 4 inches wider than the California king.
The largest mattress size is an Alaskan king, which measures in at a massive 9 feet by 9 feet, but these usually are custom made.
Do two twins put together make a king?
The answer is no, it's not possible to substitute two standard Twin mattresses for a King. But, two Twin XL mattresses do equal the size of a King, and could be a potential option. If you have a guest room, and are looking for versatility, you could push two Twin XL mattresses together and make a King. While it can work in a pinch, you can push two regular Twin mattresses together, but the sheets may not fit ideally.
Is a full size mattress large enough for a couple?
A full size mattress may be big enough to accommodate a couple in certain circumstances. A full size mattress might work well if you're:
A parent tucking your child in
A couple who enjoys sleeping extremely close
A person who sleeps with their pet
But, a full bed will only provide you with 27 inches of space per adult, which isn't an ideal amount if you're looking to obtain the best night's sleep possible.
On average, how high should your bed and mattress be?
Mattresses will come in different heights, but you'll want to find something in an 11 to 15 inches range for optimal support and comfort on your spine. It's normally suggested to sleep in a bed with a 25-inch height, so your feet can touch the ground when you're getting in and out of your bed. The best scenario is to be able to sit on the mattress's edge, and have both your feet flat on the floor.
Beds could range to up to 36 inches off the ground, which, in old antique beds, is common when having a bed with tall, imposing frames was fashionable. Or, it can be as low as 18 inches, if you're thinking about a more modern, contemporary platform bed.
There's no perfect answer, but it's personal preference, and is based on the aesthetic of how you wish your mattress to appear, and your height. Keep in mind, for the elderly and small kids, you'll want a bed that's lower to the floor, which will help them get in and out of the bed more easily.
Can you put a queen mattress on a full frame?
That is not possible. It's essential you match the frame size with the mattress size. You can't use a full frame for a queen sized mattress, since the queen mattress will be bigger in size than the frame, and won't fit. It's best to always match your frame, mattress, and sheet sizes up for your best night's rest.
What's the difference between a twin and single mattress?
A single mattress is the same thing as a twin mattress. They both have the 38 inches x 75 inches dimensions. They're both designed to fit one individual. A single mattress is a bit smaller than a twin. It's ideal for toddlers or children transitioning out of a crib, but as they get older, it will grow with them. Twin mattresses are even ideal for teens.
What mattress size do two twin beds side-by-side make?
While it's believed two twin mattresses pushed together equal a king, this isn't true. Actually, it's two Twin XL mattresses pushed together that equals a king size bed.
What's the difference between a queen and king bed?
A King size mattress is 16 inches wider than the Queen. This gives 8 inches more on each side of space. While you can fit a Queen mattress into most bedrooms comfortably, a King mattress is usually too big for rooms smaller than master bedrooms.
What is the most popular size mattress?
The Queen mattress is the most popular size mattress today. It's big enough for partners, but fits nicely into a bedroom of average size.
How do you measure a mattress?
To figure out a mattress's dimensions, measure the mattress from head to foot to get the length, and measure it from side to side to get the width. You might wish to measure the depth of your mattress, too. You would measure the mattress from the bottom where it lies on the box spring all the way to the top of the mattress.
A tape measure is ideal for measuring. Measuring your box spring and mattress is essential before you buy a bed or encasement.
Are double and full size mattresses the same?
Yes, double and full size mattresses are the same thing. Both are 54 inches x 75 inches. The term "double" is based on the idea full size mattresses are two times the size of twins, but they're actually 15 inches wider.
What Are split sizes?
Split sizes allow partners to share the bed without harming their preferences of comfort. For instance, if one individual prefers a soft mattress, and the other prefers medium-firm, then a split mattress allows them both to have their preferred firmness preference on their half of the mattress.
Split mattresses work great with adjustable bases, too. One partner can raise their bed side while the other continues laying flat. A split King mattress is most common, and equals two Twin XL mattresses. But, there are split varieties of California King and Queen mattresses, too, although less common.
Do I require a box spring?
These days, box springs rarely have actual springs, despite their name. Many are simply rigid foundations. They help support your mattress. You really don't require a box spring, so long as you have some type of solid surface for supporting your mattress. This could be the floor. Also ideal are most platform beds.
What is not fine are the older box springs that have actual springs in them, or beds with three slats or plain metal frames with a single bar. You can do without a box spring as long as you own a platform bed with enough slats that your mattress will not bend in between them or a solid surface.
Do I require a bed frame?
Just like with box springs, frames are there for supporting your mattress. You can place the mattress and box spring directly on the ground, but this won't look aesthetic, and isn't that clean because you're closer to the ground. It also does away with any potential storage space underneath your bed. If you buy a full size or bigger mattress, ensure the frame contains a center support bar with a minimum of a single leg going to the ground from the bar.
How is mattress thickness and size related?
One misconception is that a bigger size mattress is thicker than a smaller one. Actually, most mattresses sold today come in the same thickness level no matter their size, even if the mattress comes in different thickness levels. For example, if there's a mattress available in either 8 inches or 10 inches options of thickness, both will typically be sold in any size from California King to Twin.
Today, mattresses being sold measure anywhere from 6 inches to 12 inches thick, but most are 8 inches to 12 inches thick. When deciding on a mattress based on how thick it is, you and your partner's weight are the most essential considerations. There are actually three general weight groups adult sleepers are divided into:
Light (less than 130 pounds): People in this group often prefer a mattress that's 10 inches thick or shorter. These mattresses provide sufficient support for the lighter individual, without excessively sinking. Most lighter individuals also have a simpler time getting off and on shorter beds.
Average (130lbs to 230 pounds): People in this weight group might feel comfortable on beds measuring around 8 inches to 12 inches thick; however, many prefer mattresses that are between 10 inches to 12 inches thick. This thickness provides a balance of support and conforming that's ideal for most average-weight individual sleepers.
Heavy (over 230 pounds): Often, people who weigh over 230 pounds prefer mattresses that are a minimum of 11 inches to 12 inches thick - many find the best option is 12 inches mattresses. Thicker mattresses don't sag as much under their bodies like thinner mattresses do. Also, heavier individuals might struggle getting off and on a lower-profile bed.
An important thing to note is higher-profile mattresses often cost more than the lower-profile mattresses. This is due to thicker mattresses containing more padding and support material layers like:
Latex
Foams
Microcoils
Other possible costly components
Therefore, if you're out shopping for a mattress, and you're on a budget, a more suitable choice for you might be a lower-profile mattress.
What are common sizes of sofa bed mattresses?
On average, sofa beds mattress sizes come in Singe, Twin, Twin Wide, Full, Full Wide, Queen, and Queen Wide.
What are common sizes of RV mattresses?
On average, RV mattress sizes come in Twin, RV Special, Full, Queen Short, Queen, and King.
Conclusion
Just as the type of mattress and firmness level you select play a role in your overall support and comfort, choosing the right mattress size is also just as important. In order to optimize your level of comfort while you're sleeping, space is critical; not just the bed space, but also your bedroom's aesthetics of space.
You'll want to balance out your needs and preferences with your budget and room size to get the most out of the mattress you choose. At PlushBeds, we care about the quality of your sleep. We offer a variety of mattress sizes from California King down to a Twin size, so you can find the perfect size mattress for your needs.
Learn More about Getting a Better Night's Sleep and Good Sleep Hygiene at <a href="/blogs/green-sleep/mattress-sizes">Plushbeds Green Sleep Blog</a>.
Your cart is currently empty.
Loading...