Best Comforters - PlushBeds Buyer's Guide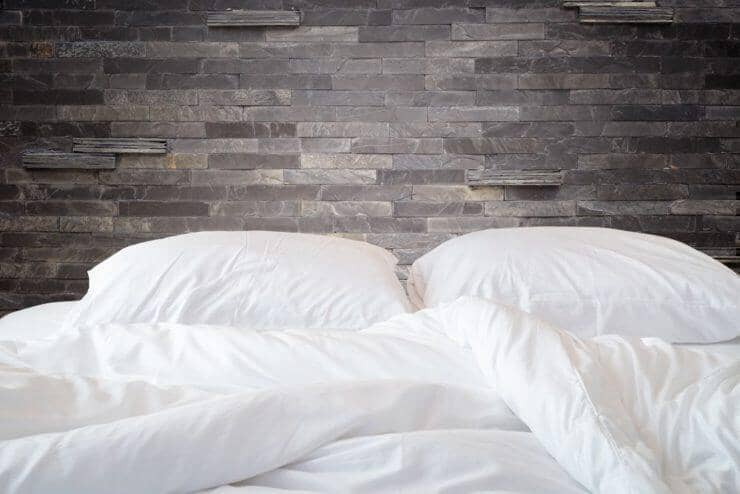 When decorating a bedroom, one of the first items you decide on is your comforter. Usually the questions of color, size and style come before the question of what material the comforter is made of, but it should really be the other way around, especially if you have allergies. With so many options out there for choosing the perfect comforter, sometimes it can be hard to decide which one is right for you. Let's go over the best ways to pick a comforter that you can be proud of.
According to the Allergy Buyers Club, there are some guidelines you should follow when choosing a comforter. Let's start with the different types of comforters: down, synthetic, wool and silk.
Down Comforters:
Siberian Down (Best)
Hungarian Down
Goose down
Goose feather and Down
Duck feather and Down
Duck feather (Worst)
Down comforters are the most common comforters. Goose feathers are more expensive than duck down feathers due to the fact that goose feathers have little to no odor.
Down vs. Feathers in Comforters:
Down is used for insulation and loft in duvets and pillows, and feathers are used for bulk and durability for feather beds and some pillows. Sometimes these are mixed to create a firm, durable product. The more down in the mix, the fluffier and more expensive the comforter or pillow.
Hypoallergenic Down:
Goose down can cause allergic reactions in some people. It is not the down that does this, but rather the dust particles remaining on the down after washing and processing. Some manufacturers such as Ogallala and Pacific Coast Feather use special cleaning processes and manufacture comforters and pillows that are hypoallergenic and come with an Allergy-free Guarantee.
Silk Comforters:
Silk is a luxurious textile which is produced by a silkworm and woven into a naturally thermal and hypoallergenic material. Silk fill is an excellent all-natural and hypoallergenic alternative to down fill.
Mulberry Silk:
The best silk comforters are filled with mulberry silk floss. Silk comforter manufacturers produce this high quality silk from feeding the silkworms a diet exclusively of mulberry leaves. Mulberry silk is comprised of long fiber silk which is heavier than other silks, hence its superlative thermal qualities used in making light but warm silk comforters. Mulberry silk will also shift less over time in comparison to other silks. Tussah or wild silk is used in silk comforters but is not as soft and drape-able as mulberry and has more impurities which promote a shorter life span. Most silk-filled comforters are lightweight and can be used all year round. They are best suited for moderate climates or homes that are climate controlled.
Maintenance of Silk Comforters:
Although it is hard to beat the luxurious feeling and soft "hand" of a silk comforter, silk is quite fragile and requires a duvet cover in most cases or its manufacturers' warranty will be voided. The life of a silk comforter is not as long as a high quality down; five years is the average lifespan. A good quality comforter can last for 10 years with good care. Silk comforters must be professionally dry cleaned.
Why Choose a Silk Comforter:
A silk comforter is delightfully lightweight and feels even lighter than a summer blanket or a coverlet. Silk comforters are warmer than a Primaloft blanket or a Hyperclean down blanket. A silk comforter is not as warm as a Hypodown comforter. If warmth is a concern, then down is the way to go. Unlike down, silk has a slight odor when first unpacked. The odor is natural and not offensive to most people. The odor will easily dissipate when the comforter is aired for 24-48 hours. Mulberry silk has less odor than Tussah or wild silk in a comforter. Silk-filled comforters are best used as a summer comforter in the North, and year-round in the South.
There are so many places to purchase your comforter from. Before purchasing a comforter, make sure you have a botanical/natural mattress that you feel comfortable with. Then research the best online prices on comforters just to get a ballpark figure of what you'd like to spend. Always see the comforter in person if you can (the material and color can vary online to in person).
Link to Us!
If you found this article useful and shareable, please copy and paste the following into the html code of your website or blog:
Learn More About Going Green at the <a href="https://www.plushbeds.com/blogs/green-sleep/best-comforters-buying-guide">PlushBeds Green Sleep Blog</a>.
*Please note that we DO NOT accept guest blog posts. Any inquiries into this will be respectfully left unanswered.
Related Posts:
The post Best Comforters - PlushBeds Buyer's Guide appeared first on PlushBeds Green Sleep Blog.