The Health Benefits of Sleeping on Wool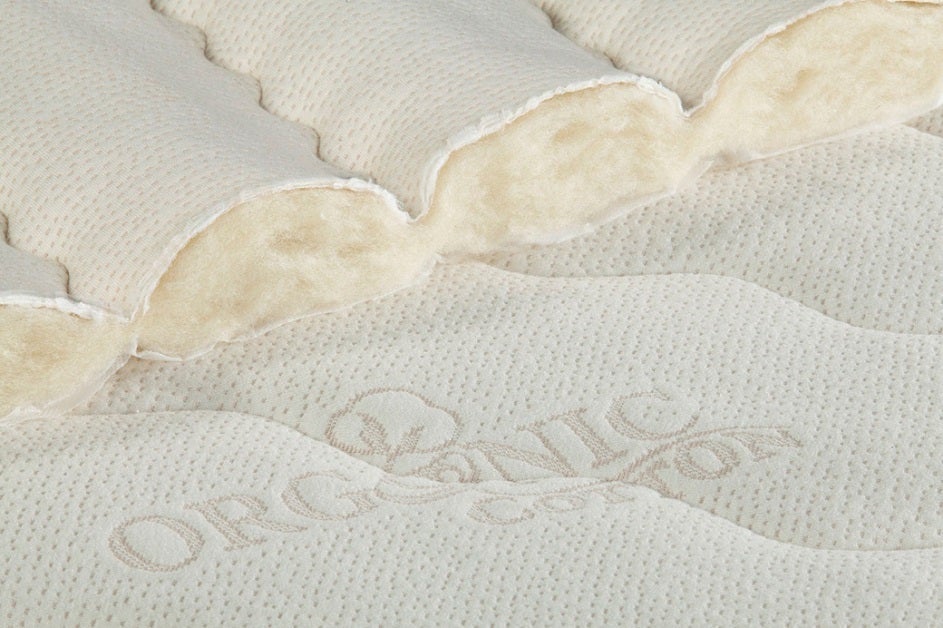 Sleep plays an important role in improving physical health by rejuvenating the mind and body. Health experts warn that poor quality sleep impacts a sleeper's productivity, functionality, and general quality of life. Unfortunately, about 70 million Americans suffer from sleep-related problems resulting from insufficient and poor quality sleep. While there may be several causes of sleep deprivation, sleeping on unhealthy bedding is a major problem many sleepers overlook.
Luckily, mattress manufacturers are revolutionizing the mattress and bedding industry by using organic materials to produce healthy bedding. One of the healthy materials commonly used in manufacturing mattresses, covers, and other types of bedding is organic wool.
This blog discusses the health benefits of sleeping on wool bedding, and introduces you to several options of wool fiber bedding products you can find on the market today.
What is Wool?
Wool is a textile fiber sheared from wool-bearing animals. Most commercially available wool comes from sheep. However, other animals such as goats, rabbits, camels, and lamas also produce varying types of wool used to produce some sleeping materials.
The Structure of Wool
Wool fiber has distinct properties that differentiate it from other textiles. It belongs to a group of proteins known as keratins. Its cells uniquely form a complex structure composed of amino acids and acidic carboxyl. This heterogeneous composition is the reason wool behaves differently from other textiles and hair.
While other textile fibers have a smooth surface, wool's surface is scaly, because of its overlapping cuticles. This physical attribute of wool fibers makes it easier to spin, and has several other advantages that alternative fibers can't match.
Wool fibers can bend over 20,000 times without breaking, thanks to their physical structure, and high moisture content. That makes wool one of the strongest and flexible textiles used to produce different products, ranging from clothes, rugs, blankets, bedding, and upholstery.
Health Benefits of Wool
Wool is a popular all-natural material known for its several amazing benefits. Some of the most common healthy benefits of wool include:
Absorbs Moisture to Keep You Dry
Night sweats, also known as nighttime sweating, is a common issue among many sleepers, and is related to numerous health problems. One of the causes of night sweats is low-quality bedding that traps too much heat from a sleeper's body. Such bedding soaks in sweat, making it impossible to enjoy a better night's sleep, due to a lack of moisture regulation. If you've experienced this before, it's time to get yourself some merino wool bedding products.
Unlike other bedding, bedding made from merino wool naturally wicks moisture away from your body when you fall asleep. It absorbs moisture into its core through microscopic openings on its fibers, and also allows it to vaporize, leaving its surface dry. As a result of its moisture regulation properties, your bedding remains free of sweat and moisture all night long.
Regulates Temperature
Wool is ideal for keeping you warm during winters, and cool during summers. In hot weather, wool keeps you cool by absorbing moisture from your body through tiny air pockets formed when it crimps and curls. On the other hand, the same air pockets help circulate heat around your body to keep you warm in cold weather. 
Highly Breathable
Wool is lightweight and highly breathable compared to other fabrics. It can absorb large amounts of moisture from your body, and allow it to evaporate. Wool is also lightweight, and doesn't cling to your skin when you fall asleep. Its fibers allow air to circulate better, keeping you cool, and reducing sleeping disruptions caused by too much heat.
Resists Dust Mites and Allergens
Research proves that wool is safe and allergy friendly for asthmatic sleepers, and those with respiratory problems. That's because wool is naturally resistant to dust mites and allergens, such as pollen, molds, mildews, and pet dander.
In addition to being allergy-friendly, wool fibers absorb moisture, and allows it to evaporate, keeping the bed dry. By eliminating moisture, microorganisms and allergens don't have a chance to survive in bedding made of wool.
Toxin-Free
Toxins found in some mattresses and other types of bedding are linked to various health problems. For example, prolonged exposure to chemical fire retardants found in polyurethane and memory foam mattresses can cause neurological damage, and delay mental and physical development among sleepers. These toxins also contaminate air, soil, and water.
Organic wool doesn't contain chemicals or harmful dyes that emit VOC gases. As a result, wool fibers for bedding are safe and ideal for infants and sleepers with chemical sensitivities.
Better Sleep Quality
Wool bedding can improve sleep quality whether you choose a pillow, topper, comforter, or mattress made using this fiber. For example, if you have arthritis or joint pain, you need to rest on a soft and cradling mattress topper to ease pressure on your joints. You also want to avoid heat-trapping mattresses and covers that can't control your body temperature, forcing you to stay awake all night. 
Bedding with wool is the solution to these problems, thanks to its unique properties. This fiber makes soft and cuddly mattress toppers and pillows, as well as comfortable covers and bed sheets.
Natural Flame Retardant
Wool has been used for centuries as an all-natural alternative to toxic chemical flame retardants. Because of its high levels of nitrogen and water, it takes extremely high oxygen levels and a hotter flame to ignite. Additionally, wool self-extinguishes when ignited, stopping flames from spreading during fire accidents.
Besides being flame resistant, wool also doesn't emit choking smoke and harmful gases when it burns, because it's odor resistant and doesn't contain added toxic chemicals.
Other Amazing Benefits of Sleeping on Wool
Besides benefits to your health and better sleep, here are the other advantages of sleeping on wool.
Eco-friendliness
Buying wool bedding and wool sleepwear promotes healthy manufacturing practices and environmental sustainability goals. Organic wool is a naturally biodegradable product that adds useful nutrients to the soil when it breaks down. Wool is also manufactured sustainably, and washed using organic treatments and not the chemical toxins used in synthetic fibers.
Wool Doesn't Shift
The wool filling doesn't shift, or form lumps inside the bedding. Instead, its crimpy and scaly surface locks the fibers against each other to form a tight felt. As a result, it doesn't separate during washes, or require glues and other adhesives to keep it intact.
Wool is Recyclable
Wool can be reused as many times as possible, and converted into different products every other time. In addition, its fibers are strong enough to withstand being manipulated, washed, and treated severally without breaking or shading. As a result, wool has a long lifespan compared to other textiles, such as cotton and synthetic fibers.
Wool is Cruelty-Free
No animal is harmed during wool shearing. Most wool farmers also practice friendly livestock farming required to meet the quality standards of organic wool. For example, they don't enhance wool growth by feeding the animals with modified wool growers.
Shearing wool off the animals helps protect them from parasite infestation, and keeps them cool during hot summers. It also helps prevent manure, dirt, and urine build-up that causes odors and discomfort. In addition, getting rid of the old wool paves the way for newer and healthier growth that promotes better temperature regulation.
PlushBeds Wool Bedding Products
PlushBeds brings you a variety of wool sleeping products all under one roof to help you completely transform your sleep experience this season. You don't want to miss out on the best deals to get yourself one of these comfortable wool products for the best night's sleep.
PlushBeds Wool toppers and mattress pads provide practicality, comfort, and protection.
PlushBeds Wool Mattress Topper is handmade with 100% natural wool and cotton to offer you a deep, restorative, and plush sleeping experience. The topper is hand-tufted, and carefully stitched by experienced craftsmen to secure the wool fillings, and also ensure the topper is long-lasting.
The PlushBeds Natural Wool and Cotton Mattress Pad does more than protect your mattress from accidental spills, dirt, and moisture. This mattress pad adds a layer of cushioning to your mattress to relieve you from excessive pressure on your body. It's also breathable, and helps regulate your body temperature when you fall asleep.
The PlushBeds Natural Wool Mattress Pad contains springy and soft wool encased in a soft and cooling cotton fabric encasement. It adds a layer of comfort to your mattress, and helps regulate your body's temperature all night long. This pad is best for allergy-sensitive sleepers, and bed-wetting toddlers.
PlushBeds pillows take comfort to a whole new level with these uniquely designed wool-filled pillows.
The handmade Organic Wool Pillow contains pure, chemical-free wool sourced ethically. This pillow offers incredible support to your head and neck, and keeps you cool as you sleep. The wool pillow is best for allergy-sensitive sleepers because it's free from toxins and repels allergens.
The Wool and Latex Side Sleepers Pillow combines the support and responsiveness of natural latex, and the plush comfort offered by natural wool. This pillow is also contoured perfectly to cradle your head, neck, and shoulders while sleeping on your side to promote comfort and pressure relief.
The Organic Side Sleeper Pillow is an adjustable premium quality pillow to customize your comfort. You can adjust this high loft pillow by altering the tufts to your preferred height and density.
PlushBeds CPAP Pillow for Side Sleepers is ideal for sleepers using the CPAP breathing device. It helps relieve pressure off the shoulders and other surrounding pressure points, and keeps the device in place all night. This pillow is also infinitely adjustable, allowing you to customize your comfort at any time.
The Adjustable Natural Wool Pillow contains fine and luxurious Shropshire wool that feels light and plush. The even distribution of wool makes the pillow ideal for all sleepers.
PlushBeds wool comforters offer warmth, breathability, and comfort all in one.
If you're looking for all-season luxurious wool duvets, you'll love the 100% Organic Cotton & Wool Lanadown Comforters by PlushBeds. They contain a mixture of fine merino wool and certified white down covered in GOTS certified cotton fabric. Their edges are double stitched, and reinforced with piping to ensure everything stays intact even when washing.
For an all-natural lightweight cover, choose PlushBeds' Wool Comforter. It contains premium natural merino wool fill covered in skin-friendly organic cotton sateen to give the best of nature's comfort.
The Natural Wool Comforter from PlushBeds is filled with Shropshire wool known for its soft and cozy feel. This comforter is breathable, hypoallergenic, and free of harmful toxins. It's also easy on the skin, and promotes healthier and deeper sleep.
To sum up, PlushBeds offers a wide range of wool products to improve your sleep, and promote better health. These products come with free shipping and incredible deals to help you save money, and enjoy the ultimate sleep experience.
Link to Us!
If you found this article useful and shareable, please copy and paste the following into the html code of your website or blog:
Learn More About Going Green at the <a href="https://www.plushbeds.com/blogs/green-sleep/the-health-benefits-of-sleeping-on-wool">PlushBeds Green Sleep Blog</a>.
*Please note that we DO NOT accept guest blog posts. Any inquiries into this will be respectfully left unanswered.
Related Posts:
The post The Health Benefits of Sleeping on Wool appeared first on PlushBeds Green Sleep Blog.