What is 100% Cotton and is it the Best Choice for Sheets?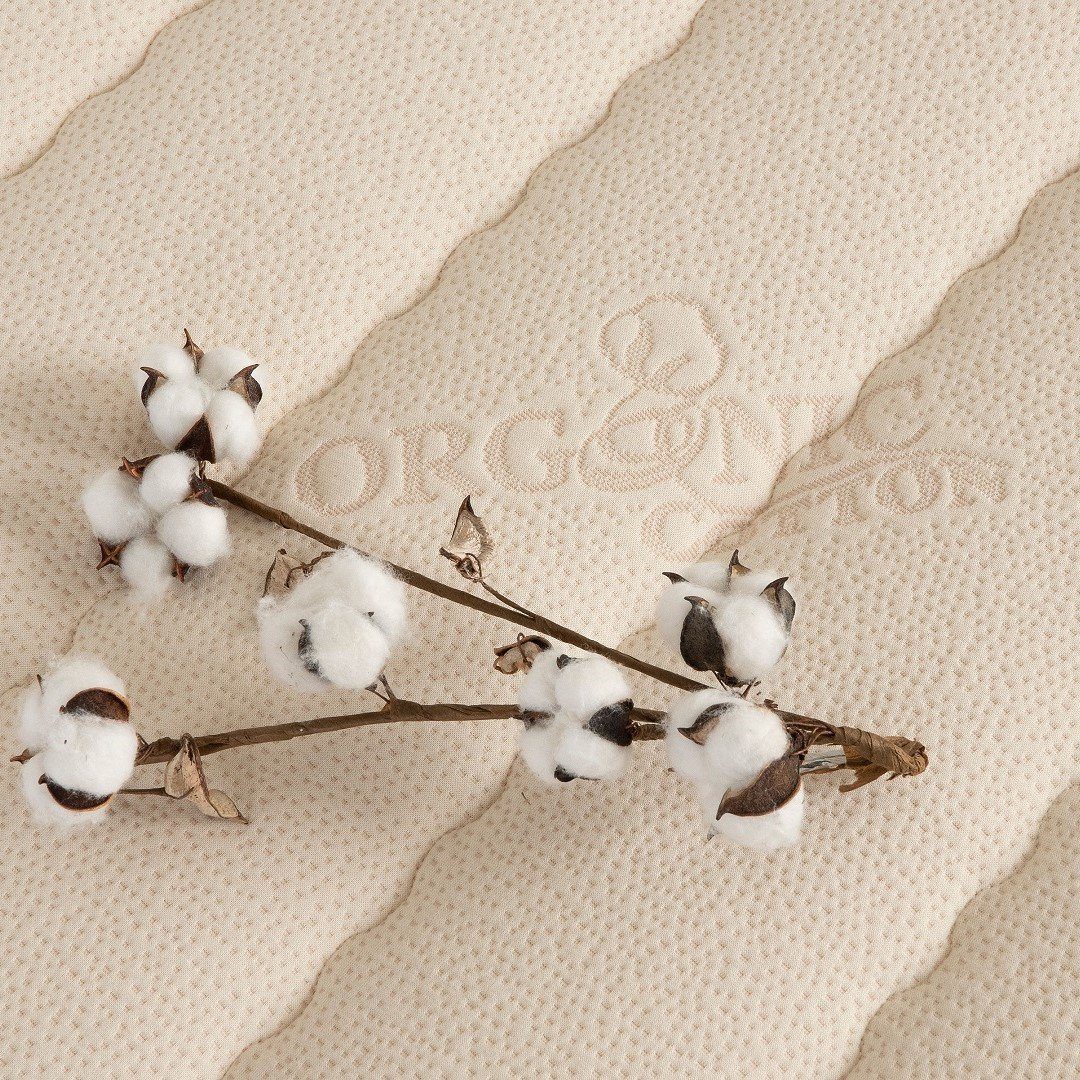 A good day starts with a good night's sleep. It's so important to get quality sleep to be at our best the next day, and small changes can go a long way to getting better shut-eye. One such change is to pay closer attention to your bed sheets. There are many factors to consider when shopping for a bed sheet set, from effectively regulating body temperature to being soft to the touch and durable. You want sheets that are ultra-soft and breathable, will last a long time, and are easy to wash and care for.
Cotton is often a popular choice for bed sheets, and for a good reason. Cotton bed sheets are soft and gentle, which is great for those with sensitive skin. Cotton is breathable and, therefore, great with helping regulate body temperature throughout the night, and it's also amazingly durable.
People spend almost a third of their lives asleep, so it's important to prioritize your sleep quality. This article will discuss why cotton is a best seller among bed sheet shoppers, and what makes cotton the ideal choice for bed sheets. It will also discuss some of the several varieties of cotton, and what makes each unique.
What does 100% Cotton Really Mean?
100% cotton refers to fabric that isn't blended, and is made from fibers picked from the cotton plant. It's a natural, softer, and stronger product that is biodegradable. Cotton is very fibrous, and these fibers—along with air—create a barrier between you and the fabric, which gives it a soft, feathery touch. The fibers also absorb moisture to keep your skin comfortable and dry.
Cotton's temperature-regulating qualities make it a great choice for bed sheets throughout the year. The most common types of materials used for bed sheets include cotton and polyester, but unlike polyester, cotton is completely natural and eco-friendly. Many sheets on the market are a blend of the two materials, typically in percentages like 60/40 and 50/50. A cotton/poly blend typically makes the sheets more affordable and wrinkle-resistant, but also less breathable and less comfortable than 100% cotton sheets.
Why Cotton is a Great Choice for Bed Sheets
There are several varieties of cotton used to make bedding sets. Egyptian cotton sheets are exceptionally durable and soft, and made from long-staple cotton. In contrast, Pima cotton is a great option if you're looking for soft and silky sheets.
Supima cotton refers to products made with 100% American Pima cotton. It is considered a superior type of cotton that represents less than 1% of cotton grown worldwide. It's considered the softest and smoothest material on the market, and gets softer after every wash. Supima cotton will definitely give you that luxury hotel quality feel.
Upland cotton is the most common type of cotton used for bed sheets. Meanwhile, cotton blends are a good choice for people looking for sheets that don't wrinkle easily.
There are many reasons cotton is a popular choice for bed sheets among people worldwide. Cotton fibers make smooth, ultra-strong, and soft sheets that are highly durable. Cotton is breathable and absorbs moisture. Cotton is also ultra-soft and comfortable, ensuring quality sleep. Below are just some of the reasons cotton can be seen as nature's gift to us.
Durability
Cotton sheets are many people's bed sheets of choice due to their durability. Thread count is an important measure of durability, and a high thread count sheet set usually means higher quality and durability. Lower thread count bed sheets generally have to be replaced far sooner. Sheets made out of 100% cotton, as well as a high thread count of at least 250, are almost always more durable and softer than sheets of a lower thread count. 100% cotton sheets are some of the most durable and best cotton sheets available.
Breathability
Cotton allows the skin to breathe. It helps prevent skin issues by reducing the possibility of any moisture build-up between the fabric and your skin. This makes cotton sheets a great option for those with sensitive skin or skin prone to rashes. Due to its breathability qualities, cotton bedding helps keep you cool at night, and makes great cooling sheets. Cotton also absorbs moisture and, therefore, keeps your skin dry at night. If you're prone to getting warm and sweaty at night, cotton bedding might just be a great solution for you.
Comfort
Cotton sheets are known to be buttery soft, and comfy to the touch. Cotton is also known to be airy and cool. They are much loved for keeping cool throughout the night, and are fairly stain-resistant as well. Cotton sheets become softer after every wash, and if you prioritize comfort, it's best to get cotton bed sheets between a 300 and 400 thread count, with a 600-thread-count cotton sheet making the best and most luxe bedding.
Why Opt for Organic Cotton?
Organic cotton sheets contain no chemicals and no dyes. They are also hypoallergenic. Organic bedding is not only better for you, but it's also better for the environment. PlushBeds offers high-quality, soft, gentle, and affordable bed sheets for any size bed—ranging from twin, twin XL, and full size to queen size, king size, California king, split king, and much more.
PlushBeds also offers organic cotton sheets, which are made of cotton fibers woven in a satin weave. Cotton sateen weave sheets are very breathable but have a slightly warmer feel. The organic cotton sateen sheet set is chemical-free, moisture-resistant, and hypoallergenic, allowing you to sleep peacefully knowing that your bedding set is made from 100% organic cotton. The sateen sheet sets have combed cotton fibers that ensure softness and a silk-like feel from day one. The set comes with a flat sheet, a fitted sheet, and pillowcases, and will last for years to come. 
If you are looking for luxury cotton that is softer and stronger than other cotton bedding, then the Supima premium cotton sheet set from PlushBeds would be a great choice for you. Each Supima sheet set from PlushBeds comes with a flat sheet, a fitted sheet, and pillowcases. Each fitted sheet has extra-deep pockets for mattress depths of 6 to 22 inches. A full-length, thick elastic ensures that you get a smooth and secure fit for your deep pocket sheet set every time. Supima cotton is exclusively grown in the U.S., has 35% longer fibers compared to other types of long-staple cotton, and is twice as strong.
PlushBeds also offers organic cotton sateen duvet covers to complete your organic cotton bedding set and improve your sleeping experience. Even though cotton sateen is durable and strong, it's still feathery, soft, and lightweight. The duvet cover is high quality with a 300 thread count, and long cotton fibers that prevent any tears or shrinkage. 
Find Premium Cotton Sheets from PlushBeds
If you're looking for quality and durable sheets to help you get a better night's rest, then check out the cotton sheet sets available from PlushBeds. PlushBeds can help you with all your sheet and linen needs at the right price, with the only problem being that you might never want to leave your bed again.
PlushBeds ensures our selection of sheets reflects the value we place on the planet and your family's health. Our organic sheet sets are made from Global Organic Textile Standard (GOTS) certified organic cotton with no added dyes. Our packaging is biodegradable and reusable. The GOTS is the leading standard for independently certifying organic fibers.
Our products are not only luxurious and comfortable, but they are also healthy and good for the environment. PlushBeds prioritizes your sleeping experience.
Link to Us!
If you found this article useful and shareable, please copy and paste the following into the html code of your website or blog:
Learn More About Going Green at the <a href="https://www.plushbeds.com/blogs/green-sleep/what-is-100-cotton-and-is-it-the-best-choice-for-sheets">PlushBeds Green Sleep Blog</a>.
*Please note that we DO NOT accept guest blog posts. Any inquiries into this will be respectfully left unanswered.
Related Posts:
The post What is 100% Cotton and is it the Best Choice for Sheets? appeared first on PlushBeds Green Sleep Blog.