5 Reasons Why a Customized Mattress is Best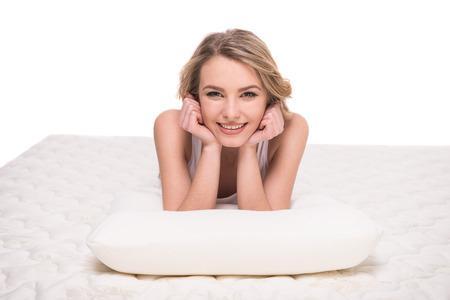 If there is one thing we've learned over the years as a society, it is that things advertised as "one size fits all" rarely do. With this in mind, it is almost always better to look for things that are custom fits in your life. This is true whether these things are clothing items, accessories, or home furnishing items.
The more things in your world that are customized to meet your needs, the better your world seems to operate. That is why a customized mattress is almost always a better choice than a "one type fits all" mattress from big box stores and gigantic mattress warehouses.
Below are five excellent reasons why you might want to go the customized route for your next mattress purchase.
When You and Your Partner Have Different Sleep Preferences
Chances are good that no matter how many things you agree on in life, there are some things you and your partner disagree about as well. Some people prefer to keep their home warm and others prefer a colder temperature. Some prefer meat and potatoes while others prefer a diet that focuses on vegetables and grains.
Another area where many couples tend to disagree is related to the level of firmness in their mattresses. This is a problem that happens far more than you realize. One partner prefers a firm and supportive sleep surface, while the other prefers something far more comfort-oriented and pillow-like. With traditional mattresses, the entire mattress is either soft or firm. There is no way to make half the mattress firm and the other half softer.
When you purchase a customized mattress, the mattress is made to your specifications. This means that half of the mattress can be made firmer and/or with fewer comfort layers for one partner, while the other half of the mattress can be made softer and/or with additional comfort layers, to help provide the perfect level of comfort for each partner. This allows you both to sleep happy, rest easy, and allows for better mornings for both of you.
The Thickness, Firmness and/or Size Can Be Customized
The thickness of your mattress can have a substantial impact on how well your bed works for you. Those who are exceptionally short or tall may prefer beds that accommodate their heights more easily. A taller or shorter mattress, with a customized thickness, will help them to get into and out of bed with ease. Also, those who are heavier in weight will require a thicker mattress with more cushioned support and those who are thinner, may prefer a mattress that is less plush, so they do not sink into the mattress.
The firmness of your mattress can also have a substantial impact on how well your bed works for you. Those who sleep on their back or stomach may prefer a firm mattress, while those who sleep on their sides may prefer a mattress that is medium in firmness and those who are older or fragile, may prefer a softer mattress.
Additionally, most mattresses come in standard sizes. If you have a custom or heirloom bed frame that doesn't conform to modern mattress sizes or you want to make your own, one of kind bed frame, you will need a mattress that is custom-made. It's the perfect solution for many people who prefer to recycle, upcycle or reuse furniture, or create new and unique furniture of their own.
When you customize your mattresses, the mattress is made to fit your unique needs, rather than working with "one size fits all" or "one type fits all" "factory settings," so common in the industry, which accommodate the needs of the masses.
Working Directly with the Manufacturer Costs Less
Customized mattresses can easily be obtained by working directly with the manufacturer of the mattresses. This means you've eliminated the middleman. That's a huge benefit to you. Why? Because the middle man wants to take his cut of the profits. That means the prices are marked up before they even arrive on the showroom floor.
An additional benefit of working directly with the manufacturer is that the manufacturer knows his product intimately. He knows the best way to customize the mattress to accommodate your needs and make your mattress work for you. In other words, he knows the right questions to ask to ensure you get the mattress you want from the very beginning. That can't be said of the average salesman working the floor in a giant mattress warehouse, filled with "one size fits all" mattresses.
When you buy directly from the manufacturer, you can save a lot of money – allowing you to invest in upgrades that you might not have considered before, like additional layers of support or plushness to the mattress, an adjustable base for your mattress, or special sheets and mattress protectors designed to accommodate air flow while you sleep. The more you save on the mattress by working directly with the manufacturer, the more you have to spend elsewhere in the mattress buying process.
When you buy your mattress from PlushBeds, you are working directly with the manufacturer, so you can rest easy knowing that you're going to get a mattress that is not only healthy and comfortable to sleep on, but one that is built to your specifications and comes at a price that is right for your mattress buying budget.
Adjust Your Mattress as Your Needs Change
The human body is a remarkable instrument. It requires careful care and fine tuning to keep in tip-top running order and may, over time, develop new and different needs. One of those changes may come in the form of mattresses that are softer or firmer along the way.
When you buy your mattress from PlushBeds, you have the ability to make changes to your mattress. You can add or remove comfort layers and/or change the firmness of layers in your mattress, as needed along the way, to accommodate the changes taking place in your body. This means that if you develop arthritis later in life, or have chronic back pain, you can adjust your mattress firmness or thickness to better suit your comfort needs.
Some of these changes may come about as a result of age, medical conditions, accidents, illnesses, and even during pregnancy. You may simply switch sleeping positions over time, transitioning from the role of a back or stomach sleeper to that of a side sleeper with wholly different needs for support and pressure point relief from your mattress.
In these situations, the simple addition or removal of a comfort (or support) layer, can make a world of difference in your quality of sleep, without forcing you to purchase an entirely new mattress to achieve these changes in comfort. This will not only extend your comfort and improve your sleep, but it will also extend the life of your mattress, which is good for you, your family, your budget, and our planet.
A Happier, More Productive Life
This may be the most important reason why a customized mattress is better than a "one type fits all" mattress. Yes, your mattress is really that important. According to the biggest personal experiment on happiness, the quality of sleep has a potentially major influence on your happiness and mood levels. The experiment concluded that sleep deprivation exposes you to a big decrease in happiness. This is why a customized mattress is important. The problem is that big box thinking has created mattresses that are not great for everyone. This can lead to aches and pains that rob you of much needed rest at night and a fuller quality of life in your day-to-day living.
When your mattress isn't getting the job done for you, your partner, or either of you – it can cause discord in the relationship, unhappiness in the workplace, and overall strife and stress. These things can be completely avoidable by working with a mattress manufacturer, like PlushBeds, to create the perfect sleep solution for your needs, as individuals and as a couple.
There is no doubt that sleepless nights can lead to excessive crankiness the next day. When the problems are related to your mattress, it doesn't take long before you'll begin to feel the effects of chronic sleep deprivation which can cause problems with memory, productivity, and even your health. So, yes, a custom mattress can ensure that both partner's comfort and support needs are met and you can both get the quality sleep you need to succeed and be happy in your lives, night after night.
Customize Your Mattress with PlushBeds
Begin by working with PlushBeds to identify your needs in a customized mattress. Then make use of the 100 Night Comfort Exchange Program to make sure that each of you are comfortable and satisfied with the mattress you have and to accommodate any adjustments that need to be made along the way. Then enjoy 25 years of restful, quality sleep on your custom mattress – something you simply cannot do with a "one type fits all" mattress.
Call us today at PlushBeds at 1-888-407-5731  and speak with one of our expert mattress representatives. We can help you customize your mattress, so that it's tailored to you and/or your sleeping partner.
Link to Us!
If you found this article useful and shareable, please copy and paste the following into the html code of your website or blog:
Learn More About Going Green at the <a href="https://www.plushbeds.com/blogs/green-sleep/5-reasons-why-a-customized-mattress-is-best">PlushBeds Green Sleep Blog</a>.
*Please note that we DO NOT accept guest blog posts. Any inquiries into this will be respectfully left unanswered.
Related Posts:
The post 5 Reasons Why a Customized Mattress is Best appeared first on PlushBeds Green Sleep Blog.