Side Sleeper Mattresses - PlushBeds Buyer's Guide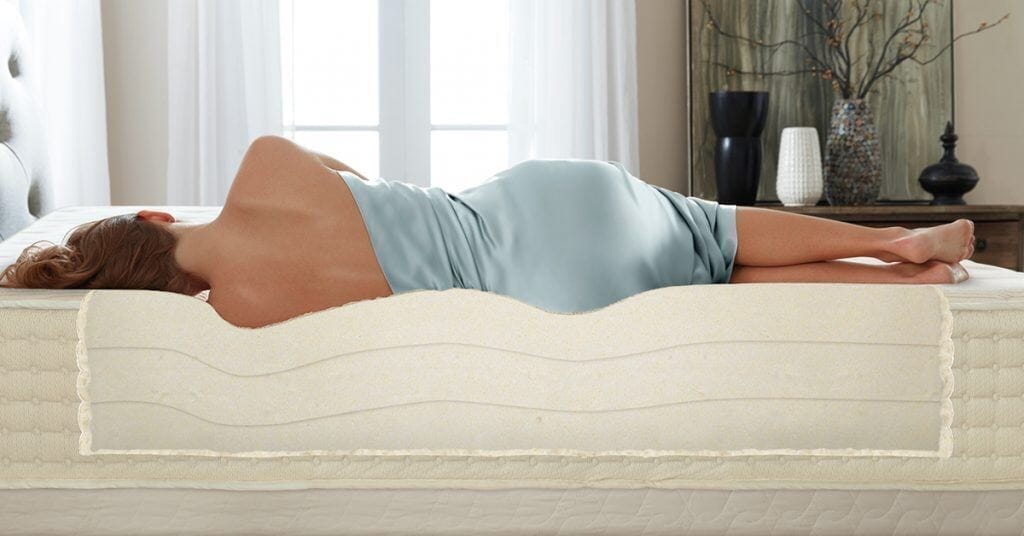 According to WebMD, 63 percent of Americans are side sleepers. That means that a large percentage of the population needs to be looking for the best mattress for side sleepers. It makes perfect sense that side sleepers are interested in finding these mattresses that have certain properties best suited for a good night's sleep.
What might come as a surprise, however, is the fact that side sleepers need different things from mattresses than people who sleep on their backs. Sleep posture can have a significant impact on your overall health as well as the quality of the sleep you get. The right mattress ensures you get a full night's sleep as well as a comfortable night's sleep.
So, how do you find the best mattress for side sleepers? Read on to learn all about side sleeping, side sleeping mattresses, and what you should look for when searching for your next mattress.
Benefits of Sleeping on Your Side
You probably don't remember when you chose your favorite sleeping position. Sleep position is one of those things that seems to happen naturally. However, some sleep positions are actually more beneficial than others. If you are one of the many people who sleep on their side, you might be benefitting without realizing it.
Reduces Joint and Back Pain
Sleeping on your side can take pressure off of your back and spine, which leads to improvements in back pain. Additionally, sleeping on your side can relieve pressure on certain joints and pressure points as well, reducing pain. Just be sure the joints that are under pressure — the hips and shoulders — are properly supported in this position.
Reduces Chronic Pain
Chronic pain conditions like fibromyalgia cause certain spots on the body to become painful and tender. When you sleep on your side, you are less likely to put pressure on these painful areas and tender pressure points.
Reduces Snoring
Sleeping on your side reduces snoring. Not only is this a major benefit for your sleeping partner, but it actually improves your health tremendously. Snoring is a side effect of sleep apnea. A reduced risk for sleep apnea means you are less likely to develop sleep-apnea-related diabetes or heart problems later in life.
Improves Digestive Health
Side sleeping can lead to improvements in gastrointestinal issues because of how your digestive organs are situated inside your body. GI issues like constipation, gas, and heartburn can be eased by side sleeping.
Improves Circulation
Pregnant women are often advised to sleep on their left sides during their pregnancies. This sleeping position is known to increase circulation for both the pregnant mother and the developing fetus.
Does Your Sleeping Side Matter?
You are going to get more benefits from sleeping on your left side than on your right side. When sleeping on your left side, your organs are more able to rid themselves of toxins. As mentioned above, people with heartburn can benefit from side sleeping. This is especially true when sleeping on the left side.
However, people with heart failure typically find that sleeping on the left side is uncomfortable, due to the pressure that position puts on the heart. It is normal for these people to sleep on the right side.
Drawbacks of Sleeping on Your Side
Side sleeping is not perfect. There are drawbacks to side sleeping, along with the benefits. If side sleeping solved everyone's problems, 100 percent of us would be doing it rather than just 63 percent. 
Sleeping position is typically left up to individual preference. Keep the following in mind when determining whether side sleeping is right for you.
Can Cause Neck Pain
If you sleep with an improper pillow, or if your neck is tilted at an awkward angle, you can actually add to the pain on your pressure points, instead of relieving it. Additionally, if your neck is out of whack while you sleep, you are sure to create improper spine alignment, which will lead to back pain.
Can Cause Hip and Shoulder Pain
The best mattresses for side sleepers need to be firm enough that the hips and shoulders do not sink into the mattress too far, but soft enough that the hips and shoulders do not press too firmly against the mattress. A medium-firm or medium mattress should have the pressure relief your hips and shoulders need.
The hips and shoulders are more likely to become more sore than anywhere else when sleeping on your side. This is why it is so important to figure out which mattress is best for your particular joints and pressure points. Shoulder pain and hip pain are common with side sleepers who choose the wrong mattress.
Which Sleeping Positions are Healthiest?
Back and side sleeping positions are considered the most healthy and beneficial. Read on to find out why.
Side Sleeping
Sleeping on your side can provide quite a few health benefits. As mentioned above, it can help reduce some types of snoring, relieves back pressure, reduces heartburn and acid reflux, and it's a neutral position that's easier for your joints to maintain while sleeping.
Back Sleeping
While back sleeping provides benefits for preventing pain to joints, and helping to reduce acid reflux. It is not, however, good for snoring.
Potential Problems Side Sleepers Face
You might find that you prefer side sleeping to any other sleeping position, but you tend to avoid it because of certain issues. There are ways to combat these potential problems that side sleepers face.
Bad Posture
When you sleep on your side, you might find that you twist your body up too tightly, and harm your spine alignment. However, all you need to do is be mindful of your posture when lying down to sleep at night. If you toss and turn at night, set up a pillow barrier.
Acne
If you develop acne from side sleeping, your pillow likely has a buildup of oils from the frequent exposure to the sides of your face. This is easy to combat, as well. Maintain a healthy skincare routine, and wash your pillowcases frequently (at least once a week).
Tingling Limbs
If you have ever woken up with an arm tingling, or without feeling, you probably slept on top of it through the night. It is easy to end up on top of your arm as you sleep on your side.
Many side sleepers tuck an arm underneath their pillow to sleep. If you do this, ensure your pillow is comfortable enough, and creates a thick enough barrier between your head and your arm. Additionally, you might be subconsciously trying to fatten up your pillow with your arm.
Mattress Types for Side Sleepers
There are several different mattress types on the market. However, not all of them are well suited for side sleepers. The mattress type you choose is of utmost importance when shopping for mattresses for side sleepers.
Innerspring Mattresses
An innerspring mattress is a mattress with a structural layer made of metal coils inside. While they are affordable, they do not offer the comfort and support most people require in order to get the best night's sleep. Innerspring mattresses do not offer adequate pressure relief for pressure points, which is crucial for side sleepers.
Additionally, innerspring mattresses are not as durable as other types of mattresses. Once an innerspring mattress starts to sag, which it will do after a handful of years of constant use, it can no longer support a sleeper, and keep the spine aligned.
Memory Foam Mattresses
Memory foam mattresses provide optimum pressure relief and contouring for side sleepers. They are considered the best type of mattress for side sleepers. However, not every memory foam mattress is a good choice. Most memory foam mattresses are full of harmful, synthetic chemicals that break down, and release into the air.
When buying a memory foam mattress, you want to choose one that is as natural as possible. A memory foam mattress with certifications, like PlushBeds' Cool Bliss Cool Gel memory foam mattress, does not off-gas harmful chemicals as other memory foam mattresses do. It also provides cooling comfort for hot sleepers.
Latex Mattresses
Latex mattresses are another great choice for side sleepers. They are both firm enough to offer comfort and support for side sleepers, but they can contour to the body similar to memory foam. They do not have as much contouring ability as memory foam, but some people do not prefer to be wrapped up as tightly as memory foam tends to hug.
Latex mattresses relieve pressure on pressure points, and come in different mattress firmness options for side sleepers. Like memory foam, latex will keep the spine aligned and supported. All-natural latex, though, is organic and completely free of synthetic compounds.
Factors to Look for When Choosing the Best Mattress for Side Sleepers
When choosing the best mattress to support side sleeping, there are a few factors you should consider.
Durability
You want your mattress to be durable, of course. Any mattress you buy should be durable and long-lasting, or you will be wasting your money. You should weigh affordability with durability, so you know you are getting a great mattress for your money.
Edge Support
Since side sleepers tend to gravitate toward the edges of the mattress, you need a mattress with good edge support. Edge support is what keeps the mattress edge from caving any time any amount of pressure is applied to it. A mattress with good edge support will keep you from falling off the edge while you sleep.
Spinal Alignment
Side sleepers need a mattress that has the proper firmness, bounce, and thickness to accommodate their ideal spinal alignment. This will not be the same for everyone, so consider your individual needs.
Motion Transfer
When sleeping on your side, you do not want to be subjected to lots of motion transfer. If you sleep with a partner, you don't want to be bothered by motion transfer each time they move.
Tips for Side Sleeping
If you prefer side sleeping, but are concerned about the drawbacks, have no fear. Side sleeping is the most common way to sleep, after all. Below are some tips for successful side sleeping.
Sleep on a Medium-Firm Mattress
Choose a memory foam or latex mattress with medium or medium-firm firmness. Your shoulders and hips will be supported for proper spinal alignment, but those pressure points will not be subjected to harsh, painful pressure.
Put a Pillow Between Your Knees
Place a pillow between your knees to keep your hips from pivoting too much. This will keep your knees relatively parallel with one another, and it will keep your back from twisting too much.
Sleep on Your Left Side
Unless you have a heart condition that causes pain when on your left side, sleeping on your left side is the ideal side.
Pay Attention to Where Your Extremities Are
If you are someone who can fall asleep at the drop of a hat, consider yourself lucky. Most of us can't! However, you should be careful where your limbs are when you do fall asleep. Try not to fall asleep on top of your arm to avoid discomfort upon waking.
Side Sleeper Mattress FAQs
If you are a side sleeper like so many of us are, you might still have questions about choosing the best mattress for side sleepers. Take a look at these common questions about side sleeper mattresses to learn more.
How do You Keep a Mattress in Good Shape?
Not only is it important to have the best firm mattress (medium-firm at the very least) to provide an adequate support system for your sleep needs, but you must also use a mattress that's in good physical condition if your goal is to get quality sleep night after night.
It's not enough to buy a top-of-the-line mattress, and hang onto that mattress 20 years past its prime. You need to take care of the mattress with proper flipping and turning, as necessary, and replace mattresses when needed.
What Sleep Accessories are Good for Side Sleepers?
Side sleepers need good pillows that support the neck. An improper pillow can throw a side sleeper out of whack, even with the best mattress. Additionally, a pillow between the knees prevents the hips from pivoting too much, and causing lower back pain. Adding a pillow between your legs will keep the spine aligned through the night.
What is the Best Mattress for Side Sleepers with Back Pain?
Latex mattresses are excellent for back pain because they are soft enough to be comfortable without offering excessive sink. Latex mattresses have contouring abilities that relieve pain at pressure points without throwing the spine out of alignment.
What is the Best Mattress for Side Sleepers with Hip Pain?
A mattress that is not too soft and not too firm is best for hip pain. Latex and memory foam mattresses provide pressure relief for this major pressure point, which can quickly become subject to pain under the wrong sleeping conditions.
What is the Best Mattress for Side Sleepers with Shoulder Pain?
Medium and medium-firm mattresses are best for relieving shoulder pain. Latex and memory foam mattresses provide the best pressure relief for joint pain and pressure points. Pressure relief is critical for relieving joint pain.
How Much do Side Sleeper Mattresses Cost?
Because there is no one-mattress-fits-all for side sleepers, the price of a side sleeper mattress can vary wildly. A high-quality latex mattress can cost anywhere from $500 to $4,000, depending on its size.
At PlushBeds, both a King-sized Botanical Bliss organic latex mattress and a Cool Bliss Luxury Cool Gel memory foam mattress cost about $2,000. PlushBeds' memory foam is a cut above the rest, thanks to the company's patent-pending, non-toxic, non-irritating memory foam technology. 
Why Choose a PlushBeds Mattress?
PlushBeds has both luxurious latex and memory foam mattresses that are perfectly suited to offer comfort and pressure relief every side sleeper needs for aching pressure points. Each PlushBeds mattress is handcrafted with quality and safety in mind. Additionally, PlushBeds wants natural mattresses to be affordable for everyone.
PlushBeds latex mattresses provide comfort and support, as well as pressure relief for side sleepers' hips and shoulders. The award-winning Botanical Bliss organic latex mattress is available in multiple firmness levels, heights, and sizes for various customer needs. Additionally, each element from the latex to the cotton to the wool is certified.
PlushBeds memory foam mattresses are unique in that they do not contain harmful chemicals that most memory foam mattresses on the market do. A PlushBeds Cool Bliss Luxury Cool Gel memory foam mattress includes five comfort layers for intense pressure relief and cooling airflow. Unlike other memory foam mattresses, PlushBeds' memory foam has many of the best safety and health certifications available.
Certifications
Just a few of PlushBeds' certifications include:
Global Organic Textile Standard (GOTS) certified organic cotton and organic wool
Global Organic Latex Standard (GOLS) certified organic latex
USDA certified organic latex, organic cotton, and organic wool
UL's GreenGuard Gold Certification
OEKO-TEX STANDARD 100 Certification
eco-INSTITUT Certification
All of the company's certifications can be found here. You can rest assured on a PlushBeds mattress, knowing that materials are safe and sustainably-sourced.
Sleep Trial
PlushBeds offers customers a 100-night sleep trial to become acclimated with their new mattress. The company offers free shipping on all orders in the contiguous US. Free shipping plus a 100-night sleep trial mean there is no risk in trying out a PlushBeds mattress.
Nearly all customers fall in love with their PlushBeds mattress during the trial period, but if you do not, the company gives you convenient options. A mattress specialist can set you up with a one-time comfort exchange if your mattress does not offer the correct comfort and support you need.
If, after sleeping on your new PlushBeds mattress for 30 days, you decide it is not the right mattress for you, PlushBeds will offer you a full refund upon return of your mattress. Your comfort and wellbeing is the most important priority.
Warranty
Plushbeds backs our mattresses with a 25-year manufacturer material and defect warranty. Rest easy knowing your new mattress is protected by a company that cares. For full limited warranty information, check PlushBeds' warranty page.
Link to Us!
If you found this article useful and shareable, please copy and paste the following into the html code of your website or blog:
Learn More About Going Green at the <a href="https://www.plushbeds.com/blogs/green-sleep/best-mattress-for-side-sleepers">PlushBeds Green Sleep Blog</a>.
*Please note that we DO NOT accept guest blog posts. Any inquiries into this will be respectfully left unanswered.
Related Posts:
The post Side Sleeper Mattresses - PlushBeds Buyer's Guide appeared first on PlushBeds Green Sleep Blog.