10 Reasons Why People Love their PlushBeds Latex Mattresses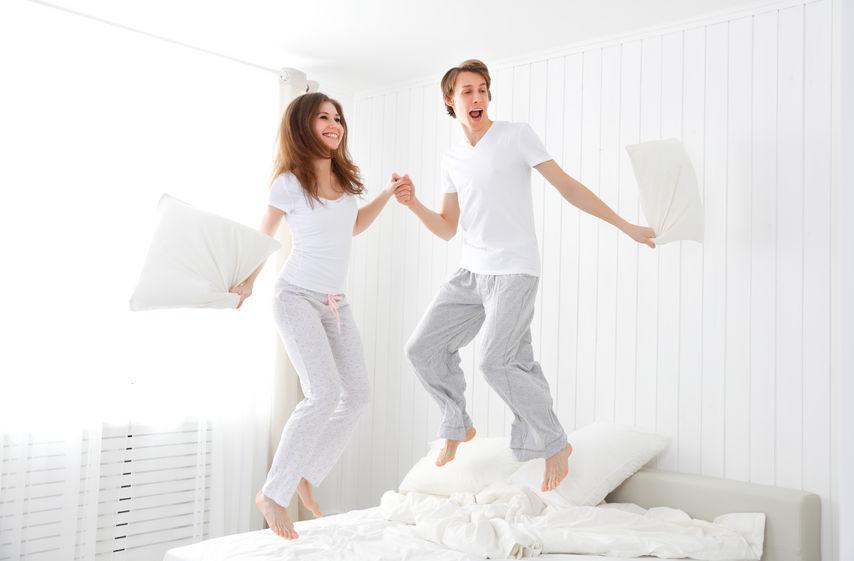 There are many reasons people make the decision to purchase a PlushBeds latex mattress. These ten reasons are among the most common.
1) Comfort. This is perhaps the most common reason people fall in love with their PlushBeds mattress. It's not always on day one, they do take time to "break in," but most people do find them to be extremely comfortable once they've adjusted.
2) Support. You'll have a hard time finding a mattress equal to the natural latex mattress in support. The firm support of the Dunlop latex core coupled with the cushioning comfort of the Talalay comfort layer is a powerful combination.
3) Safety. There are no glues and no harsh chemicals used in the construction of PlushBeds' latex mattresses. We adhere to strict guidelines for components and construction of our mattresses so that they are safe for children, the elderly, and all stages in between. People love this about PlushBeds mattresses, and they know our mattresses are safe because they've been awarded the GreenGuard Gold certification (formerly GreenGuard Children and Schools Certification) indicating that these mattresses are safe to use in schools, hospitals, and similar facilities.
4) Natural. PlushBeds' latex mattresses are comprised of natural ingredients beginning with tree sap from rubber trees. Many people find PlushBeds' latex mattresses because they're looking for mattresses without petrochemicals and other filler ingredients that aren't at all natural.
5) Durable. People love the fact that these mattresses feel the same in five years as they did the day they arrived. They want a mattress that will stand the test of time rather than winding up in a landfill a few short years down the road.
6) Recyclability. People love the fact that PlushBeds' mattresses are made of completely recyclable material. This is huge with so many non-recyclable mattresses occupying so much landfill space around the world. Combine this important information with the fact that PlushBeds are built to last up to 25 years or longer and you have a real winner when it comes to sustainability in a mattress. It simply is a green mattress choice.
7) Customizability. People really adore the fact that they can choose the level of firm or plushness they prefer in their mattresses. Even better, for many couples with different mattress preferences, is the fact that they can actually call PlushBeds and arrange for their mattresses to be firmer on one side than the other side. There's even a free comfort exchange layer option!
8) Selection. PlushBeds' mattresses come in all standard bedding sizes and offer four levels of firmness to meet the diverse needs of people who buy our mattresses. Mattress firmness options are available in soft, medium, medium-firm, and firm.
9) Peace of Mind. There's nothing better than a clear conscious to help you get a good night's sleep. The Global Organic Latex Standard (GOLS) certification of PlushBeds mattresses means you never need to lose a single wink from your sleep over concerns about the manufacturing process used in the making of your mattress.
10) Life Span. With a 25-year limited warranty, PlushBeds promises consumers that their mattress is built to last. Consumers appreciate companies that stand behind their products. More than that, though, they appreciate products that are built to last and not fall apart in five years as so many products these days do.
If you're still sitting on the fence about whether PlushBeds' mattresses are the right choice for you, then perhaps these ten great reasons to fall in love with a PlushBeds latex mattress will help you make up your mind. And, if perhaps you need one extra bonus reason – PlushBeds' latex mattresses have a great return policy; you can return your mattress within 100 nights for a full refund, minus a nominal $149 return transportation fee if it doesn't suit you perfectly.
Link to Us!
If you found this article useful and shareable, please copy and paste the following into the html code of your website or blog:
Learn More About Going Green at the <a href="https://www.plushbeds.com/blogs/green-sleep/10-reasons-why-people-love-their-plushbeds-latex-mattresses">PlushBeds Green Sleep Blog</a>.
*Please note that we DO NOT accept guest blog posts. Any inquiries into this will be respectfully left unanswered.
Related Posts:
The post 10 Reasons Why People Love their PlushBeds Latex Mattresses appeared first on PlushBeds Green Sleep Blog.