The Body Contouring Characteristic of a Latex Mattress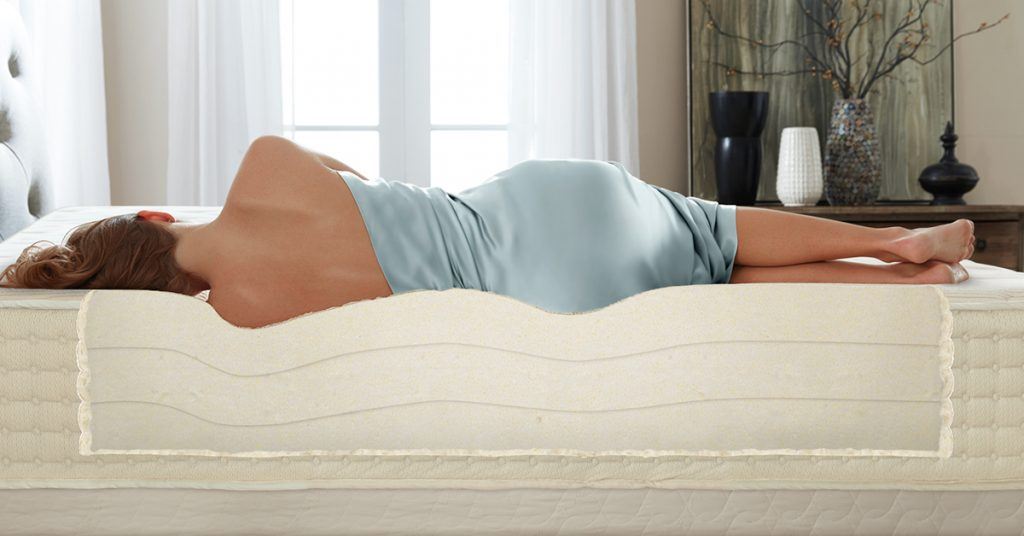 Latex Mattress Body Contouring
Latex mattresses have many popular features and benefits. One of the most commonly cited is the body contouring properties natural latex provides.
Of course, some people, those who have never experienced the body contouring properties offered by memory foam or natural latex, don't understand what the big deal really is when it comes to body contouring. It's hard to get excited about something, after all, that you've never experienced or don't really understand. So, here's the lowdown to show you just how wonderful latex mattress body contouring is.
The Resilience of Natural Latex
To put it in layman's terms, natural latex mattresses have an unparalleled ability (unsurpassed even by memory foam mattresses) to retain their shape. Some might call this outstanding resiliency. With latex, it makes perfect sense.
Latex, after all, is made from the sap of rubber trees. It bounces back to its original shape the moment you hop out of bed, roll over, and even in between your tosses and turns throughout the night (which become less, by the way, when sleeping on a natural latex mattress).
Memory foam takes a bit longer in terms of resiliency. It takes a moment or two to spring back to its natural shape.
What Does this Have to do With Contouring?
Part of getting a good night's sleep is being able to get comfortable — and stay comfortable. Natural latex mattresses provide the perfect combination of softness and support to cradle your pressure points while providing ample support for back. This makes a latex mattress the best mattress for pressure points.
As a result, you remain comfortable, and asleep, longer. A good night's sleep leads to all kinds of health benefits — all thanks to proper body contouring throughout the night.
Other Benefits of Natural Latex
The open-cell nature of latex mattresses provides many benefits over other types of mattresses on the market today. One of the biggest is that it allows air to move freely through the mattress. This means that you sleep cooler in the summer months, unlike traditional mattresses that have a tendency to sleep hot at all times of the year.
Latex mattresses also works wonders for people who sleep in all positions. If you pay close attention, you'll probably notice that people who sleep on their stomachs or sides, prefer lighter support in mattresses because their pressure points become sore throughout the night. Unfortunately for them, it leaves the potential for back problems to develop over time.
People who prefer to sleep on their backs prefer sleeping on firmer mattresses. The primary reason for this is the support they get from the mattresses. Whether you prefer to sleep on your side, stomach, or back, the body contouring support of a natural latex mattress keeps you comfortable regardless of sleep position.
For couples where one person is a side sleeper while the other sleeps on their back, it can be difficult to find the perfect mattress match. Or at least it is with typical mattress shop mattresses. Natural latex mattresses, however, provide the body contouring both parties need for a great night of sleep, in addition to the zero motion transfer benefit of latex.
Can you imagine how great it will be to wake up in the morning without soreness, stiffness, or an aching back? If you're having a hard time envisioning it, then maybe it's time to change your mattress.
Link to Us!
If you found this article useful and shareable, please copy and paste the following into the html code of your website or blog:
Learn More About Going Green at the <a href="https://www.plushbeds.com/blogs/green-sleep/the-body-contouring-characteristic-of-a-latex-mattress">PlushBeds Green Sleep Blog</a>.
*Please note that we DO NOT accept guest blog posts. Any inquiries into this will be respectfully left unanswered.
Related Posts:
The post The Body Contouring Characteristic of a Latex Mattress appeared first on PlushBeds Green Sleep Blog.